Stand up for the facts!
Our only agenda is to publish the truth so you can be an informed participant in democracy.
We need your help.
I would like to contribute
Says border "crossings remain at historically low levels."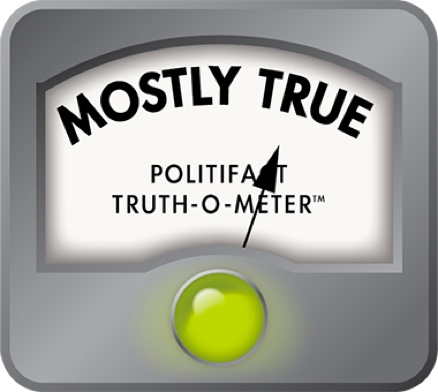 Are border crossings at "historically low levels," as Rep. David Price says?
President Donald Trump's declaration of a national emergency over the U.S. border with Mexico has sent congressional Democrats scrambling to poke holes in his case for building a wall.
"Not only is there no national emergency at the border: crossings remain at historically low levels," said Rep. David Price, D-N.C., in a Feb. 14 tweet.
Price, who represents North Carolina's 4th Congressional District, which includes Orange County and parts of Wake and Durham Counties, is not the first to make this point.
But we wondered if the number of border patrol apprehensions — the statistic experts generally use to measure illegal border crossings — has changed much since the last time we checked it out, so we decided to give Price's statement a fresh look.
Katelynn Vogt, Price's communications director, pointed to a January 2019 FAQ from the Congressional Research Service, an article from USA Today, and related fact-checks from The New York Times and NPR as evidence in support of the claim.
"Since peaking in the year 2000, there has been a distinct downward trend in apprehensions at the southern border," she said. "While the specific number has fluctuated year-to-year, including a slight uptick for 2018, it remains at historically low levels."
The CRS report and data from U.S. Border Patrol indicate that apprehensions at the southwest border began a steady increase in 1960 and peaked at about 1.64 million in 2000. They then sank to a 45-year low of 303,916 in 2017. (There were 263,991 apprehensions in 1971 and only 21,022 in 1960.)
But as Vogt noted, those arrests bounced back up somewhat in 2018 to 396,579.
Michelle Mittelstadt, director of communications for the Migration Policy Institute, an immigration think tank in Washington, D.C., noted that apprehensions were actually at their lowest during the 1960s, even though they have been "on a significant decline" since 2006 — the last time there were more than 1 million in a year.
She said the dip in 2017 occurred largely because Trump's election and his administration's tough immigration stance caused "a temporary slowdown in apprehensions" for a few months before "those numbers then reverted largely to their regular seasonal patterns."
But if you limit the scope of the time period, the claim is more accurate. When PolitiFact California fact-checked Gov. Gavin Newsom's State of the State address earlier this month, Ev Meade, director of the Trans-Border Institute at the University of San Diego, said Newsom's claim that "we are currently experiencing the lowest number of border crossings since 1971" was "basically true" given the long-term trend.
"It's been up and down," Meade said. "There's been some variation. But the long downward trend continues."
Price's statement was less precise than Newsom's, and also less precise than a similar statement that earned former California Gov. Jerry Brown a True last year. While both governors gave specific timeframes as benchmarks for their comparisons, Price said crossings "remain at historically low levels," which the average reader could assume means at or close to the lowest levels ever.
Our ruling
Price said "crossings (at the border) remain at historically low levels."
The number of border patrol apprehensions in 2017 was the lowest in 45 years, and the number in 2018 is slightly higher but still low, especially relative to the peak in 2000. Illegal crossings have been trending down since 2006, with some year-to-year fluctuations.
But apprehension totals were far lower in the 1960s, so a more accurate statement would have said crossings in 2017 were the lowest they had been since 1971.
We rate the statement Mostly True.
This story was produced by the North Carolina Fact-Checking Project, a partnership of McClatchy Carolinas, the Duke University Reporters' Lab and PolitiFact. The NC Local News Lab Fund and the International Center for Journalists provide support for the project, which shares fact-checks with newsrooms statewide. To offer ideas for fact checks, email [email protected].
David E. Price on Twitter, Feb. 14, 2019
Congressman David E. Price, "Rep. Price Statement on Irresponsible "National Emergency" Declaration," Feb. 14, 2019
Congressional Research Service, "Recent Migration to the United States from Central America: Frequently Asked Questions," Jan. 29, 2019
NPR, "FACT CHECK: Trump's Oval Office Pitch For A Border Wall," Jan. 8, 2019
The New York Times, "Trump's Rationale for a National Emergency is Based on False or Misleading Claims," Feb. 15, 2019
USA Today, "'I use many stats.' Trump spars with reporter over why he declared a national emergency at the border," Feb. 15, 2019
U.S. Customs and Border Protection, "U.S. Border Patrol Southwest Border Apprehensions by Sector FY2018," Oct. 23, 2018
U.S. Customs and Border Protection, "Southwest Border Migration FY2018," accessed Feb. 21, 2019
U.S. Border Patrol, "Southwest Border Sectors- Total Illegal Alien Apprehensions By Fiscal Year," Dec. 12, 2017
PolitiFact California, "Jerry Brown says there's "no massive wave of migrants pouring into California." Is he right?" April 13, 2018
PolitiFact California, "Fact-checking what Gavin Newsom had to say on immigration in his State of the State," Feb. 12, 2019
PolitiFact, "Immigration in 5 charts: a 2018 midterm report," Oct. 7, 2018
PolitiFact, "Is illegal immigration the lowest in 17 years, as Trump said?" April 25, 2017
PolitiFact, "Have deportations increased under Donald Trump? Here's what the data shows," Dec. 19, 2017
Email interview with Michelle Mittelstadt, director of communications for the Migration Policy Institute, Feb. 20, 2019
Email interview with Katelynn Vogt, communications director for Rep. David Price, Feb. 20, 2019
Browse the Truth-O-Meter
More by Bill McCarthy
Support independent fact-checking.
Become a member!
In a world of wild talk and fake news, help us stand up for the facts.