Get PolitiFact in your inbox.
Says "Dan McCready wants to repeal tax cuts that saves (sic) you $1,300" per year.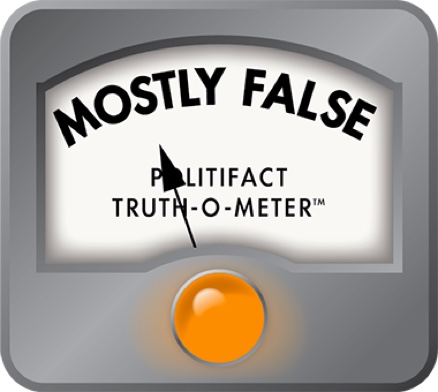 Fact-checking an ad on Dan McCready and tax cut savings
The biggest policy success of President Donald Trump's first year was signing the sweeping tax reform bill, something Republicans had been striving for decades to achieve.
Now, just one week before the first midterm elections since Trump took office, Republicans across the country are trying to remind voters of the tax cuts their bill ushered in.
In the race for North Carolina's 9th Congressional District, which stretches from south Charlotte east to include Lumberton and up the Interstate 95 corridor to Fayetteville, a new Facebook ad has leveled criticism at Democrat Dan McCready for his stance on the Tax Cuts and Jobs Act of 2017, as the reform bill was called.
"Dan McCready wants to repeal tax cuts that saves (sic) you $1,300+/year," said the ad, which went live on Facebook on Oct. 24 and was created and paid for by FreedomWorks for America, a libertarian advocacy group.
The claim made our eyebrows raise, so we decided to give the ad a closer look.
"Dan McCready wants to repeal tax cuts"
The McCready campaign did not respond to a request for comment, but McCready spokesman Aaron Simpson told PolitiFact earlier this month that McCready would rather re-tool the Trump tax plan than repeal it.
On his campaign website, McCready pledged to "fight to simplify the tax code and cut taxes more for middle-class families, not just the ultra-wealthy."
The former Marine further explained this position on Facebook after the tax bill first passed, saying that he would have preferred "real tax reform" that was simpler, did not increase the deficit and was not as "slanted toward the wealthiest Americans and the largest corporations."
McCready repeated these complaints during an Oct. 10 debate with Republican Mark Harris and made it clear that he supports the Trump tax bill's cuts.
"I supported very much the middle class tax cuts that were part of the tax bill," he said. "But we needed to do much more of that: Give less of the tax cuts to the Warren Buffetts and Koch Brothers of the world and more to the hardworking teachers and firefighters that deserve a lot better here in North Carolina."
"Saves you $1,300" or more per year
Peter Vicenzi, press secretary for FreedomWorks, said the ad's $1,300 figure came from data produced by the conservative Heritage Foundation and the pro-business Tax Foundation, two think tanks in Washington, D.C.
Vicenzi said the "you" mentioned in the ad refers specifically to North Carolinians in the 9th Congressional District, so we only looked at savings estimates for that district.
The Heritage Foundation said the tax cut led to average savings of $1,353 in the district in 2018.
But as PolitiFact has noted, averages can be misleading for something like the Trump tax bill, which has significantly different impacts on different types of taxpayers.
"Average tax cuts vary tremendously by income levels," said Lawrence Zelenak, professor of law at Duke University and an expert in tax policy.
With that in mind, we decided to hone in on the Tax Foundation's analysis, which highlighted the distributional effects of the Trump tax plan. That study showed that 9th District residents making between $50,000 and $75,000 saved $1,337, on average, from the tax cut in 2018.
Citing a Money Magazine report, Vicenzi explained that FreedomWorks pulled from the $50,000 to $75,000 income bracket to reflect a "real income" of about $52,000 that the magazine calculated based on the state's median household income of $47,830.
But Zelenak said the ad's claim that the tax cuts save "you" $1,300 is misleading, since only people with average incomes between $50,000 to $75,000 have actually experienced that amount of savings.
According to the same Tax Foundation analysis, district residents earning $25,000 to $50,000 collected an average of $1,009 in savings, and those with average incomes between $10,000 and $25,000 brought in an average of $156.
By contrast, those with yearly incomes higher than $200,000 saved a whopping $24,137. This disparity is not reflected in the ad's claim.
"For a voter in the $10,000 to $25,000 income range, it would be more accurate to say, 'McCready wants to repeal tax cuts that save you $156 while saving the average high-income taxpayer in your district over $24,000,'" Zelenak said.
Zelenak also noted that the ad says nothing about the tax cuts being deficit-financed, which could mean more savings now but higher costs in the future.
"Deficits have to be paid for eventually, so that in the long run the tax cuts imply tax increases on 'your' children and grandchildren," he said.
"But one doesn't really expect a political ad to raise that point," he added.
Our ruling
In an ad seen on Facebook, FreedomWorks said "Dan McCready wants to repeal tax cuts that saves you $1,300" or more per year.
The $1,300 figure is an accurate average for district residents earning yearly incomes between $50,000 and $75,000, but those with higher or lower incomes will likely receive substantially different tax cuts, ranging from a measly $156 to a whopping $24,000.
Plus, McCready has repeatedly indicated that while he wants to make serious changes to the Trump tax plan, he does not want to get rid of the tax cuts, especially for the middle class.
Overall, the ad contains an element of truth but ignores critical facts that would give a different impression. We rate this statement Mostly False.
This story was produced by the North Carolina Fact-Checking Project, a partnership of McClatchy Carolinas, the Duke University Reporters' Lab and PolitiFact. The NC Local News Lab Fund and the International Center for Journalists provide support for the project, which shares fact-checks with newsrooms statewide.
FreedomWorks on Facebook's Ad Archive, Oct. 24, 2018
Tax Foundation, "The Impact Of The Tax Cuts And Jobs Act By Congressional District," accessed Oct. 26, 2018
The Heritage Foundation, "Tax Cuts in Every Congressional District in Every State," July 23, 2018
Dan McCready for Congress on Facebook, "Where I Stand: Tax Reform," Dec. 2, 2017
C-Span, "North Carolina's 9th Congressional District Debate," Oct. 10, 2018
PolitiFact, "Attack ad distorts McCready's position on tax cuts," Oct. 17, 2018
PolitiFact, "Could Trump tax cut save up to $44,697 per family?" July 26, 2018
PolitiFact, "Who wins and who loses from the tax bill?" Dec. 19, 2017
Email Interview with Peter Vicenzi, press secretary for FreedomWorks, Oct. 26, 2018
Email interview with Lawrence Zelenak, professor of law at Duke University, Oct. 26, 2018
Browse the Truth-O-Meter
More by Bill McCarthy
Support independent fact-checking.
Become a member!
In a world of wild talk and fake news, help us stand up for the facts.