Get PolitiFact in your inbox.
Says Sen. Tim Kaine "approves of and even applauds his son's participation in a known terrorist organization, #Antifa."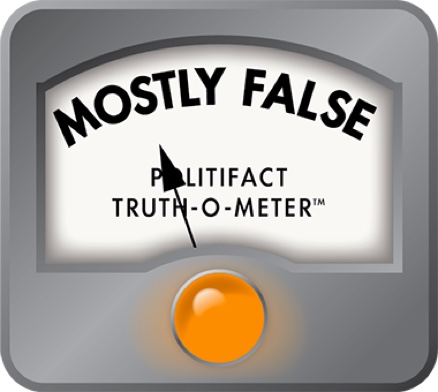 Corey Stewart's misleading comments on Sen. Tim Kaine and Antifa
Corey Stewart, the Republican candidate for U.S. Senate in Virginia, promised a ruthless campaign against incumbent Sen. Tim Kaine. A day after securing his party's nomination, he tweeted one of his first attacks.
"Virginia's sitting senator approves of and even applauds his son's participation in a known terrorist organization, #Antifa," Stewart wrote June 13, 2018.
Virginia's sitting senator approves of and even applauds his son's participation in a known terrorist organization, #Antifa.

Let that sink in. https://t.co/7foEPLKYHT

— Corey Stewart (@CoreyStewartVA) June 14, 2018
Kaine's son, Linwood Michael "Woody" Kaine, has indeed attended protests affiliated with Antifa, a far-left collection of autonomous anti-fascist groups that are spread throughout the country and share several causes, including the resistance of white supremacist movements. Because Antifa is an umbrella term for many different groups, it does not have an official website or membership.
When asked for evidence to support the tweet, Stewart campaign spokesman Noel Fritsch pointed to an article in The Federalist, a conservative website, about Woody Kaine's arrest for counter-protesting at a pro-Donald Trump rally held in the state Capitol in Minnesota on March 4, 2017.
According to local reports, Woody Kaine was one of six counter-protesters arrested by St. Paul Police. He was part of a group of approximately 100 counter-protestors, some of whom set off smoke bombs and fireworks inside the building. Witnesses reported seeing Antifa flags in the crowd of counter-protestors. Though peaceful during the rally, police said the younger Kaine tried to run when approached by an officer and that he had to be restrained.
A judge sentenced him to a year of probation and ordered him to pay $236 in fines and fees for resisting arrest. Other counter-protestors were charged with felonies for using tear gas.
"While some were charged for disruptive activity at the rally, Woody behaved peacefully there and faced no such charges," said Kaine spokeswoman Miryam Lipper after the sentencing. "He has pled guilty to a misdemeanor in connection with actions during an arrest after leaving the rally."
Fritsch said another statement issued jointly by the senator and his wife shortly after the arrest showed that Kaine approves of his son's Antifa participation.
"We love that our three children have their own views and concerns about current political issues," the couple said via a spokesperson. "They fully understand the responsibility to express those concerns peacefully."
But elsewhere, Kaine has been more forceful in his condemnation of non-peaceful protests. In a Sept. 8, 2017, letter sent to constituents inquiring about Antifa, Kaine wrote, "I condemn all violence at any political demonstration, including any violent activities by members of Antifa." (We obtained a copy of the letter from Ian Sams, communications director for Kaine's re-election campaign).
"I have spent my whole life fighting for people and causes I care about, but always peacefully," Kaine said. "Whether in the form of civil discourse or peaceful protest, Americans should continue to have frank discussions with each other and with their leaders."
Sams noted that Kaine also expressed his preference for civil discourse in an op-ed published to CNN. "We must always balance that popular activism with a requirement to be peaceful — violence has no place in civic discussion," he wrote. "We cannot tolerate violence by anyone, of any political viewpoint, if we truly embrace the principles expressed in the Constitution."
"Peacefully protesting at a rally does not equate to being a member of Antifa," Sams said.
For the record, characterizations differ as to whether Antifa qualifies as "a known terrorist organization." According to a 2017 Politico report, the Department of Homeland Security formally classified Antifa activities as "domestic terrorist violence" in 2016.
The Southern Poverty Law Center, by contrast, does not recognize Antifa as a hate group because "antifa groups do not promote hatred based on race, religion, ethnicity, sexual orientation or gender identity," even if it does display a "propensity for violence."
It is also worth noting that the image Stewart quote-tweeted was doctored to show Kaine presenting before Congress with a poster board of his son's face. (A hammer and sickle is plastered in the top corner.) In the real photo, Kaine was presenting beside a poster-sized image of a Trump tweet.
Sams noted that this is not the first misleading image Stewart has shared in support of the same claim. In August 2017, Stewart tweeted a photo of Antifa — and said Kaine's son was pictured — that had previously appeared in a Swedish blog more than a year before the Minnesota rally.
This was also not Stewart's first misleading tweet related to Kaine's son. In May 2018, for example, he tweeted that Woody Kaine "attacked elderly people entering a Trump rally."
Our ruling
Kaine has encouraged his son and others to peacefully express their political views. But Stewart's statement that Kaine "approves of and even applauds his son's participation in a known terrorist organization" implied that Kaine has indicated he would be okay with his son's participation in the violence at Antifa protests, as well.
Kaine's statements tell a different story — namely, that he approves of his son's Antifa-related protests only when they are peaceful.
Kaine has more than once advocated for peaceful protest, and he has also condemned the violence that has driven some to label Antifa as a terrorist group.
We rate Stewart's statement Mostly False.
Twitter, Corey Stewart, June 13, 2018
The Federalist, "If Tim Kaine Thinks His Son's Protest Was 'Peaceful,' What Would Be Violent?" March 14, 2017
The Minnesota Star Tribune, "Sen. Tim Kaine's son one of six counterprotesters arrested at pro-Trump rally," March 8, 2017
The Minnesota Star Tribune, "Shouts, scuffles punctuate pro-Trump rally at State Capitol," March 9, 2017
The Richmond Times-Dispatch, "Woody Kaine, son of Sen. Tim Kaine, gets probation, fine stemming from protest at Minn. Trump rally," December 28, 2017
CNN, "Tim Kaine's son faces misdemeanor charges after Trump rally incident," May 26, 2017
Politico, "FBI, Homeland Security warn of more 'antifa' attacks," September 1, 2017
Southern Poverty Law Center, "Frequently asked questions about hate groups," October 4, 2017
Twitter, DJ Judd, June 14, 2018
CNN, "Tim Kaine: The founding fathers wanted you to be a (peaceful) activist," September 17, 2017
Email correspondence with Noel Fritsch, spokesman for the Corey Stewart for U.S. Senate campaign, June 14, 2018
Email and phone correspondence with Ian Sams, communications director for the Tim Kaine for U.S. Senate campaign, June 15, 2018
Browse the Truth-O-Meter
More by Bill McCarthy
Support independent fact-checking.
Become a member!
In a world of wild talk and fake news, help us stand up for the facts.