Stand up for the facts!
Our only agenda is to publish the truth so you can be an informed participant in democracy.
We need your help.
I would like to contribute
"Since I came into office … we have increased the VA budget by 85 percent."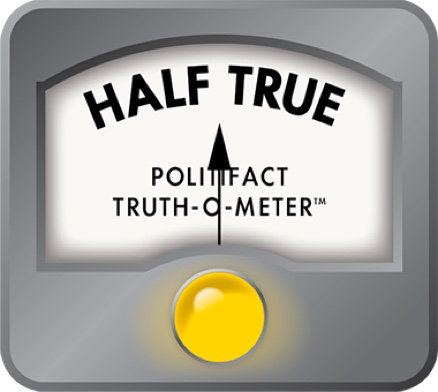 Barack Obama says VA budget has risen 85 percent on his watch
During a CNN town hall on Sept. 28, 2016, President Barack Obama took an emotional question from Donna Coates, the widow of Army veteran Barry Coates, who died of cancer after being misdiagnosed at a VA hospital.
"My mama's always told me that if you stop talking about stuff and do it, then you don't have to talk about it any longer," Coates said. "So when are we going to actually start holding these contracted doctors and the VA employees accountable?"
Obama expressed his sympathies and said, "I don't want to in any way pretend that we're where we need to be." Still, he said, progress has been made in such areas as replacing outdated patient-intake systems.
"We now have a situation where about 80 percent of individuals who interact with the VA are satisfied that they're getting timely treatment," he said. "I want that to be 100 percent. And that requires more work."
Obama went on to say that "since I came into office, just to give you some sense of perspective, we have increased the VA budget by 85 percent."
Even over an eight-year presidential tenure, that sounded like a pretty big increase to us. So we decided to see if it was accurate.
Mandatory vs. discretionary spending
We turned to VA budget data to see how large the increases have been. This chart summarizes what we found:
This chart shows that VA spending has certainly increased since 2008. But we've broken it down into two colors because it's important to distinguish between two types of funding.
The blue portion, known as discretionary spending, is funding that needs to be passed by Congress and signed by the president every year. The red portion, known as mandatory spending, includes funds allocated based on eligibility rules established long before the year when they're allocated. Examples of mandatory funds include payouts for disability claims, burials, pensions and education.
The White House confirmed that the 85 percent increase refers to the entire VA budget, including mandatory and discretionary spending.  They said that the Obama administration did have an impact on the mandatory spending figure by enacting increased access to benefits, including expanding eligibility for benefits related to Agent Orange exposure.
Still, a large reason for the growth in mandatory spending is that the United States has been engaged in fighting wars in Afghanistan and Iraq, thus creating more and more veterans who qualify for mandatory benefits.
So, to a great extent, mandatory spending is on autopilot when a president takes office, meaning that it's not obvious that Obama can take significant credit for increasing the mandatory portion of the spending bump on his watch.
The size of the increases
It's also worth noting that when Obama uses the 85 percent growth figure, he's choosing the largest of several figures he could have used. There are so many choices because comparing budget growth in the way Obama did is more complicated than it seems at first glance.
For starters, fiscal years -- the October-to-October time frames that are typically used in federal budgeting -- do not line up neatly with presidential terms, which always begin on January 20. So one could make an argument that the best base year to use in Obama's comparison could be either fiscal year 2008 or fiscal year 2009.
And the end years are tricky, too. The most recent year for which final, solid dollar figures are available is 2015. For 2016, we only have projections.
We ran the numbers for each of the four possible time spans and found that the increase in overall spending ranged from 67 percent at the low end to 86 percent on the high end.
So Obama's 85 percent figure is cherry-picked, although even the worst calculation for Obama shows a 67 percent increase, which is still pretty substantial.
Remember, however, that the president has the most influence -- along with Congress, with whom Obama had to agree -- on the discretionary portion of the VA budget. And the increases in discretionary spending were smaller.
For discretionary spending only, the same four possible calculations produce anything from a 36 percent increase to a 61 percent increase. That's a less impressive sounding claim -- at the low end, it's an increase of roughly 4 percent a year, rather than 10 percent a year, as Obama's original statement would suggest.
That said, Stan Collender, a budget specialist and executive vice president of the firm Qorvis MSLGROUP, cautioned that even an increase of 4 percent a year "is nothing to sneeze at these days in federal budget land. I doubt many other parts of the discretionary budget had increases of that size, or at all."
Our ruling
Obama said, "Since I came into office … we have increased the VA budget by 85 percent."
Obama has a point that the VA has seen significant percentage increases during his tenure, particularly for a period of budgetary belt-tightening elsewhere. However, it's a stretch for him to take credit for that, since so much of the increase stemmed from mandatory spending that originated with a continuing stream of veterans returning home and qualifying for benefits. Obama has also cherry-picked the highest numerical figure he could have.
His statement is partially accurate but leaves out important details, so we rate it Half True.
https://www.sharethefacts.co/share/31e464bc-18c7-4796-aadf-5c9cb65de6c7
Barack Obama, CNN town hall transcript, Sept. 28, 2016
CNN, "Faces of the military at the Obama town hall," Sept. 28, 2016
Department of Veterans Affairs, "Annual Budget Submission" main page, accessed Sept. 29, 2016
Email interview with Stan Collender, executive vice president of the firm Qorvis MSLGROUP, Sept. 29, 2016
Email interview with Dan Caldwell, vice president of policy and communications for Concerned Veterans for America, Sept. 29, 2016
Email interview with John Hoellwarth, AMVETS National communications Director, Sept. 30, 2016
Browse the Truth-O-Meter
More by Louis Jacobson
Support independent fact-checking.
Become a member!
In a world of wild talk and fake news, help us stand up for the facts.