Get PolitiFact in your inbox.
Says he "voted no on the Wall Street bailouts."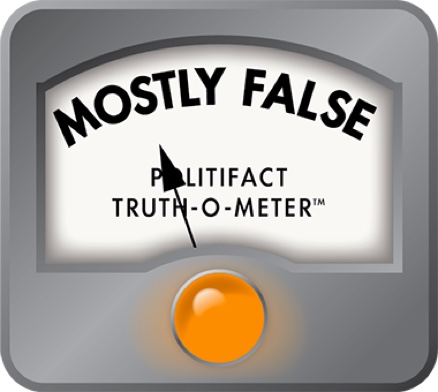 Glenn Nye claims he voted against the Wall Street bailout
U.S. Rep Glenn Nye portrays himself as a boldly independent Democrat who bucks his party on key issues such as health-care reform and the Wall Street bailout.

In at least four TV ads, the freshman congressman from Virginia Beach and Norfolk has stressed he voted against the bank bailout, which is formally known as the Troubled Asset Relief Program, or TARP.

"I stood up to my party leaders and voted no on the Wall Street bailouts," Nye said in one ad. (To emphasize his theme, he titled the ad "Independence.")

But there's a big problem with his claim: Nye was not a member of Congress when TARP was approved.

The final House vote approving TARP came Oct. 3, 2008 -- 32 days before Nye was elected and 95 days before he took office.

The bill set up a $700 billion bailout fund for banks that had made bad investments. President George W. Bush quickly signed the bill to avert what many feared could be a doomsday economic collapse.

Although the TARP was intended to rescue the financial industry, the Bush administration in December 2008 broadened its reach to allow an infusion of money for U.S. auto companies.

Nye has received considerable flak for the claim. So how can he say he voted against the TARP? He cites two votes cast during his first weeks in office.

One of the votes was on Jan. 14, 2009. But when we looked into it, we learned the vote did not concern the life or death of TARP. Nye simply opposed a procedural resolution to allow debate on a bill that would impose tough new restrictions on how companies could spend TARP money.

Procedural resolutions are pretty routine and it's clear this was not considered a significant vote. For example, we couldn't find stories about it the following day's editions of the New York Times or the Washington Post. The House passed the resolution largely along party lines.

Nye did buck his party leaders on that vote because they wanted the debate to proceed. He was one of only 15 Democrats who voted against their party. But we find it's not accurate for him to characterize that as a vote "against the bailout."
 
The other vote he cites was January 22, 2009, on a bill to give the treasury secretary access to the second half of the $700 billion in TARP money. The law had said the second $350 billion would become available only if the administration asked for it and at least one chamber of Congress approved.

But that vote was essentially meaningless. The Senate had approved the request on Jan. 15, freeing the money to go to the Treasury.

The Republican-sponsored resolution had no impact on events; it was the equivalent of a coach challenging a referee's call a week after the game ended. Still, Nye was among 99 who supported the GOP resolution.

So Nye says he voted against the bailout. People hearing his claim would undoubtedly think he was referring to the main vote on the TARP, but he wasn't even elected when that vote was taken.

He cites one vote on a procedural motion that was not substantive and that the news media did not characterize as significant, and another vote that was more substantive, although the issue was moot at that point.

So there is just a small amount of truth to his claim. We find his claim Barely True.
Editor's note: This statement was rated Barely True when it was published. On July 27, 2011, we changed the name for the rating to Mostly False.
Nye for Congress Campaign, "Nye Sets the Record Straight" press release, Aug. 12, 2010.

Nye for Congress, "Independence" TV ad, Sept. 12, 2010
Interview with Steve Ellis of Taxpayers for Common Sense
Thomas, Vote on H. Res 53, Roll Call 17, Jan. 14, 2009
Thomas, Vote on H.J. Res 3, Roll Call 27, Jan. 22, 2009
Newsbank, Searches of The Washington Post and The New York Times, Jan. 14 and 15, 2009.
Browse the Truth-O-Meter
More by Warren Fiske
Support independent fact-checking.
Become a member!
In a world of wild talk and fake news, help us stand up for the facts.