Stand up for the facts!
Our only agenda is to publish the truth so you can be an informed participant in democracy.
We need your help.
I would like to contribute
Ask PolitiFact: Is it illegal to leak a draft Supreme Court opinion?
If Your Time is short
No federal law clearly prohibits someone with legal access to a draft Supreme Court opinion, such as a justice or clerk, from leaking that document to the press, legal experts said. A draft opinion is not classified, which is usually the grounds for leak investigations.

Whether the leaker of the draft opinion overturning Roe v. Wade will face criminal prosecution depends on who they are and how they came to access the document. A hack into the Supreme Court's computers, for example, would run afoul of the law.

Other statutes, including around theft of government property, could potentially be applied if the leaker had legitimate access to the document, but legal experts said prosecutors would be unlikely to pursue those. Instead, the leaker would likely face professional consequences, including firing or the loss of a license to practice law.
The historic leak of a draft U.S. Supreme Court opinion that would strike down the landmark Roe v. Wade decision legalizing abortion in 1973 rippled through Washington and the country at large in the hours after the document's publication by Politico.
The impact of the leak was seismic. The ruling spelled out in the draft opinion written by Justice Samuel Alito would wipe away a constitutional right in place for nearly half a century. Its release ahead of schedule puts the justices on the court in an unfamiliar position as they work toward a resolution in the face of public pressure, and having already shown their hand.
Chief Justice John Roberts said in a statement that the draft opinion was authentic but not final, and that he directed the court's marshal to launch an investigation into the source of the leak, an inquiry that could potentially result in referrals to the Department of Justice.
Knowing the facts has never been more important. Please consider donating to PolitiFact today.
Others have called more directly for the leaker to face criminal charges.
"This lawless action should be investigated and punished as fully as possible," Senate Minority Leader Mitch McConnell, R-Ky., said in a statement. "The Chief Justice must get to the bottom of it and the Department of Justice must pursue criminal charges if applicable."
Readers asked PolitiFact what would likely happen to the person who passed the document to Politico, which appears to have gone to great lengths to protect their anonymity.
The answer depends on who leaked the document and how they got ahold of it. If the source of the leak had authorized access to the opinion, they would likely avoid criminal prosecution but could potentially face professional consequences, such as a firing or disbarment, legal experts said. For the court's law clerks, disbarment would likely mean the effective end of a promising legal career. Supreme Court justices can be removed from office through impeachment. Impeachment requires congressional action and a two-thirds vote of the Senate for conviction, a high bar.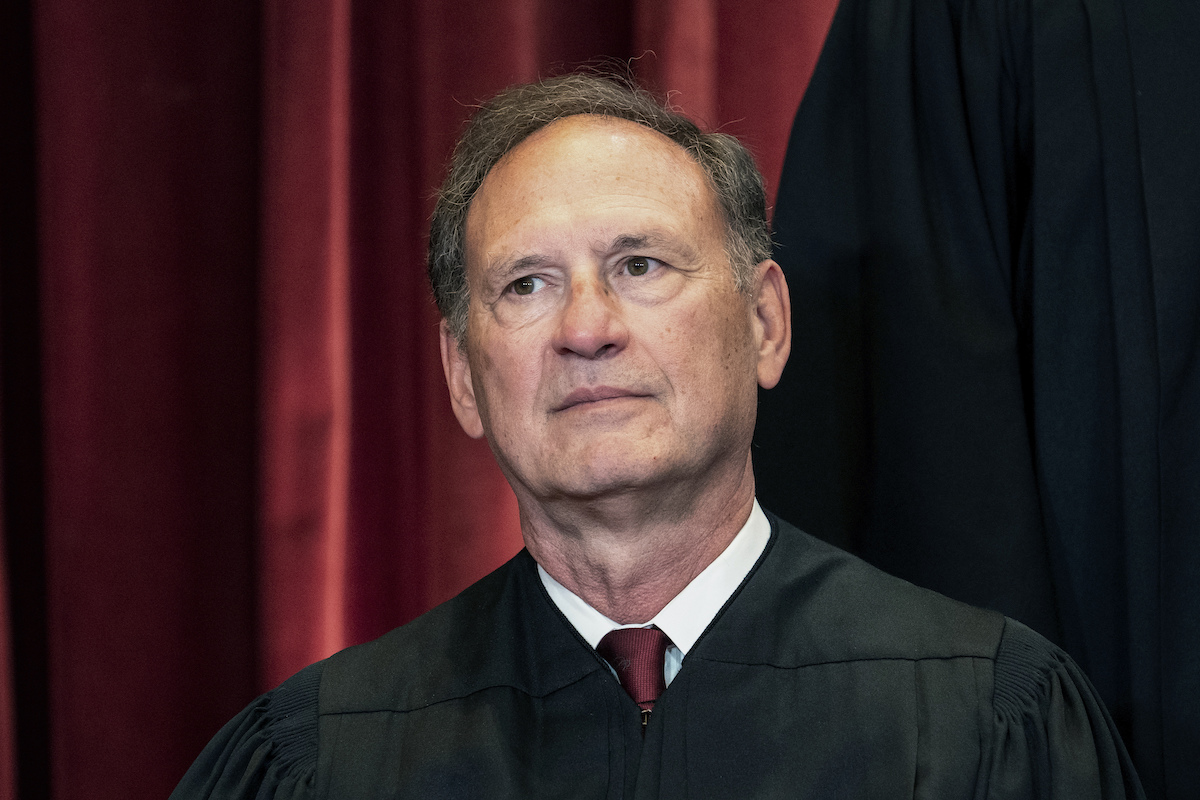 Associate Justice Samuel Alito sits during a group photo at the Supreme Court in Washington on April 23, 2021. Alito authored the draft opinion leaked to Politico. (AP)
What laws, norms could come into play
The opinion was not classified, separating it from past leaks of government secrets that have triggered investigations under the Espionage Act of 1917, which guards information relating to national defense. It was not statutorily protected in the way that grand jury records are, either.​​
"Leaking a draft court opinion is not a crime in itself," said the University of Michigan Law School's Barbara McQuade, a former U.S. attorney. "Unlike classified information, a draft legal opinion is not protected from disclosure under penalty of law."
If the file shared with Politico was obtained by someone outside the Supreme Court who hacked the court's servers, the action could violate the federal laws against unauthorized access to computer systems, said Josh Blackman, a professor of law at South Texas College of Law Houston. And if the opinion was stolen, that could constitute theft of government property.
Anyone who lies in the course of an investigation could also face charges for doing so.
"The basic idea is that although the leak isn't itself a crime, conduct surrounding it might be," Orin Kerr, a professor at the University of California Berkeley School of Law, wrote on Twitter.
The forecast is less clear if the origin of the leak was someone with legitimate access to the opinion, such as one of the nine justices or the clerks or staff working for them. Almost 50 people could have had eyes on such a document, according to CNN's count. Politico described the source only as "a person familiar with the court's proceedings in the Mississippi case."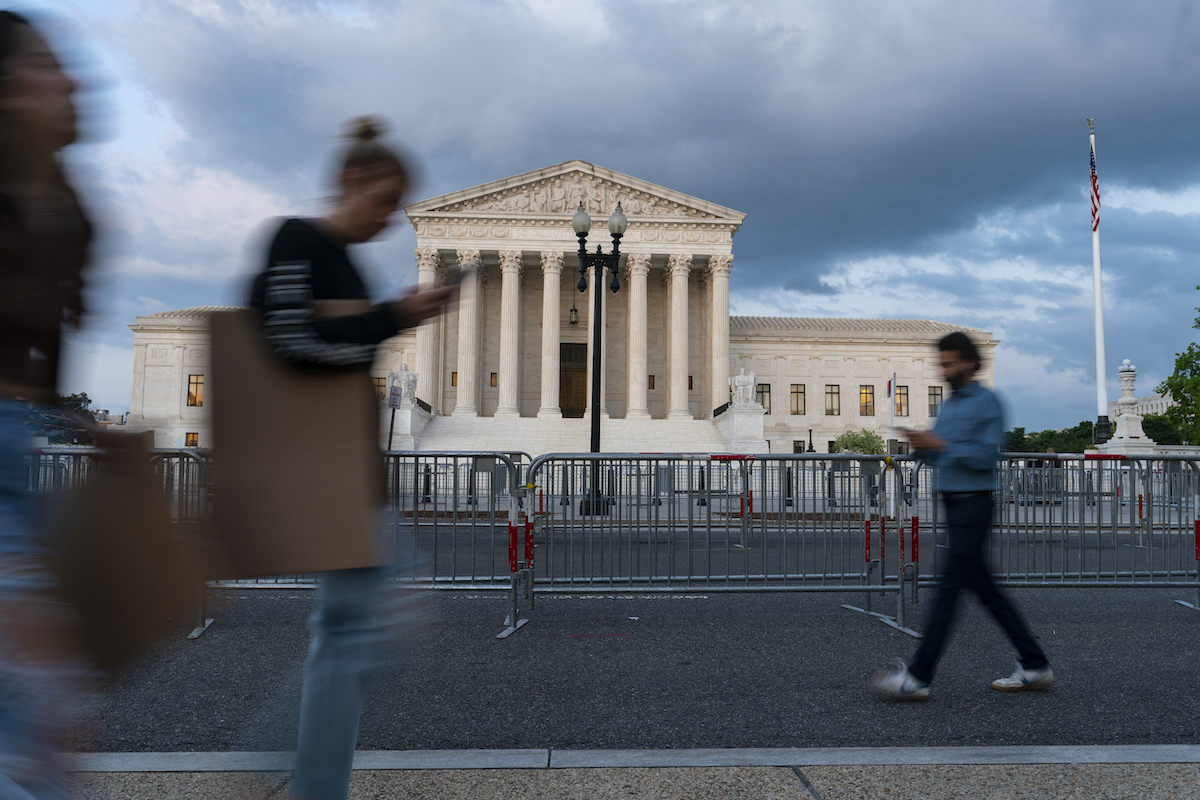 The U.S. Supreme Court building is shown as people walk past on May 4, 2022 in Washington. (AP)
Experts could not recall an instance in which a leak to the press, whether about internal court relations, deliberations or something else, had resulted in a prosecution.
One law clerk who resigned in the early 1990s faced charges after he was discovered to have been sharing the court's decisions with Wall Street traders ahead of their release, though the case ultimately fell through. But the public release of a draft majority opinion is unprecedented.
In his dissent over what became known as the Pentagon Papers case, where the Nixon administration was rejected in its attempt to stop news outlets from publishing materials from a classified Pentagon study, Chief Justice Warren E. Burger drew an analogy to what would happen if court materials had been involved. Burger wrote:
"No statute gives this Court express power to establish and enforce the utmost security measures for the secrecy of our deliberations and records. Yet I have little doubt as to the inherent power of the Court to protect the confidentiality of its internal operations by whatever judicial measures may be required."
The justices on the court do take an oath to abide by a code of confidentiality, Blackman said.
Beginning in the 1980s, a code of conduct was also established for law clerks, and the leak of Alito's draft clearly violates that code and could result in termination, said Todd Peppers, a professor of practice at Washington and Lee University School of Law.
"Basically, you must remember that your duty is to your justice and the court and all business of the court must remain confidential," Peppers said.
But national security attorney Mark Zaid, a member of the legal team that represented the whistleblower whose complaint about former President Donald Trump's conduct on Ukraine sparked an impeachment, said a prosecution would require some stretching of the current statutes, since there is "no federal criminal statute that directly applies."
"Because that would likely result in an interpretation that would criminalize numerous daily and even routine activities, no rational prosecutor would ever pursue such charges," Zaid said. He added that a criminal investigation launching is still possible, even if it doesn't yield results.
One law that could potentially come into play is 18 U.S.C. 641, which makes it a crime to steal or receive a stolen "record, voucher, money, or thing of value" from the government. But the Justice Department has outlined circumstances where it considers prosecution under the law to be "inappropriate." That policy says that "a government employee who, for the primary purpose of public exposure of the material, reveals a government document to which he or she gained access lawfully or by non-trespassory means would not be subject to criminal prosecution."
Another law that could be at issue, McQuade said, is 18 U.S.C. 1512, which makes it a crime to corruptly interfere with an official proceeding. Former Attorney General William Barr seemed to allude to that as he discussed a possible penalty in an interview with radio host Megyn Kelly.
Prosecution under this statute would require an "aggressive reading of the law," McQuade said.
Blackman told PolitiFact that he considers the theory pitched by Barr to be a "stretch." But he added: "Prosecutors can always cook up creative theories."
Cornell Law School, Legal Information Institute, accessed May 4, 2022
The Washington Post, "Would DOJ charge someone for leaking SCOTUS abortion opinion draft?" May 3, 2022
CNN, "What we know about the investigation into the Supreme Court leak," May 3, 2022
Reuters, "Explainer: Is it illegal to leak a U.S. Supreme Court opinion?" May 3, 2022
USA Today, "The leak of a draft Supreme Court opinion overturning Roe v. Wade not illegal, experts say," May 3, 2022
The New York Times, "A Supreme Court in Disarray After an Extraordinary Breach," May 3, 2022
Wired, "Is Leaking a Supreme Court Opinion a Crime? The Law Is Far From Clear," May 3, 2022
Salon, "Megyn Kelly pushes back after Bill Barr suggest SCOTUS leaker could be criminally prosecuted," May 3, 2022
Orin Kerr on Twitter, May 2, 2022
Politico, "Supreme Court has voted to overturn abortion rights, draft opinion shows," May 2, 2022
Email interview with Barbara L. McQuade, professor from practice at Michigan Law, May 2, 2022
Email interview with Josh Blackman, professor of law at South Texas College of Law Houston, May 3, 2022
Email interview with Todd C. Peppers, professor of practice at Washington and Lee University School of Law, May 3, 2022
Email interview with Mark S. Zaid, founding partner of Mark S. Zaid, PC, May 3, 2022
Browse the Truth-O-Meter
More by Bill McCarthy