Get PolitiFact in your inbox.
Fox News carries third Jan. 6 committee hearing as testimony features its hosts and guests
If Your Time is short
Fox News offered live coverage of the second and third hearings by the House Jan. 6 committee. The network had refused to air the committee's first and, so far, only primetime hearing.

The June 16 hearing featured several revelations about Fox News' hosts, guests, and segments in the runup to the Jan. 6, 2021, insurrection.

As the House committee laid out former President Donald Trump's efforts to force Vice President Mike Pence to unilaterally overturn the 2020 election, it focused on an attorney who occasionally appears on Fox News as a guest, showed a series of texts from Fox News host Sean Hannity, and played an old clip from a Fox News program.
After brushing off the first hearing of the House committee investigating the Jan. 6, 2021, attack in favor of hosts Tucker Carlson and Sean Hannity, Fox News carried the second and third hearings live.
But the network's coverage of the June 16 hearing exposed its viewers to several revelations about Fox News' own hosts, guests, and segments in the runup to the insurrection.
In the nearly three-hour hearing, the committee described how former President Donald Trump and attorney John Eastman pressured Vice President Mike Pence to take unconstitutional steps to overturn the 2020 election, how there could be similar efforts in 2024, and how the rioters at the U.S. Capitol came "approximately 40 feet" from Pence as he moved to a secure location.
"You will hear today that President Trump's White House counsel believed that the vice president did exactly the right thing on Jan. 6," Rep. Liz Cheney, R-Wyo., said at the outset of the hearing. "As did others in the White House. As did Fox News host Sean Hannity."
The hearing took the place of Fox News' "America Reports," hosted by anchors John Roberts and Sandra Smith, and bled into the afternoon show hosted by Martha MacCallum. On breaks, Roberts and Smith turned to a panel featuring MacCallum, National Review contributing editor Andrew McCarthy, and George Washington law professor Jonathan Turley.
The network flipped quickly to other topics once the hearing concluded.
"We have fully covered these hearings this afternoon," MacCallum said as she resumed her scheduled programming. "But the market is down about 821 points. So when we look at what voters are interested in, it's what's happening in their everyday lives at this point in 2022."
By primetime, the hearing was largely a thing of the past. Carlson and fellow host Jesse Watters criticized Democrats on their respective shows for focusing on the Jan. 6 attack instead of other issues, like inflation. "Do any Americans care about Jan. 6?" Watters asked at one point, before showing a series of conversations with people on the streets.
Host Laura Ingraham featured Rep. Marjorie Taylor Greene, R-Ga., who described the attack as a matter of "address(ing) your grievances with your representatives" and claimed the rioters charged with crimes were suffering "human rights abuse" and violations of their due process rights. Hannity accused Democrats of "obsessing" over the Jan. 6 attack before repeating false claims about House Speaker Nancy Pelosi's control over the National Guard and interviewing fellow Fox News host Mark Levin, who blasted the committee hearing as biased and "choreographed."
They never mentioned the committee's references to their own network during the June 16 hearing. Fox News did not immediately respond to a request for comment.
The committee's references to Fox News
Much of the focus of the June 16 hearing was on frivolous legal theories, advanced by Eastman, which falsely claimed Pence could legally reject or delay the certification of the electoral college votes from states where Trump claimed that Joe Biden's victory was disputed.
Eastman, a former law professor now affiliated with the Claremont Institute, a conservative think tank, has been a periodic Fox News guest for years. He most recently appeared on Carlson's show in December 2021 to discuss the committee's efforts to access his text messages, according to PolitiFact's review of the Internet Archive's TV News Archive.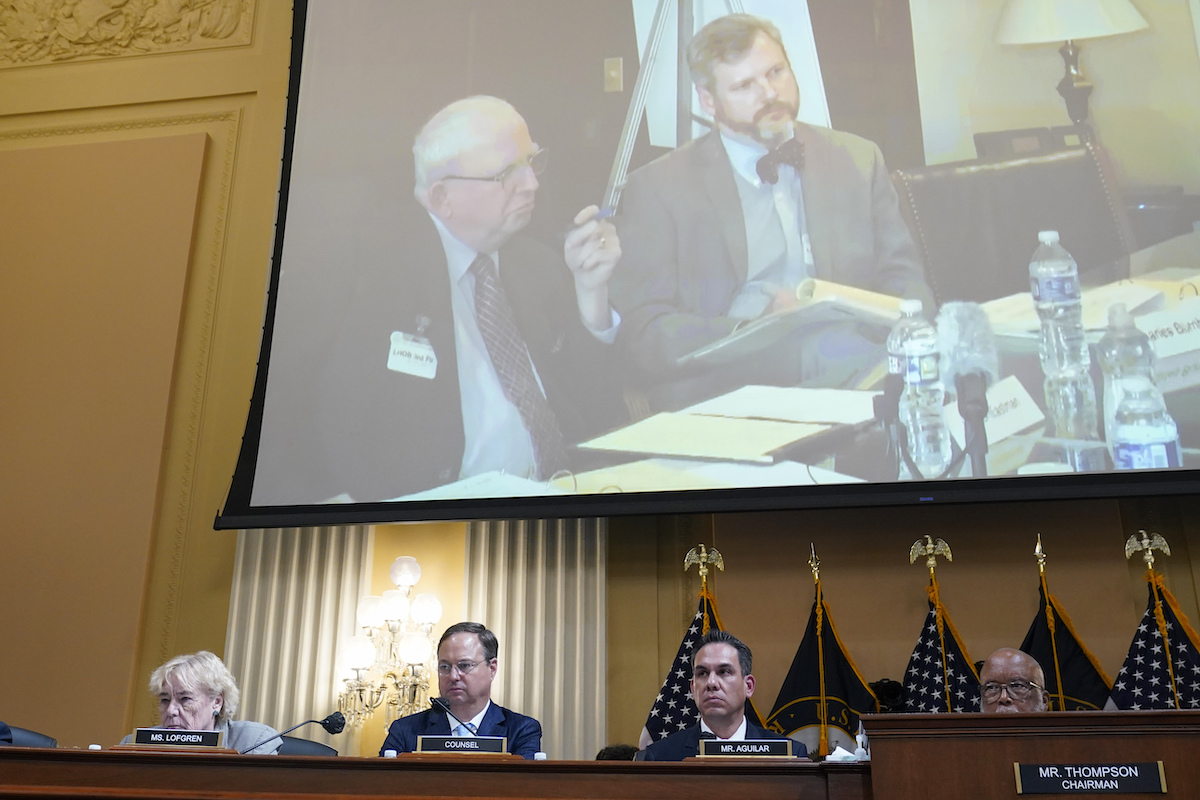 Attorney John Eastman is seen during a deposition as the House committee investigating the Jan. 6, 2021, attack on the Capitol holds a hearing in Washington on June 16, 2022. (AP)
The committee revealed how White House attorneys and others in Trump's orbit — including Eastman himself — knew the plan that Eastman devised and pushed would have required Pence to break the law. In an email obtained by the committee, Eastman asked Trump attorney Rudy Giuliani to put him on Trump's "pardon list." In a video the committee showed, Eastman responded to congressional investigators by invoking the Fifth Amendment, refusing to testify against oneself. The committee said he did so 100 times.
One person who privately expressed concerns about Eastman's ideas was Hannity, one of Fox News' star opinion hosts.
The committee showed three text messages Hannity sent to Mark Meadows, Trump's chief of staff, in the days leading up to the Capitol attack. In the texts, Hannity warned that White House attorneys could potentially resign in protest of what he referred to as "Pence pressure."
"We cannot lose the entire WH counsel's office," Hannity wrote on Dec. 31, 2020. "I do NOT see Jan. 6 happening the way (Trump) is being told."
"I am very worried about the next 48 hours," Hannity texted late at night on Jan. 5, 2021.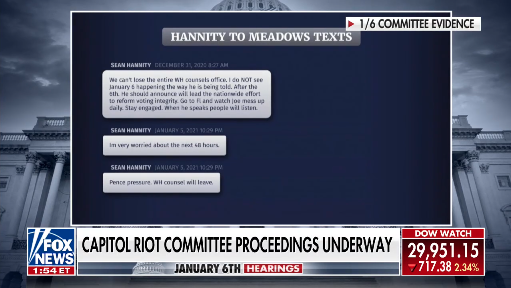 Fox News airs text messages from host Sean Hannity as they are shown during the June 16, 2022, hearing in Washington from the House committee investigating the Jan. 6 attack on the Capitol. (Fox News)
On his show, shortly before he sent that Jan. 5, 2021, text message, Hannity hosted Sen. Ted Cruz, R-Texas, Rep. Matt Gaetz, R-Fla., and Levin to discuss Republicans' planned challenges to the certification of electoral votes from certain states.
During the June 16 hearing, the committee also showed a clip from former Fox Business Network host Lou Dobbs' show on that same night, Jan. 5, 2021. In defamation lawsuits filed by voting technology companies, Dobbs was one of several Fox personalities singled out for pushing baseless claims of fraud associated with their machines.
In the Fox Business Network segment from which the committee showed a snippet, Dobbs gave Trump campaign adviser Jason Miller an opening to make false claims about Pence's role overseeing the counting of electoral votes.
"What I expect the vice president to do is the right thing," Miller told Dobbs. "And that is to make sure they count the votes in states where they were cast legally, and for the states where they were cast illegally or there are unconstitutional objections, then I think we have to have a deeper audit or even go back to the legislatures or outright reject those and send it back for the governors to deal with."
"I think the vice president is going to throw down tomorrow and do the right thing because, Lou, like I said before, this is a time for choosing," Miller continued, before falsely claiming that Democrats "cheated and stole their way through this election."
Miller testified to congressional investigators that attorneys close to Trump believed the idea that Pence could unilaterally flip the election "had no validity" and was "nutty" and "crazy," according to videos the House committee showed during the June 16 hearing.
The June 16 hearing was not the first that referenced Fox News.
The inaugural hearing on June 9, which Fox News did not air, featured texts Hannity sent to former White House press secretary Kayleigh McEnany — now a Fox News host herself — two days after the Capitol attack. In the messages, Hannity called for "no more stolen election talk."
The second hearing on June 13 saw the committee interview Chris Stirewalt, the former political editor at the helm of the Fox News decision desk that was the first to project that Biden had won the state of Arizona. Fox News fired Stirewalt shortly after the insurrection.
The committee also examined Trump's debunked claim about Georgia election workers secretly hiding "suitcases" of fake ballots — a claim Fox News hosts promoted on air. And they showed a clip of Giuliani airing baseless allegations of fraud on Hannity's show in November 2020.
PolitiFact staff writer Grace Abels contributed research to this story.
Fox News, June 16, 2022
Fox News, "The January 6th Hearing," June 16, 2022
Fox News, "The Ingraham Angle," June 16, 2022
Fox News, "Jesse Watters Primetime," June 16, 2022
Fox News, "Tucker Carlson Tonight," June 16, 2022
Fox News, "The Story With Martha MacCallum," June 16, 2022
The Internet Archive's TV News Archive, accessed June 16, 2022
TVEyes, accessed June 16, 2022
Fox News, "The January 6th Hearing," June 13, 2022
The New York Times, 'Fox News Fires a Key Player in Its Election Night Coverage," Jan. 19, 2021
Fox News, "Tucker Carlson Tonight," Dec. 6, 2021
Fox Business Network, "Lou Dobbs Tonight," Jan. 5, 2021
Media Matters for America, "Fox News pushes Georgia "suitcase" conspiracy theory before — and after — Fox debunked it," Dec. 4, 2020
Fox News, "Hannity," Nov. 19, 2020
PolitiFact, "No evidence Pelosi 'rejected' Trump's authorization for '20,000 National Guard' before Jan. 6 attack," June 13, 2022
PolitiFact, "As America watched Jan. 6 hearing, Fox viewers heard Tucker Carlson's alternate reality," June 10, 2022
PolitiFact, "Trump falsely says Electoral Count Act talks prove he was right on Pence's power," Feb. 1, 2022
PolitiFact, "How Fox News hosts' Jan 6 texts, on-air comments told different stories of attack," Dec. 16, 2021
PolitiFact, "The 2021 Lie of the Year: Lies about the Jan. 6 Capitol attack and its significance," Dec. 15, 2021
PolitiFact, "Constitution does not allow Mike Pence to reject electoral votes," Jan. 5, 2021
Browse the Truth-O-Meter
More by Bill McCarthy