Get PolitiFact in your inbox.
The COVID-19 pandemic is not over. How will we know when it is?
If Your Time is short
The pandemic is not yet over. Omicron continues to spread around the globe and daily COVID-19 deaths are still registering in the thousands in the U.S.

Many scientists believe that the COVID-19 pandemic as we know it will end not with the virus getting wiped off the face of the earth, but with it becoming endemic, like the flu.

The long process of getting COVID-19 to the endemic stage will require bringing down its spread, lowering death and hospitalization rates, and keeping hospitals from being overburdened with patient overflows and staff shortages.
Fox News host Greg Gutfeld was riffing about a COVID-related standoff keeping Chicago teachers out of the classroom when he made a bold claim about the state of the COVID-19 crisis.
"This is the double destruction of the pandemic and of the teachers unions happening at exactly the same time, right? We now know that the pandemic is over," Gutfeld said Jan. 5 on "The Five." "The teachers unions pushed us over the cliff. It's going to happen Feb. 1, this is all going to be behind us."
Gutfeld offered his comment as he and his fellow co-hosts were taping their show remotely due to the surge in COVID-19 cases from the highly infectious omicron variant, which has caused hospital overruns and worker shortages across the country. As of Jan. 10, the U.S. was reporting upward of 1 million new COVID-19 cases per day, according to data from Johns Hopkins University.
But elsewhere on Fox News, a Stanford University doctor who opposed early COVID-19 lockdowns told host Laura Ingraham that "it is a political decision when this pandemic ends." On Newsmax, a guest insisted that scientists now agree the coronavirus "is an endemic, not a pandemic," meaning it is spreading indefinitely but at manageable levels, like the flu.
These comments weren't happening in a vacuum. Beyond conservative media, the term "endemic" has been mentioned more than 40 times across CNN and MSNBC since Jan. 5, according to closed captioning information from TV Eyes, a media monitoring service.
In part, that's because several former health advisers from President Joe Biden's transition team called on him to refocus his COVID-19 strategy. In three opinion articles published Jan. 6 in the Journal of the American Medical Association, they urged Biden to brace for a "new normal" in which the virus isn't eradicated, but circulates endemically.
We haven't reached that point yet, those experts and others who spoke to PolitiFact agree.
"COVID-19 is still very much a pandemic, because of its global distribution," said Dr. Mark Schleiss, professor of pediatrics at the University of Minnesota Medical School. "I would assert that as long as we have 1,500 people a day dying of COVID, the pandemic is not over."
How will we know when COVID-19 has shed its pandemic status and become endemic? And what does it mean for a disease to be endemic?
PolitiFact consulted several experts about the markers of progress they'll be watching for as the world continues to grapple with the virus that's defined everyday life for nearly two years.
Reaching endemicity: How will we know?
The World Health Organization declared the COVID-19 crisis a pandemic in March 2020. The decision followed reports of more than 100,000 cases worldwide.
"The startpoint of a pandemic is easier to pinpoint than the endpoint," said Andrew Noymer, associate professor of population health and disease prevention at the University of California, Irvine.
As has often been the case with the pandemic, a lot can change. But many scientists no longer see a future where COVID-19 disappears.
There are many reasons behind that thinking: The virus is highly infectious; it can jump between humans and animals; the available vaccines and boosters, while highly effective, leave room for some breakthrough infections; and not everybody is vaccinated.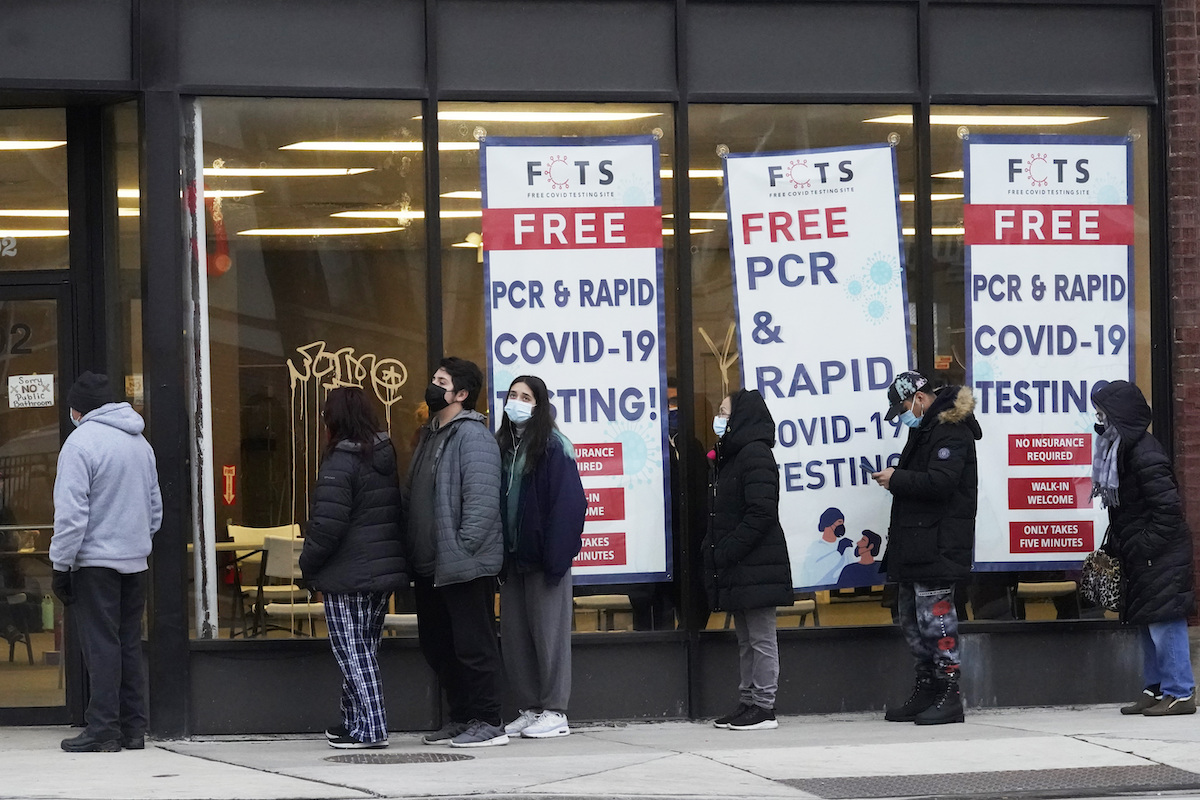 People line up at a free COVID-19 testing site in Chicago, on Dec. 30, 2021. (AP)
"The virus will never be fully eradicated because it is an efficiently spreading respiratory virus with an animal host," said Dr. Amesh Adalja, a senior scholar at the Johns Hopkins Center for Health Security. "It does not meet the definition of an eradicable infectious disease."
"It's going to be more like flu and less like measles," Noymer added. "Because measles you get once and then you're immune for the rest of your life. COVID shows a different pattern."
When COVID-19 subsides, it will likely do so by settling into an endemic disease, some scientists say. An endemic disease is one that circulates steadily in a specific region or population, like malaria in sub-saharan Africa or the flu during North American winters.
The University of Pennsylvania's Ezekiel Emanuel, a co-author on the JAMA articles, said on NBC News' "Meet the Press" that while COVID-19 is still a pandemic, his team thinks that it will become endemic at some point in 2022, and that plans should be made for living with the virus.
That begs the question: How will scientists know when COVID-19 has become endemic?
It won't be as easy as the flip of a switch. Noymer said that "in its most pedantic version," endemicity occurs when every person sick with a disease infects just one other person on average. But there are other signs of progress that epidemiologists will watch.
Scientists will also look to see that the waves of infection are becoming more predictable, that hospitals are no longer worrying about capacity, that death rates have lowered, and that the virus isn't disrupting society by causing schools to close and workers to call in sick.
"I think we will have more cycles, and cycles mean low points as well as high points," Noymer said. "At some point, I do expect these cycles to be forced into a pattern like influenza."
A lot will depend on whether the virus has faded enough for society to function under the status quo, said Dr. Nahid Bhadelia, the founding director of Boston University's Center for Emerging Infectious Diseases Policy and Research.
"Can our society function if (the) current moment became status quo?" Bhadelia tweeted Jan. 5. "The surge of cases leading to worker shortages & still overwhelmed hospitals tells us for COVID, the answer currently is no."
Another question is whether the explosion of cases from the omicron variant will accelerate the path to COVID-19 becoming endemic or delay it further. It's been less than two months since the variant was first reported from South Africa.
"A silver lining (with omicron) isn't baked into the cake," Noymer said. "It's just too early to say."
As the new variant burns through the U.S., the good news is that it does not appear to cause illness as severe as the delta variant, in part because of the protection afforded by the vaccines. Hospitals are still being strained by record numbers because of the higher infection rate and corresponding spike in cases.
Adalja told PolitiFact that he believes omicron will hasten the process of turning COVID-19 into an endemic disease because it is widespread but causing relatively mild symptoms for most vaccinated people.
Potential immunity gleaned from those infections, along with vaccinations and the development of antiviral pills, could help people weather future surges, though new variants could still emerge that change the outlook once again.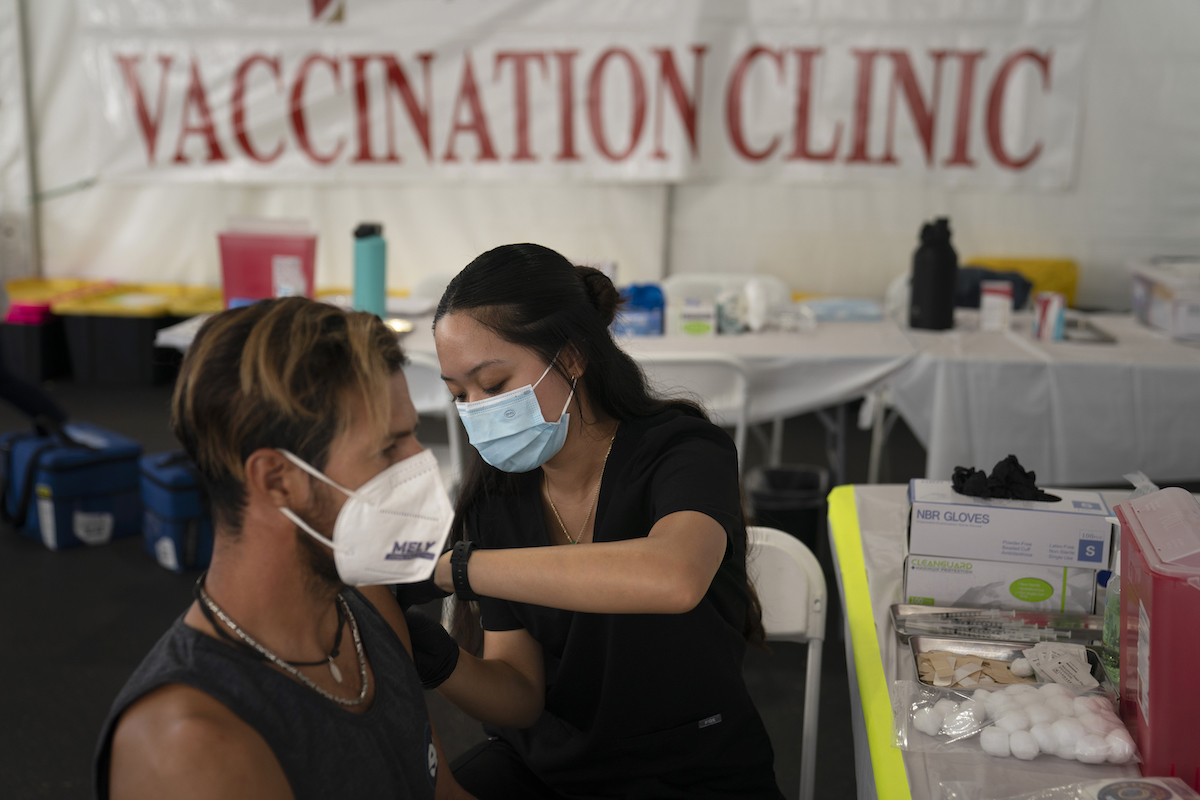 A nurse delivers a COVID-19 vaccine at a clinic set up in the parking lot of CalOptima in Orange, Calif., on Aug. 28, 2021. (AP)
But the ability for COVID-19 to become endemic also hinges in part on the situation overseas, where much of the world is not vaccinated, said Richard Watanabe, a professor of population and public health sciences at the University of Southern California's Keck School of Medicine.
Endemicity also depends on Americans getting vaccinated to build immunity, experts said.
The power of that approach has been shown in Portugal, where higher shares of residents are vaccinated and boosted than in the U.S., according to Our World in Data. Even as new cases skyrocket from omicron, COVID-19 deaths in the country have hardly budged.
"For the first time in human history, we have the ability to modify the course of the pandemic through human behavior," Schleiss said. "We didn't have that in 1918."
TVEyes, accessed Jan. 12, 2022
Our World in Data, accessed Jan. 12, 2022
Johns Hopkins University, "Coronavirus Research Center," accessed Jan. 12, 2022
The Atlantic, "Omicron Is Forcing Us to Rethink Mild COVID," Jan. 10, 2022
NBC News, "Meet the Press - January 9, 2022," Jan. 9, 2022
Monica Gandhi MD, MPH on Twitter, Jan. 9, 2022
Buffalo News, "When will this pandemic end? Certainly not during the next few weeks, experts say," Jan. 9, 2022
The Journal of the American Medical Association, "A National Strategy for COVID-19 Medical Countermeasures," Jan. 6, 2022
The Journal of the American Medical Association, "A National Strategy for the "New Normal" of Life With COVID," Jan. 6, 2022
The Journal of the American Medical Association, "A National Strategy for COVID-19Testing, Surveillance, and Mitigation Strategies," Jan. 6, 2022
Fox News, "The Ingraham Angle," Jan. 6, 2022
Fox News, "The Five," Jan. 5, 2022
The New York Times, "Coronavirus Briefing: What's after Omicron?" Jan. 5, 2022
Dr. Nahid Bhadelia on Twitter, Jan. 5, 2022
Saman Maleki, PhD on Twitter, Jan. 3, 2022
Bill Hanage on Twitter, Jan. 3, 2022
The Associated Press, "How will pandemic end? Omicron clouds forecasts for endgame," Jan. 3, 2022
Vox, "Despite omicron, Covid-19 will become endemic. Here's how," Jan. 1, 2022
Wired, "Covid Will Become Endemic. The World Must Decide What That Means," Dec. 31, 2022
Email interview with Dr. Mark Schleiss, professor of pediatrics at the University of Minnesota Medical School, Jan. 11, 2022
Email interview with Richard Watanabe, professor of population and public health sciences at the University of Southern California's Keck School of Medicine, Jan. 11, 2022
Email interview with Dr. Amesh Adalja, senior scholar with the Johns Hopkins Center for Health Security, Jan. 10, 2022
Phone interview with Andrew Noymer, associate professor of population health and disease prevention at the University of California, Irvine, Jan. 10, 2022
Browse the Truth-O-Meter
More by Bill McCarthy