Stand up for the facts!
Our only agenda is to publish the truth so you can be an informed participant in democracy.
We need your help.
I would like to contribute
Maxine Waters could be "sentenced" for "jury tampering."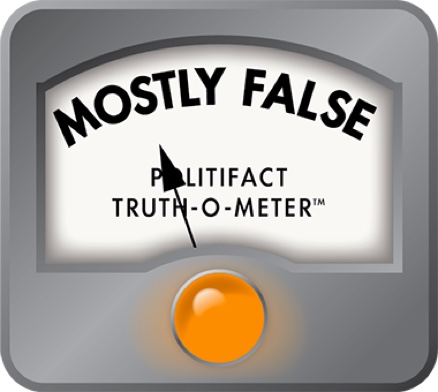 Did California Congresswoman Maxine Waters Tamper With The Jury In Derek Chauvin's Trial?
If Your Time is short
An image shared more than 4,700 times on Facebook claimed that U.S. Rep. Maxine Waters, a California Democrat, could be "sentenced" for "jury tampering."

Days before a jury convicted former police officer Derek Chauvin of murdering George Floyd, Waters told protesters in Brooklyn Center, Minnesota, that if he wasn't convicted, they should "get more confrontational."

Chauvin is expected to file for appeal, and Waters' comments on the trial might have an impact on the outcome of his request, according to legal experts. However, there is no evidence that Waters tried to unduly influence jurors' deliberations. And she would not be charged or "sentenced" for those actions.
An image published on Facebook by The Western Journal's Conservative Tribune claimed that U.S. Rep. Maxine Waters, a Democrat from California, could be "sentenced" for "jury tampering," referring to comments the Congress member made several days before former police officer Derek Chauvin was convicted of murder and manslaughter in the death of George Floyd.


The image features a photo of labor union leader Jimmy Hoffa, who was convicted of jury tampering in 1964, next to a photo of Waters. Text underneath Waters' photo reads, "Maxine Waters, 2021: Sentenced to ___ for jury tampering?"
We decided to examine the details in this fact check.
Facebook flagged this story as part of its efforts to combat false news and misinformation on its News Feed. (Read more about PolitiFact California's partnership with Facebook.) It had been shared more than 4,800 times as of April 23.
Waters' remarks before the verdict
On April 17, Waters spoke to protesters in Brooklyn Center, Minnesota, where Daunte Wright, a Black man, was recently shot and killed by Kim Potter, a white police officer. Waters spoke for approximately 10 minutes and told protesters that she came to stand with them. She publicly called on Congress to pass police reform.
She then took questions from the crowd. One person asked, "What needs to happen that is different this year than all the years before?"
Waters responded that she was "looking for the guilty verdict" and encouraged protesters to stay in the streets and "fight for justice." The questioner followed up by asking Waters if she was looking for a guilty verdict just for Chauvin's manslaughter charge, and she said "Oh, no, not manslaughter. … This is guilty for murder."
The questioner then asked Waters, "What should protesters do," assuming Chavin was not convicted. The Congress member told protesters they must "stay on the street" and "get more confrontational" so that "they know that we mean business."
Republicans subsequently rebuked Waters for her remarks, accusing her of inciting violence. She defended herself in an interview with The Grio, saying that she is nonviolent and that her comments were taken out of context.
"I talk about confronting the justice system, confronting the policing that's going on, I'm talking about speaking up," Waters said. "I'm talking about legislation. I'm talking about elected officials doing what needs to be done to control their budgets and to pass legislation."
On Tuesday, Democrats in the U.S. House of Representatives defeated a Republican effort to censure Waters for her comments.
Do Waters' comments constitute jury tampering?
Jury tampering is a criminal offense in the United States and refers to communicating with a juror, through private messages or indirectly, with the intent of influencing deliberations.
Jurors in Chauvin's trial were all selected in March from Hennepin County, where Floyd died and where the case is being tried. Chauvin's defense team initially petitioned to change the location of the trial, but their request was denied. To avoid tampering, jurors' identities were not made public, although the court did release demographic information, including their gender, race and approximate age.
Before selection, all potential jurors were required to fill out a 16-page questionnaire, which asked them a variety of questions surrounding their views on racial discimination and policing. Jurors responded to questions about how many times they saw video of Floyd's death, if they participated in recent demonstrations on police brutality, whether they previously advocated for or against police reform and their views on defunding the police.
Defense attorney Eric Nelson and prosecutor Steve Schleicher questioned the prospective jurors during the selection process, and were able to ask the court to dismiss prospective jurors for cause if they felt the person could not be impartial in the trial. They were also able to use a peremptory challenge to dismiss jurors without cause. The defense team was granted 18 peremptory challenges and used 14 to dismiss jurors, while the prosecution was allowed 10 and used eight.
After the shooting of Wright, days before Waters spoke with protesters in Brooklyn Center, Chauvin's defense team requested that the jury be sequestered until the end of the trial. Judge Peter Cahill rejected the request, noting that the jury would be sequestered during deliberations and that jurors had been repeatedly instructed not to talk to anyone about the case and to avoid watching the news. 
Earlier in the trial, Cahill brought a juror in for questioning about potential outside contact. The juror said she had received a text message from her mother that read, "looks like it was a bad day," according to MPR News. The juror said she hadn't talked to anyone about the case and she was allowed to go back to the jury.
Following Waters' comments, Nelson moved for a mistrial. He said there was "a high probability" that jurors were aware of Waters' remarks, which he characterized as "threatening and intimidating."
"The idea is that it is a public trial; I think the court has accomplished that, but the media attention is so profound … and it is so pervasive that I just don't know how this jury can really be said to be that they are free from the taint of this," Nelson said. "And now that we have U.S. representatives threatening acts of violence in relation to this specific case, it's mind-boggling to me."
Cahill denied the motion, telling Chauvin's defense team that he trusted the jury was following his instructions to avoid the news.
"I don't think it has prejudiced us with additional material that would prejudice his jury," Cahill said. "A congresswoman's opinion really doesn't matter a whole lot."
However, he also said he wished "elected officials would stop talking about this case, especially in a manner that is disrespectful to the rule of law and to the judicial branch," and admitted that Waters' remarks might be grounds for appeal in the future.
"I'll give you that Congresswoman Waters may have given you something on appeal that may result in this whole trial being overturned," Cahill told Nelson.
Legal experts said they expect Chauvin's defense team to cite Waters' comments in an appeal, but UC Berkeley law professor Jonathan Simon said that he is "skeptical" that the verdict will be overturned on the grounds that the remarks prejudiced the jury. Simon noted that similar issues surrounding media exposure "come up in almost every crime of great notoriety," but trial decisions are rarely overturned.
"The concern that the jury was influenced by politicians saying there could be trouble — they hardly needed politicians to draw that conclusion," Simon said in an interview released by UC Berkeley's Office of Communications and Public Affairs. "That was obvious after George Floyd was murdered, when there were demonstrations that at least sometimes became violent or destructive."
Similarly, Ted Sampsell-Jones — a former appellate criminal defense attorney and a professor at Mitchell Hamline School of Law in St. Paul, Minnesota — said in an interview with PolitiFact that Waters' comments were "unfortunate," but unlikely to reverse Chauvin's conviction as Cahill "took reasonable measures" to avoid undue influence on the jury.
"A defendant is entitled to a fair trial, not a perfect trial," Sampsell-Jones said. "Finally, given the overwhelming evidence of guilt, appellate courts will conclude that adverse publicity didn't affect the result. Even if Rep. Waters hadn't made those statements, he'd still have been found guilty."
Our ruling
A misleading image published on Facebook by The Western Journal's Conservative Tribune accused Democratic U.S. Rep. Maxine Waters from California of jury tampering because of her comments to protesters on Chauvin's trial. It positioned it's claim in the form of a question: "Maxine Waters, 2021: Sentenced to ___ for jury tampering?"
The claim leaves out crucial facts about the jury selection process and what happened in court. Judge Peter Cahill criticized Waters but also refused a mistrial motion from the defense team, who claimed that Waters' comments prejudiced the jury. He said he believes the jury remained capable of conducting their duties. 
Legal experts concur, noting that even if some jurors heard Waters' comments, they were unlikely to be swayed by them given the prior knowledge of the case that they had coming into the courtroom.
Furthermore, while jurors were not sequestered until deliberations, numerous steps were taken during jury selection and the course of the trial to ensure the jury was impartial and avoided any news concerning the case, even in the face of immense media attention. 
Chauvin is almost certain to file an appeal, which Waters' remarks could impact. However, legal experts believe it's unlikely that the results of the trial would be overturned. And, although the image poses the idea of Waters being "sentenced" for her actions as a question, not a declaration, it's important to note that she most likely would not be charged for her actions last week.
We rate this statement Mostly False.
MOSTLY FALSE – The statement contains an element of truth but ignores critical facts that would give a different impression.
Facebook image, April 20, 2021
The New York Times, Hoffa is guilty of trying to fix a federal jury, March 5, 1964
PolitiFact, What Rep. Maxine Waters said about the Chauvin trial and why it matters, April 21, 2021
Politico, GOP fails to censure Waters with nation on edge over Chauvin verdict, April 20, 2021
The Grio, Maxine Waters slams GOP attacks over 'confrontational' comment: 'I am nonviolent', April 19, 2021
Cornell Law Library Legal Information Institute, Jury tampering, last updated July 2020
CNN, Here's what we know about the jury in Derek Chauvin's trial, April 20, 2021
CNN, Prospective jurors in George Floyd's murder trial are asked to weigh in on Black Lives Matter protests, December 23, 2020
CNN, Judge in Derek Chauvin trial says Rep. Maxine Waters' comments may be grounds for appeal, April 20, 2021
MPR News, Jury deliberations in the Chauvin trial: Key questions, answered, April 17, 2021
Berkeley News, 'Cinematic' video, police condemnation sealed guilty verdict in Chauvin trial, April 20, 2021
Browse the Truth-O-Meter
More by Sasha Hupka
Support independent fact-checking.
Become a member!
In a world of wild talk and fake news, help us stand up for the facts.