Get PolitiFact in your inbox.
"Expanding Medicaid would bring 40,000 jobs to North Carolina."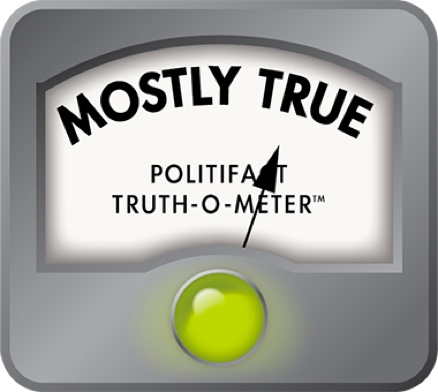 Would Medicaid expansion bring 40,000 jobs to North Carolina, as state House Democrat says?
Democrats in North Carolina's General Assembly filed bills to expand Medicaid last month, and now the party's leaders are taking their case to the public. One big selling point: jobs.
"Expanding Medicaid would bring 40,000 jobs to North Carolina," said House Minority Leader Darren Jackson, who represents part of Wake County, in a Jan. 30 tweet.
PolitiFact North Carolina has checked claims about the added coverage Medicaid expansion would give to North Carolinians, but Jackson's statement is the first we've considered that tries to link expansion to more jobs in the state. So we decided to see how it stacks up to the facts.
(PolitiFact examined similar statements from politicians in Florida and Wisconsin in 2013.)
What is Medicaid expansion?
North Carolina has participated in Medicaid, a program that provides health insurance to low-income people, since 1970.
Since 2010, 36 states and the District of Columbia have used a provision in the federal Affordable Care Act to pay for expanded Medicaid coverage for people with household incomes below 138 percent of the federal poverty line, according to the Kaiser Family Foundation, an independent health care research group.
North Carolina has not expanded Medicaid, and the Republican-led state legislature passed a bill in 2013 that effectively prohibits expansion without the legislature's approval. But Democrats say there are economic reasons to expand the program.
The costs of Medicaid are split between the state and the federal government, with the federal government currently paying 67 percent. But the federal government has pledged to pick up the bulk of the expansion costs, including 95 percent now and 90 percent after 2020.
Would it create jobs?
We talked to four experts about the economic impact, and they agreed that there would be a large gain in jobs. They said the reason is simple: An influx of new Medicaid money would lead to more spending across the state's economy.
Jackson said the $40,000 estimate came from a 2014 report by the Cone Health Foundation, a Greensboro-based 501(c)(3) organization that supports Cone Health, a nonprofit network of health-care providers in the area.
The Cone report said that if North Carolina did not accept expansion by 2016, the state would lose an estimated $21 billion in federal money between 2016 and 2020, resulting in 43,000 fewer jobs statewide.
Leighton Ku, director of George Washington University's Center for Health Policy Research and the lead author of the Cone report, said that he has not updated his analysis since 2014.
But he said conditions are about the same now and the amount of federal money Medicaid expansion would bring "ought to be roughly comparable to our earlier estimates."
"The evidence continues to indicate that Medicaid expansion would increase the flow of federal funding into North Carolina, which would improve economic growth and increase the number of jobs," Ku said. "States that expanded Medicaid found that their economies were stronger; the lack of expansion in North Carolina has held the state back."
Other experts agreed. David Anderson, research associate at Duke University's Margolis Center for Health Policy, said Medicaid expansion would "turn on a new flow of federal funds into the state without changing the current outflow of funds." In other words, there would be lots more money coming in, but not going out.
Michael Walden, professor of economics at North Carolina State University, said that money would turn into spending and jobs both in and outside the medical industry. According to the Cone report, only about half of the jobs would be in the medical industry, with the rest distributed among industries such as construction, retail, real estate and food and beverage.
Using an economic development model specific to North Carolina and assuming that Medicaid expansion would bring in $13 billion over the next decade, Walden estimated that the expansion would create about 39,000 jobs — a number similar to the Cone Health finding from 2014.
Still, as PolitiFact Florida noted years ago, it can be difficult to determine to what extent new jobs are the direct result of one program or another. There are lots of moving parts, and expansion could inspire new Medicaid enrollees who are eligible but have not yet signed up to seek their own benefits, adding more costs to the state that could in turn affect job growth.
It's also worth noting that the Cone Health Foundation calls itself a "supporting organization" of Cone Health, which presumably would receive additional money from Medicaid expansion. So we should take its findings with a slight grain of salt, even though Anderson said the report used a "well-established methodology and tools."
Our ruling
Jackson said, "Expanding Medicaid would bring 40,000 jobs to North Carolina."
Indeed, economists and health care experts say more money injected into North Carolina would lead to more jobs for its residents, although it's difficult to pinpoint exactly how much.
Jackson's estimate fits in line with the available research, and experts we spoke to agreed it was reasonable. But it's still an estimate — a fact Jackson did not mention in his tweet.
We rate this statement Mostly True.
This story was produced by the North Carolina Fact-Checking Project, a partnership of McClatchy Carolinas, the Duke University Reporters' Lab and PolitiFact. The NC Local News Lab Fund and the International Center for Journalists provide support for the project, which shares fact-checks with newsrooms statewide. To offer ideas for fact checks, email [email protected].
Darren Jackson on Twitter, Jan. 30, 2019
Darren Jackson for NC House on Facebook, Jan. 30, 2019
Cone Health Foundation, "The Economic and Employment Costs of Not Expanding Medicaid in North Carolina: A County-Level Analysis," December 2014
Wake Forest University School of Law, "Medicaid Expansion Costs in North Carolina: A Frank Discussion," January 2016
NC Policy Watch, "North Carolina advocates, health care leaders press again for Medicaid expansion," June 26, 2018
NC Rural Center, "Medicaid Expansion: Closing the Health Insurance Gap," Dec. 19, 2017
Asheville Area Chamber of Commerce, "The Economic Impact of Medicaid Expansion in North Carolina," Oct. 15, 2016
Henry J. Kaiser Family Foundation, "Federal and State Share of Medicaid Spending," accessed Feb. 8, 2019
The News & Observer, "Energized Democrats push for N Carolina Medicaid expansion," Jan. 30, 2019
PolitiFact North Carolina, "Wooten says blocked Medicaid affected half a million North Carolinians and veterans," Sept. 5, 2018
PolitiFact North Carolina, "NC Gov. Roy Cooper on Medicaid expansion in North Carolina: "You're already paying for it," Jan. 19, 2017
PolitiFact Florida, "Will a Medicaid expansion create jobs? A review of the evidence," Feb. 27, 2013
Email interview with state Rep. Darren Jackson, North Carolina House Minority Leader, Feb. 8, 2019
Email interview with David Anderson, research associate at Duke University's Margolis Center for Health Policy, Feb. 8, 2019
Email interview with Michael Walden, professor of economics at North Carolina State University, Feb. 8, 2019
Email interview with Leighton Ku, professor of health policy and management and director of the Center for Health Policy Research at George Washington University, Feb. 8, 2019
Email interview with Katherine Swartz, professor of health policy and economics at Harvard University, Feb. 8, 2019
Browse the Truth-O-Meter
More by Bill McCarthy
Support independent fact-checking.
Become a member!
In a world of wild talk and fake news, help us stand up for the facts.