Stand up for the facts!
Our only agenda is to publish the truth so you can be an informed participant in democracy.
We need your help.
I would like to contribute
Says Patrick Morrisey's "family's firm was paid $500,000 to lobby AGAINST Trump's last Supreme Court nominee, Neil Gorsuch."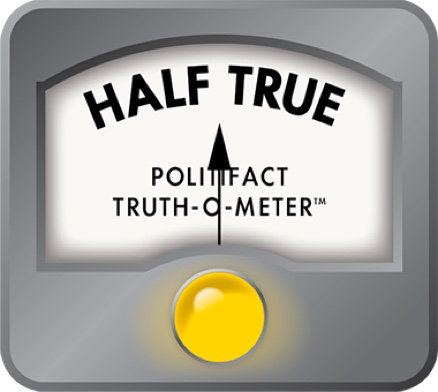 Did Patrick Morrisey's family firm lobby against Gorsuch confirmation?
In West Virginia's closely watched Senate race, the state Democratic Party is shining a spotlight on Republican Attorney General Patrick Morrisey's wife, Denise, who is a Washington lobbyist.
In a tweet on July 10, a few days after President Donald Trump nominated Brett Kavanaugh to the high court, the state party referenced the role of Denise Morrisey's firm in the previous Supreme Court nomination battle, involving the nomination of Trump nominee Neil Gorsuch. Patrick Morrisey, who is challenging incumbent Democratic Sen. Joe Manchin, had publicly expressed support for Gorsuch's confirmation.
The state Democratic Party party tweeted, "U.S. Senate candidate @MorriseyWV CAN'T have his CAKE & EAT it too! FACT: His family's firm was paid $500,000 to lobby AGAINST Trump's last Supreme Court nominee, Neil Gorsuch."
This isn't the first time Denise Morrisey's employer has caused friction for Patrick Morrisey. We have previously written about lobbying that her firm, Capitol Counsel, did for major pharmaceutical companies, some of which produce or distribute opioids — a category of drug that has caused severe problems in West Virginia and elsewhere.
As for Capitol Counsel's work against Gorsuch's nomination, we found some truth in the West Virginia Democratic Party's allegation, but also some significant overreaches.
Is Capitol Counsel the Morrisey "family's firm"?
Not really.
The party backs up its claim that "the Morrisey family owns the Washington, D.C. lobbying firm Capitol Counsel" by citing a Gazette-Mail article from May 2017.
That article said that Denise Morrisey holds "the second-largest ownership stake" in the firm. The firm partly confirmed and partly contradicted that account in a July 2017 letter outlining the scope and limits of the firm's connections to the Morriseys.
In the letter, the firm's founder, John Rafaelli, said Denise Morrisey has an ownership stake, but a smaller one than the newspaper had reported. "She is a minority shareholder with 15 percent of the stock," Rafaelli wrote.
Regardless of the exact amount of ownership, the Democratic Party's assertion is overly expansive. Just because Denise Morrisey is a part-owner of Capitol Counsel doesn't make it the Morriseys' family firm. She doesn't own a majority stake, and her husband is not involved in its operations.
Did the firm lobby against Gorsuch?
Yes.
According to federal lobbying disclosure forms, Capitol Counsel lobbied on behalf of Planned Parenthood Federation of America Inc., including for a time on "legislative issues related to the nomination of Judge Neil Gorsuch to be an Associate Justice of the Supreme Court of the United States."
We should note that Denise Morrisey did not personally lobby against Gorsuch. Her name was absent from the firm's disclosure forms for Planned Parenthood. This is consistent with Rafaelli's statement in the letter that a lobbyist from the firm who recuses from a particular client will not be listed on that client's disclosure form.
Was the firm paid $500,000 to lobby against Gorsuch?
No, it was paid substantially less.
The party cited a May 2017 article in the Washington Examiner that said in part that "the lobbying shop has cashed Planned Parenthood checks worth $460,000." But the party twists this figure by saying that all paid for the anti-Gorsuch lobbying.
Disclosure forms show that, in all, Planned Parenthood has paid Capitol Counsel $710,000 to date. Their relationship began in the first quarter of 2015, and the most recent filing covered the first quarter of 2018.
But the only two quarters that overlapped with Gorsuch's nomination were the first two quarters of 2017, and during that period, Planned Parenthood paid the firm $120,000, which is much lower than what the tweet said. (Gorsuch lobbying was listed as an issue on the third quarter 2017 form as well, but that is likely an oversight since he was already sitting on the court by then.)
It's also an exaggeration to say that the firm spent all of its lobbying efforts during those two quarters on Gorsuch's nomination. The firm listed a number of other issues on its disclosure form, specifically "health care issues related to HR 1628, the American Health Care Act of 2017; legislative issues related to Title X family planning funding, including HJRes 43, a Resolution of Disapproval of a rule submitted by the Department of Health and Human Services relating to Title X project recipients."
For the record, the firm insists that, despite her ownership stake, Denise Morrisey did not benefit personally from Planned Parenthood payments to the firm. In the letter, Rafaelli wrote that "Mrs. Morrisey's compensation is based 100 percent on the revenue generated by clients that she is listed as working on behalf of on the (disclosure forms)."
Morrisey's current clients include the American Academy of Dermatology, the American Academy of Ophthalmology, the Biotechnology Industry Organization, the California Dental Association, the Healthcare Leadership Council, the Joint Commission on Accreditation of Healthcare Organizations, the National Society of Genetic Counselors, Physician Hospitals of America, the Physicians Advocacy Institute, and Varian Medical Systems.
Our ruling
The West Virginia Democratic Party tweeted that Morrisey's "family's firm was paid $500,000 to lobby AGAINST Trump's last Supreme Court nominee, Neil Gorsuch."
The firm Denise Morrisey worked for did lobby for Planned Parenthood against Gorsuch's confirmation.
However, the tweet exaggerates key aspects of the relationship. Capitol Counsel is affiliated with Denise Morrisey but not the family as a whole, and the firm was not paid nearly as much as the $500,000 the tweet alleged.
We rate the statement Half True.
West Virginia Democratic Party, tweet, July 10, 2018
John Rafaelli, letter, July 19, 2017
Main search page for federal lobbying disclosure forms, accessed July 12, 2018
Washington Examiner, "Joe Manchin's Republican challenger, W. Va. Atty. Gen. Patrick Morrissey, is married to a K Street lobbying mogul," May 08, 2017
Charleston Gazette-Mail, "Planned Parenthood paid Morrisey's wife's firm $460K for lobbying," May 7, 2017
West Virginia Democratic Party, "Lobbying firm owned by the Morrisey family paid to lobby against Trump's SCOTUS Nominee," July 10, 2018
West Virginia Democratic Party, "Morrisey Lies About Ties To D.C. Lobbying Firm," July 11, 2018
PolitiFact, "A closer look at Patrick Morrisey's family ties to 'big pharma,'" March 27, 2018
Email interview with Nathan Brand, spokesman for Patrick Morrisey, July 11, 2018
Email interview with Brittni McGuire, spokeswoman for the West Virginia Democratic Party, July 11, 2018
Browse the Truth-O-Meter
More by Louis Jacobson
Support independent fact-checking.
Become a member!
In a world of wild talk and fake news, help us stand up for the facts.