Get PolitiFact in your inbox.
California has "the same water infrastructure from when we were 16 million people."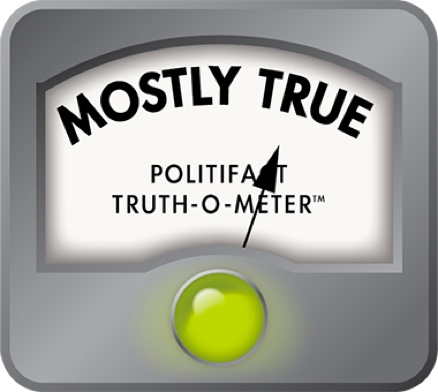 Does California 'have the same water infrastructure' as it did in the 1960s?
U.S. Sen. Dianne Feinstein, D-CA, has called solving California's water wars one of the toughest challenges of her career. Tougher, she says, than passing a federal assault weapons ban in 1994.
But the reason the 82-year-old lawmaker says she keeps pushing is simple: The state's water infrastructure is outdated and its drought emergency persists. She has spearheaded a bill that would pump $1.3 billion into water desalination, recycling and storage projects.
One of her recent comments about the need for that bill caught our attention.
California has "the same water infrastructure from when we were 16 million people," Feinstein said in a Q&A with the Sacramento Bee on April 3, 2016. "We had better get cracking, because it's only going to get worse."
She made a similar claim on February 19, 2016 during a speech at a Public Policy Institute of California event.
Feinstein makes the claim at the 27:30 mark in the Public Policy Institute of California video above.
Was Feinstein right? Does California, a state known for innovation, really rely on a plumbing system from generations ago with no substantial upgrades?
View of the Oroville Dam in Northern California. Construction started on this early piece of the State Water Project in 1957. It was partially completed by 1964. Photo by Dept. of Water Resources.
Our research
California is now home to nearly 40 million people.
It was more than a half century ago, around 1960, when the state had about 15.7 million people, according to the U.S. Census Bureau.
To get a better read on Feinstein's accuracy, we spoke with Jay Lund, director for the Center for Watershed Sciences at UC Davis.
"In some ways it's true," Lund said. "We haven't built very large water projects for quite a long time -- since the State Water Project, really."
Construction started in the late 1950s and early 1960s on the State Water Project, a massive set of reservoirs, aqueducts and pumping plants that store and deliver water up and down the state to 25 million Californians. The backbone of the project, including Lake Oroville and the California Aqueduct, was finished in the 1960s and early 1970s.
Chrisman Pumping Plant at the Grapevine is one of the southernmost along the California Aqueduct. Photo By Amy Quinton / Capital Public Radio.
Feinstein's spokesman, Tom Mentzer, pointed to a state timeline for the project to explain the senator's statement.
Her claim "conveys the idea that California's core water conveyance and storage infrastructure was designed when the state's population was approximately 16 million," Mentzer said. "The timeline shows initial facilities were finished by the 1970s. A number of subsequent facilities were built later, but they're not the core infrastructure."
Construction on another ambitious project -- the federal government's Central Valley Water Project, which irrigates the San Joaquin Valley -- started in the late 1930s and was completed in the early 1970s.
Smaller projects
Lund said California hasn't built anything as large since then. Some of the state's major water districts have independently added "some important pieces" of storage and conveyance in the last couple of decades, Lund said.
One example is Diamond Valley Lake in Riverside County, the largest reservoir in Southern California. It was completed in 2000 by the Metropolitan Water District of Southern California and holds up to 800,000 acre feet of water, "almost as big as Folsom (Lake)," Lund noted.
Another is Los Vaqueros Reservoir, completed in 1998 by the Contra Costa Water District near Brentwood. It holds 160,000 acre feet.
And last December, the $1 billion Carlsbad Desalination Project, built by private firm Poseidon Water, started converting ocean water into drinking water for residents in San Diego County. It's expected to contribute up to 10 percent of the region's water supply.
California's water system is "not exactly the same," as the early 1960s, Lund added. "But it's substantially the same in terms of the broad water supply and flood control projects."
Projects above represent the bulk of the California State Water Project (SWP) as well as a few additional projects, it does not represent all the water projects in California. 
Our ruling
U.S. Senator Dianne Feinstein said California has "the same water infrastructure from when we were 16 million people."
Large portions of the state's modern-day water system, including the State Water Project and Central Valley Project were built in the 1960s, when California reached the 16 million population mark.
Some pieces of those systems, which continue to provide water to California's cities and farms, were completed in the 1970s.
In more recent decades, water districts have constructed significant storage reservoirs, plus a large desalination plant, to supplement regional supplies.
Feinstein's comment could have used this additional information.
Still, it's clear that California has not constructed any new statewide projects to match the scale of those of started in the 1960s.
We rate Feinstein's claim Mostly True.
---
MOSTLY TRUE – The statement is accurate but needs clarification or additional information.
Click here for more on the six PolitiFact ratings and how we select facts to check.
https://www.sharethefacts.co/share/95e5bdea-1aed-4553-bb61-576f12f2ff84
Senator Dianne Feinstein, Sacramento Bee Q&A, April 3, 2016, and Public Policy Institute of California video, February 19, 2016
Interview, Jay Lund, director, Center for Watershed Sciences at UC Davis, April 7, 2016
Interview, Tom Mentzer, spokesman for Sen. Dianne Feinstein, April 8, 2016
California Department of Water Resources, State Water Project history and timeline, accessed May 2016.
Poseidon Water, Carlsbad Desalination Project project overview, accessed May 2016.
Metropolitan Water District, Diamond Valley Lake website, accessed May 2016
Contra Costa Water District, Los Vaqueros Project History, accessed May 2016
Browse the Truth-O-Meter
More by Chris Nichols
Support independent fact-checking.
Become a member!
In a world of wild talk and fake news, help us stand up for the facts.