Get PolitiFact in your inbox.
"If Cory Gardner gets his way, you'd better stock up on condoms."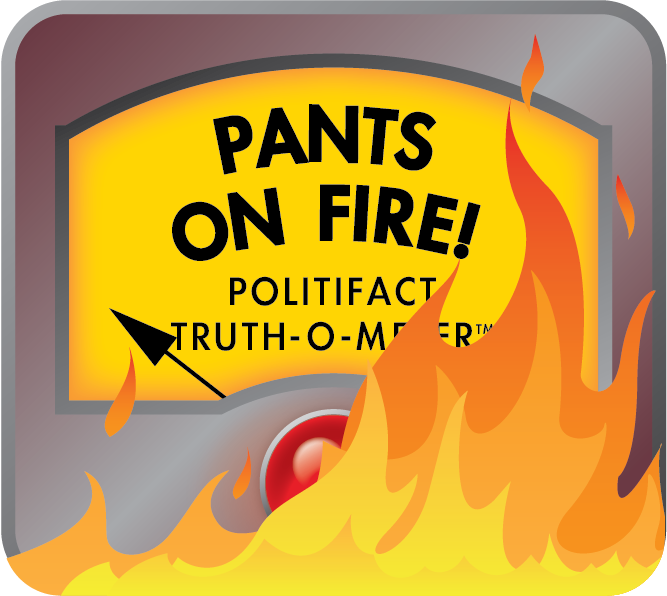 Ad in Colorado Senate race suggests Cory Gardner would ban condoms
Even amid a torrent of campaign ads during the waning days of the 2014 midterm election cycle, a new television ad in Colorado's tight Senate race certainly stands out.
It addresses a topic -- abortion and birth control -- that have recurred often in the campaign between incumbent Democratic Sen. Mark Udall and Republican Rep. Cory Gardner. But the imagery, and the claim, make the ad unusual.
The ad shows footage of a young, partially dressed couple in a bed, with the man reaching for a condom on the night table. "Guys, guys, guys, guys, guys!" the narration says. "If Cory Gardner gets his way, you'd better stock up on condoms." In bold type, the ad offers a visual saying, "Gardner: Ban birth control."
The ad's sponsors -- the abortion-rights groups NARAL Pro-Choice America and NARAL Pro-Choice Colorado -- frame the ad as an "edgy" attempt to reach young voters. (The ad also makes claims about climate change, but we won't address those in this fact-check.)
How accurate is the claim about condoms? We have previously addressed claims on Gardner and birth control, but this one is slightly different, so we'll take a closer look.
First, here's what the Gardner campaign said when we asked about the ad.
"Cory does not want to ban condoms," said campaign spokesman Alex Siciliano. "In fact, he believes in increased access to contraceptives. He has proposed making common forms of oral contraception available over the counter."
So where does the ad get its evidence from?
Past claims about Gardner and birth control have stemmed from his support of efforts to support "personhood" measures that would define life beginning at fertilization to the Colorado Constitution.
In the U.S. House of Representatives, Gardner co-sponsored H.R. 1091, known formally as the Life At Conception Act and informally as a "personhood" bill. The bill was introduced April 8, 2013, by Rep. Jim Jordan, R-Ohio. According to the bill text, it would "implement equal protection for the right to life of each born and preborn human person" and "declares that the right to life guaranteed by the Constitution is vested in each human being."
It goes on to say that " 'human person' and 'human being' include each and every member of the species homo sapiens at all stages of life, including the moment of fertilization, cloning, or other moment at which an individual member of the human species comes into being."
Opponents of personhood legislation say that giving a fertilized egg all the rights of person could make illegal several FDA-approved contraceptives, such as the pill and intrauterine devices, or IUDs. Anti-abortion groups successfully petitioned to get personhood measures on the Colorado ballot in 2008 and 2010. Both times it was rejected by more than 70 percent of voters.
As we have noted in the past, we can't predict how the courts would interpret personhood legislation or their impacts on forms of birth control that are currently legal.
Though even Gardner acknowledges that some contraceptives could be at risk if personhood passed, a lot of legal ambiguity remains. Because no state has passed a personhood measure, we don't know how it could impact specific types of contraceptives.
As we've noted in past articles about the debate over personhood, some legal scholars and the medical community have cautioned that it could potentially impact access to birth control.
Gardner's critics may have a point that some forms of birth control could be outlawed if personhood measures became law -- but that shouldn't affect condoms. That's because condoms prevent sperm from reaching the egg in the first place. No fertilization ever takes place.
In a further twist, Gardner made a major about-face during the 2014 campaign, saying he no longer supports the personhood movement, partly because he now thinks it could potentially impact access to certain forms of birth control.
"The fact that it restricts contraception, it was not the right position," Gardner told The Denver Post. "I've learned to listen. I don't get everything right the first time."
Gardner has also said that if the Affordable Care Act is not repealed, he wants to allow the birth control pill to be sold over-the-counter without a prescription. Udall's campaign said he supports allowing over-the-counter sales of the pill as long as insurance companies are still mandated to cover it without any cost sharing.
Finally, Gardner's campaign notes that in 2007, he was one of five to cosponsor an anti-abortion measure in Colorado that specified that "nothing in this section shall prohibit the sale, use, prescription or administration of a contraceptive measure, device, drug or chemical." This bill, his campaign said, demonstrates that Gardner is not anti-contraceptive.
The ad's sponsors didn't get back to PolitiFact, but Doug Gordon, a spokesman for NARAL Pro-Choice Colorado, told our friends at FactCheck.org that "we're not saying he is banning condoms. We are saying if Gardner starts limiting other forms of birth control, you better stock up on condoms because there will be so much demand for them — since Gardner wants to ban other forms of birth control."
While an affiliated radio ad does make that argument, the television ad doesn't say that. It seems much more plausible to us that viewers of the TV ad would assume that Gardner wants to ban birth control, period.
Our ruling
The ad claims that "if Cory Gardner gets his way, you'd better stock up on condoms."
The most obvious interpretation of this statement is that Gardner wants to ban condoms -- something that's based on an incorrect interpretation of the measures Gardner has supported in the past (and which he has since distanced himself from). Gardner says he doesn't support banning condoms, and in any case, condoms would not be at issue under the personhood measure he once supported. We rate this claim Pants on Fire!
NARAL Pro-Choice America and NARAL Pro-Choice Colorado, television ad, Oct. 29, 2014
NARAL Pro-Choice America and NARAL Pro-Choice Colorado, radio ad, Oct. 29, 2014
NARAL Pro-Choice Colorado and NARAL Pro-Choice America, "NARAL Pro-Choice Colorado and NARAL Pro-Choice America Launch TV, Radio, Online Ad Campaign Going After Cory Gardner's Deception On Birth Control," Oct. 29, 2014
FactCheck.org, "NARAL's 'edgy' condom ad in Colorado," Oct. 29, 2014
PolitiFact, "Cory Gardner says his plan for contraceptives, namely the pill, is cheaper than Mark Udall's," Sept. 8, 2014
PolitiFact, "Democratic group claims Cory Gardner backs bill to 'ban all abortions,' " Aug. 28, 2014
PolitiFact, "Mark Udall ad says Cory Gardner 'championed' Colorado fight to ban birth control," April 25, 2014
Email interview with Alex Siciliano, Gardner campaign spokesman, Oct. 30, 2014
Browse the Truth-O-Meter
More by Louis Jacobson
Support independent fact-checking.
Become a member!
In a world of wild talk and fake news, help us stand up for the facts.