Stand up for the facts!
Our only agenda is to publish the truth so you can be an informed participant in democracy.
We need your help.
I would like to contribute
Says Joe Sestak "voted to gut Medicare ... reducing benefits for 854,489 seniors" and jeopardizing "access to care for millions."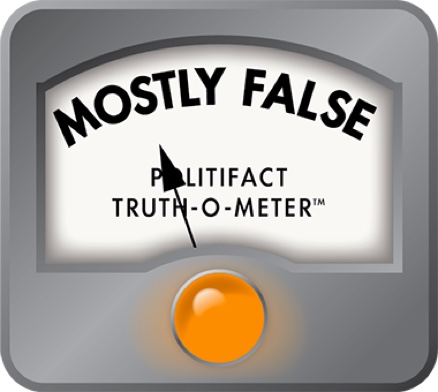 Crossroads GPS ad blasts Joe Sestak for vote to "gut Medicare"
Crossroads GPS, a deep-pocketed conservative advocacy group that has been running issue advertisements in a variety of key 2010 Congressional contests, recently produced an ad attacking Rep. Joe Sestak, D-Pa., who's running for a Senate seat against former GOP Rep. Pat Toomey.

The ad's narration begins, "Over half a million Pennsylvanians unemployed, and what's Congressman Joe Sestak done? He voted to gut Medicare, slashing benefits for Pennsylvania seniors. The Obama-Sestak scheme could jeopardize access to care for millions." In the visuals, the ad says, "Reducing benefits for 854,489 seniors," a statistic it attributes to the Kaiser Family Foundation, a non-partisan group that studies health care policy. The ad also says on screen that Sestak "voted to cut Medicare by $500 billion," citing his vote in favor of the Democratic health care bill that was signed into law earlier this year by President Barack Obama.

Focusing on seniors makes sense in Pennsylvania: It's the fourth oldest state in the union, with 15.5 percent of its residents over 65, trailing only Florida, West Virginia and Maine. So we thought we'd check to see whether the ad's claims about Medicare cuts were accurate.

Initially, we were puzzled by the reference to "854,489 seniors," since it seemed like a remarkably specific number. When we contacted Crossroads GPS, a spokesman pointed us to a Kaiser Family Foundation database on Medicare Advantage, which is an option within Medicare -- the federal health care plan for Americans over 65 -- provided by private insurers. The Kaiser table shows that Crossroads GPS correctly cited the number of Pennsylvania seniors enrolled in Medicare Advantage. That number accounts for nearly 39 percent of all Medicare enrollees in the Keystone State, which is higher than the national average of 25 percent.

Because the ad focuses on Medicare Advantage, we'll begin with that facet of the new law.

As we stated in a recent fact-check of a different ad, the Medicare Advantage program was intended to bring more private sector efficiency to the Medicare program. But the program's higher costs made it a prime target for architects of the new health care law.

A June 2009 analysis from the Medicare Payment Advisory Commission found that, on average, Medicare Advantage programs cost taxpayers 14 percent more than traditional Medicare. So the health care law phased out the extra payments Medicare Advantage programs were due to receive over the next three to six years, with the goal of bringing their costs in line with traditional Medicare. The changes were designed to save a projected $136 billion.

Would these changes translate into "reducing benefits" for Medicare Advantage beneficiaries, as the Crossroads GPS ad says?

The cuts do put in jeopardy some of the more generous benefits that Medicare Advantage plans currently offer, such as dental and vision coverage, enhanced prescription drug coverage, coverage for the beneficiary's Medicare premiums and gym memberships. (The specific benefits differ by plan; indeed, variations in benefit packages are a major way that providers compete with each other for seniors.)

"Many insurers are expected to stop participating in the program, while others will increase the premiums they charge seniors," said Michael Tanner, a health care specialist at the libertarian Cato Institute.

On the other hand, the new law makes clear that Medicare Advantage providers cannot cut basic Medicare benefits -- just extra benefits that are not available to people getting traditional Medicare. This doesn't make the cuts any less real, but the ad, by not mentioning this context, might give viewers a skewed impression of the law's provisions.

In addition, other parts of the new law expand coverage for seniors and ultimately make some components of Medicare less expensive for patients. The Centers for Medicare and Medicaid Services -- the federal office that oversees Medicare -- announced last week that, on average, Medicare Advantage premiums will drop by 1 percent between 2010 and 2011.

All of this suggests that there will probably be benefit cuts to Medicare Advantage programs but not to the core program. And the exact shape of these changes is not known yet.

"It is not yet clear how plans will respond to payment reductions enacted in the health reform law, nor what these changes will mean for beneficiaries nationwide or in any given state," said Tricia Neuman, director of the Medicare Policy Project at the Kaiser Family Foundation.

So looking back at the ad's claims, do the Medicare Advantage changes "gut Medicare" or "jeopardize access to care for millions"?

We think "gut" is an overheated way of putting it. There will likely be cuts to Medicare Advantage, but to suggest that these will eviscerate the program seems exaggerated, since basic benefits must be preserved.

What about the possibility that the changes could "jeopardize access to care for millions"? Setting aside the fact that there are not "millions" of Medicare Advantage beneficiaries in Pennsylvania, we'll acknowledge that there's a risk that some Medicare Advantage providers will look at their financial balance sheets and decide to pull out of the market. But Neuman said that Medicare beneficiaries have an average of 30 plans available to them in 2010 -- and if they can't find one they like, they can always sign up for regular Medicare. That doesn't seem to us like a situation in which access will be jeopardized.

What if you assume that the ad was referring to Medicare as a whole (not just to Medicare Advantage) when it talked about gutting Medicare and jeopardizing access to care?

Answering this question brings up the $500 billion cut referenced in the ad. The new law would indeed slow the rate of growth of the broader Medicare program by roughly that amount over 10 years. But it's not a slam-dunk that this represents a cut.

The new law does not take $500 billion out of the current Medicare budget. Rather, it would slow the program's future growth over 10 years. Medicare spending will still increase -- in fact, the Congressional Budget Office, Congress' non-partisan arbiter on such matters, projects that Medicare spending will reach $929 billion in 2020, up from $499 billion in actual spending in 2009.

Such reductions could certainly squeeze future benefits, especially when inflation in the health care sector is taken into account. But once again, we feel that the use of the word "gut" and the notion that beneficiaries will find their access to care jeopardized amounts to an exaggeration.

The changes in the new law "are not going to cause any hospital, and few other providers, to drop Medicare patients -- they couldn't survive without them," said Henry Aaron, a health care specialist at the centrist-to-liberal Brookings Institution.

So let's recap. The ad is on fairly safe ground in suggesting that Pennsylvania's 854,489 seniors on Medicare Advantage will see a decline in benefits, but it ignores the fact that no basic benefits will be cut. Meanwhile, the ad uses what we consider overheated language. The changes set in motion by the new law don't strike us, or several experts we spoke to, as ones that will "gut" the program or "jeopardize access to care for millions." So we rate the ad Barely True.
Editor's note: This statement was rated Barely True when it was published. On July 27, 2011, we changed the name for the rating to Mostly False.
Crossroads GPS, "Pennsylvania 'What'" (television ad), Sept. 20, 2010

Kaiser Family Foundation, statistics for Medicare Advantage in Pennsylvania, accessed Sept. 28, 2010

Congressional Budget Office, "Budget Options Volume I: Health Care," December 2008

U.S. Census Bureau, "State Interim Population Projections by Age and Sex: 2004 - 2030" (Table 5: Population under age 18 and 65 and older: 2000, 2010, and 2030), accessed Sept. 28, 2010

PolitiFact, "Obama claims Medicare benefits will not be cut under the health care bill," Aug. 14, 2009

PolitiFact, "Medicare 'cuts' in the health care law will hurt seniors, says 60 Plus Association," Sept. 20, 2010

New York Times, "Medicare Advantage Premiums to Fall in 2011," Sept. 21, 2010

Washington Post, "Report: Bill would reduce senior care," Nov. 15, 2009

E-mail interview with Michael Tanner, senior fellow at the Cato Institute, Sept. 28, 2010

E-mail interview with Henry Aaron, senior fellow at the Brookings Institution, Sept. 28, 2010

E-mail interview with Tricia Neumann, vice president and director of the Kaiser Family Foundation's Medicare Policy Project, Sept. 28, 2010

E-mail interview with Chris Lee, spokesman for the Kaiser Family Foundation, Sept. 28, 2010

E-mail interview with Jonathan Collegio, spokesman for Crossroads GPS, Sept. 28, 2010
Browse the Truth-O-Meter
More by Louis Jacobson
Support independent fact-checking.
Become a member!
In a world of wild talk and fake news, help us stand up for the facts.