Stand up for the facts!
Our only agenda is to publish the truth so you can be an informed participant in democracy.
We need your help.
I would like to contribute
"In my attorney general's office, we've cut the budget 18 percent."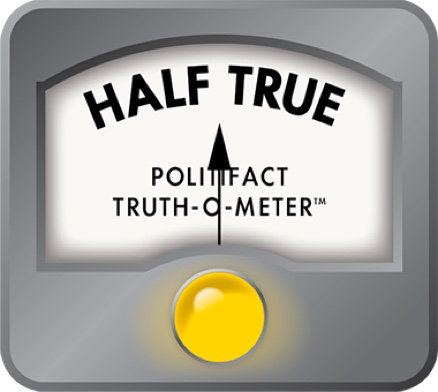 Bill McCollum says he slashed the attorney general's budget 18 percent
In a spirited hour-long FOX 13 debate broadcast on Aug. 5, 2010, Republican candidates for governor Bill McCollum and Rick Scott flung a series of accusations about each others' pasts.

McCollum continued to press Scott about his time running hospital giant Columbia/HCA, saying it's hard to believe Scott didn't know the hospital chain was taking part in a massive and coordinated Medicare and Medicaid fraud scheme.

Scott, meanwhile, bashed McCollum's decades of public service, saying he voted to raise taxes and fees 42 times, and wants to create an anti-business climate if elected.

If you missed the debate, which is likely the last before the Aug. 24 primary, you can watch most of it in segments on Fox 13's website. If you don't have a hour, we'll just sum it up by saying the two men clearly don't like each other.

We plan to check a few items from the debate. In this fact check, we wanted to focus on one exchange dealing with McCollum's government credentials as the state's attorney general.

During one of the more heated moments, Scott accused McCollum of failing to control state spending.

"If you look at history, when state budgets grow versus the size of the private sector, jobs go away," Scott said. "While you've been attorney general it's exploded. You've done nothing to stop it."

"I'm going to reduce the size of government."

McCollum responded, "In my attorney general's office, we've cut the budget by 18 percent. I do know how to run a business. I have run the attorney general's office. It has 12 offices around the state. It has 1,400 employees."

McCollum's facts about the offices and employees are close enough and noncontroversial (it's about 1,300 employees in 12 offices) that we're not going to check them. But we do want to explore the claim that McCollum has cut his budget 18 percent.

The governor's Office of Policy and Budget suggested we turned to the state's fiscal website, http://floridafiscalportal.state.fl.us. The site tracks budget figures by agency starting with the year 2000. For our purposes, we wanted to check the attorney general's budget figures starting in fiscal year 2006-2007, which was the budget passed the year before McCollum took office. That way, we'd track all the budget changes McCollum made.

What we found shows that the total budget for the attorney general's office actually grew since McCollum took office, from about $173 million in 2006 to about $186 million this year. That's a 7.5 percent increase, not an 18 percent cut.

We turned to the attorney general's office for an explanation.

What we got is another lesson in why government is, well, government.

(Now entering the bureaucratic mess of state budgeting.)

While the attorney general's office has a budget of $186 million, lots of that budget is carved out into pieces that head in directions outside of McCollum's control.
McCollum's office provided us with a spreadsheet that attempts to make sense of things. Click here to read it yourself, if you can make sense of it.

Of the AG's $186 million budget, just about 20 percent comes from general revenues, and therefore is available to spent as McCollum sees fit. That money funds the statewide prosecutor, pays for criminal appellate division of the attorney general's office, funds McCollum's cyber crimes task force, etc.

The rest of the money is tied up in trust funds that have a specific purpose, and often simply pass through the attorney general's office.

A couple of examples:

The attorney general's budget this year includes almost $37 million in federal money for victims' funds. That's money allocated to states based on a federal formula and is paid out to victims of a crime. Another $14.6 million in federal dollars are allocated specifically to fight against Medicaid fraud. Under that program, for every $1 the state spends through its general revenue fund, the federal government will kick in $3.

Money to fund the Florida Elections Commission is included in McCollum's budget, though he has no control over it.

Pass-through funding, as the AG's office calls it, accounts for more than $60 million this year alone.

The rest of the attorney general's budget is paid for, ostensibly, by other state agencies who hire McCollum's lawyers. If the Department of Children and Families, for instance, pays for the equivalent of 20 lawyers, they would get 20 lawyers. If they pay for 10, they get 10. If they pay for zero, you get the point.

Excluding the pass-through trust funds and the money spent on AG lawyers by other agencies, the attorney general's operational budget shrunk from $48.6 million in 2007 to $42.9 million this year, a dip of about $5.7 million, according to the AG's office.

But we think using the 2006 number is more fair, because that accounts for any increase in the budget McCollum made in his first year in office. Using the 2006 number, $47.4 million, McCollum has trimmed the attorney general's operational budget about $4.5 million.

Translated into a percentage, that comes to about 9.5 percent.

So what gives?

(Now going deeper into the bureaucratic mess of state budgeting.)

The attorney general's most recent budget includes a special one-time $3.5 million allocation for Crime Stoppers. The money will be used to pay for enhancing public awareness of crime prevention methods and to train the public in personal safety principles. Typically Crime Stoppers had been funded by a $20 fine tacked on to criminal convictions, money that is then put into a trust fund.

But the Legislature zeroed out the trust fund to pay for other costs. So the money was reinserted into the attorney general's operational fund for 2010 only, in order to allow time for the trust fund to be rebuilt.

That shifts the budgeted amount McCollum controls down again, to $39.4 million in 2010.

That's $8 million less than what was budgeted in 2006, or a 16.9 percent decrease.

McCollum said matter-of-factly that he has cut the attorney general's budget 18 percent since he took office. The line leaves viewers, pretty clearly in our minds, the impression that McCollum cut the entire attorney general's budget. In fact, we know now, that he's just talking about a small portion of AG spending.

We acknowledge and agree that there are lots of dollars tucked in the $186 million spending plan that McCollum cannot control, and we also note that McCollum has lowered spending in the core areas of the AG's office he oversees.

But we think he missed an opportunity to be more clear with voters. We rate his statement Half True.
Fox 13, Rick Scott/Bill McCollum debate, Aug. 5, 2010
Governor's office, e-mail interview with Sterling Ivey, Aug. 5, 2010
Florida Fiscal portal, budget documents FY2006/2007-FY2010/2011
Attorney General's office, interview with Ryan Wiggins, Aug. 5, 2010
Attorney General's office, budget spreadsheet, Aug. 5, 2010
Florida Sheriff's Association, Crime Stoppers legislative priority, March 18, 2010
Attorney General's office, Crime Stoppers grant program
Browse the Truth-O-Meter
More by Aaron Sharockman
Support independent fact-checking.
Become a member!
In a world of wild talk and fake news, help us stand up for the facts.