Get PolitiFact in your inbox.
"Shredded Pennsylvania Mail in ballot Applications were discovered in a trailer. The applications were for @realDonaldTrump."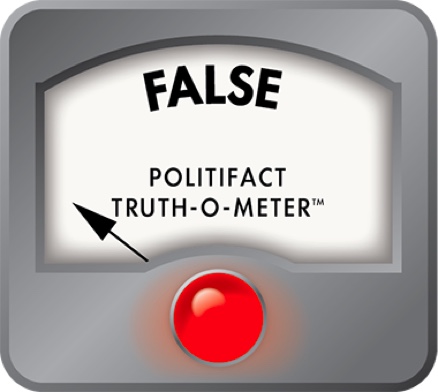 Social posters spread election misinformation about "shredded" ballot applications for Donald Trump
If Your Time is short
The video shows images of a mailer that was to be sent out by Pennsylvania's state Republican Party encouraging people to vote by mail.

Political groups across the country are sending mailers to homes asking people to vote by mail.

The printer of this particular mailer said the video shows print production waste, not shredded applications.
Clips of a video inside the back of a tractor-trailer are being falsely used on social media to stoke a fear that people are trying to rig the election against President Donald Trump.
We've seen multiple versions of the same basic video online. A person is walking around the back of a tractor-trailer that has some trash at the bottom of it. He picks up some of the paper and sees an image of Trump pointing next to the phrase "President Trump wants you to return this form."
The person flips the paper over and shows what looks like an application for a mail-in ballot in Pennsylvania. "They do have people's addresses on them that were never mailed out," the person says.
"Somebody sabotaged all (of) these," the person says in another clip.
That was enough information for some people to say the video is evidence of voter fraud.
One post on Twitter has nearly 22,000 retweets and the video has been viewed more than 400,000 times. "Shredded Pennsylvania Mail in ballot Applications were discovered in a trailer. The applications were for @realDonaldTrump," says the caption.
But that's not what the video shows.
The post was flagged as part of Facebook's efforts to combat false news and misinformation on its News Feed. (Read more about our partnership with Facebook.) 
The mailer itself
Let's start with the mailers in the video. Here's an image:
(Screenshot via YouTube)
The mailers include a return address of the Federal Republican Committee of Pennsylvania. That's the official name for the Pennsylvania state Republican Party.
The mailers are part of a nationwide effort by Republicans — despite the words of Trump — to encourage mail-in voting in 2020. A North Carolina voter posted on Twitter a version of the same mailer, but mailed by the North Carolina GOP. That poster, a Republican who says he's a "Never Trumper," did not request the mailer.
Similar mailers were sent in Texas and Ohio.
The mailers include forms that can be used by someone to request a mail-in ballot from a local election authority, and other groups are doing the same thing. It's legal, so long as the groups sending the mailer comply with state and local laws. In Pennsylvania, you can also request a ballot through the state.
But it's also confusing. In September, NPR zeroed in on Lehigh County in Northeast Pennsylvania, where elections officials said some people had mailed in two or three ballot requests forms because they were confused.
The mailers are not being requested by voters and are part of a bulk mail campaign to encourage mail-in voting.
"Part of the challenge here is that not only more people are sending out applications to voters, in order to make sure voters have an opportunity to vote by mail, but when voters do fill out multiple ones, because maybe they fill it out one day and then a week later because ... they haven't gotten the ballot," Tammy Patrick, the senior adviser of elections at Democracy Fund, told ABC News. (Democracy Fund provides some financial support to PolitiFact.)
Applications for Donald Trump
The video doesn't show any completed applications, so there's no evidence the applications are for Trump.
In the case of the North Carolina voter who got a similar application request, he said he's not voting for Trump.
And regardless, you can't apply to vote for someone. You can only apply for a ballot.
R.R. Donnelly
The most important clue to debunk the video comes in a frame near the end that shows a sign for a business, "R.R. Donnelley." R.R. Donnelley is a company that, among other things, does direct mail services.
(Screenshot via YouTube)
We reached out R.R. Donnelley about the video. A spokeswoman for the company said the video shows printing waste.
"What you see in the Twitter video is residual print production waste in a trailer that was returned from a recycling facility," the company told us. "The full extent of the client's mailing request, applications for mail-in ballots, was produced and processed in accordance with our print and mail verification procedures. Recycling of print production waste is a normal practice associated with a direct mail project of this extent."
Our ruling
Posters took some cell phone video to claim that "Shredded Pennsylvania Mail in ballot Applications were discovered in a trailer. The applications were for @realDonaldTrump." A person in the video claimed this was part of sabotage.
In reality, you're looking at printing waste.
We rate this claim False.
This fact check is available at IFCN's 2020 US Elections FactChat #Chatbot on WhatsApp. Click here, for more.







 
Browse the Truth-O-Meter
More by Aaron Sharockman
Support independent fact-checking.
Become a member!
In a world of wild talk and fake news, help us stand up for the facts.