Get PolitiFact in your inbox.
"Warren (Buffett) still does support me."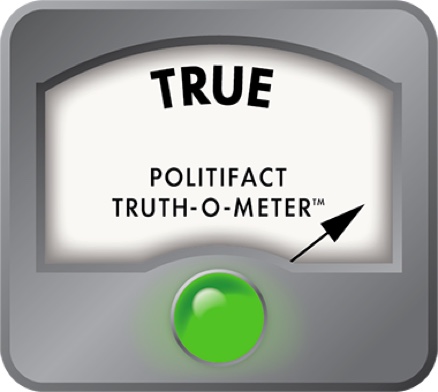 Billionaire Warren Buffett still backs Obama
The Oracle of Omaha is still for Obama. So the president claimed on 60 Minutes , interrupting interviewer Steve Kroft to tout the continued support of Warren Buffett, the Omaha-based stock-picker extraordinaire. 
"Your plan really for solving the banking crisis was met with very, very, very tepid response," Kroft said to Obama. "A lot of people said they didn't understand it. A lot of people said it didn't have any, enough details to solve the problem. I know you're coming out with something next week on this. But these criticisms were coming from people like Warren Buffett, people who had supported you, and you had counted as being your..."
"And Warren still does support me," Obama interjected. "But I think that, understand, Warren's also a big player in the financial markets who's a major owner of Wells Fargo. And so he's got a perspective from the perspective of somebody who is part owner of a bank."
Indeed Buffett, who endorsed Obama during the campaign, did explicitly say during a three-hour interview March 9 with CNBC that he still supports Obama.
"I voted for Obama and I strongly support him, and I think he's the right guy," Buffett said early in the interview.

Buffett did criticize Obama's handling of the banking crisis, saying that "a bank that's going to go broke should be allowed to go broke," as long as the depositors are protected. (Obama's approach has leaned toward giving the banks more bailout money in some form rather than letting them fail and having the government take them over.)

But Buffett's primary concern was that Obama wasn't communicating clearly with the public about struggling banks. "The right answer for me (to the banking crisis) is the president to clarify things as only he can, because you have heard so many different things," he said. "He is the commander in chief on this, and it has to be clarified ... because if people aren't clear, they're going to be confused. And if they're going to be confused, they are going to be scared stiff. And that has to end."

It's not surprising Buffett would want Obama to focus on the financial crisis — it has cost Buffett $25 billion. That's how much of his $62 billion fortune he lost in the past year, as shares of his holding company Berkshire Hathaway fell nearly 50 percent, Forbes reports. That knocked Buffett off his perch as the world's richest man, to No. 2 behind Bill Gates.

Toward the end of the three-hour interview, Buffett reiterated his support for Obama. "He is the right president," Buffett said. "He's very, very smart. He's got, I think, exactly the right goals. He's articulate and I — you know, he will be the right person to be the commander in chief in this economic crisis."

So clearly Obama was on solid ground touting Buffett's continued support. We find this claim to be True.
Politico.com, 60 Minutes Transcript , March 23, 2009, accessed March 23, 2009
CNBC, Ask Warren Buffett on CNBC's Squawk Box , March 9, 2009, accessed March 23, 2009
Forbes, The World's Billionaires , March 11, 2009, accessed March 23, 2009
Washington Post, Business Groups Greet Selection With Hostility; But Edwards Still May Attract Individual Executives' Support, July 7, 2004
Washington Post, Pitching Aid to Poor, Bradley Solicits Rich; Atypical Donors Propel Fund-Raising, Oct. 25, 1999
Browse the Truth-O-Meter
More by Alexander Lane
Support independent fact-checking.
Become a member!
In a world of wild talk and fake news, help us stand up for the facts.