Get PolitiFact in your inbox.
President Obama has never received a paycheck from a profitmaking business in his entire life.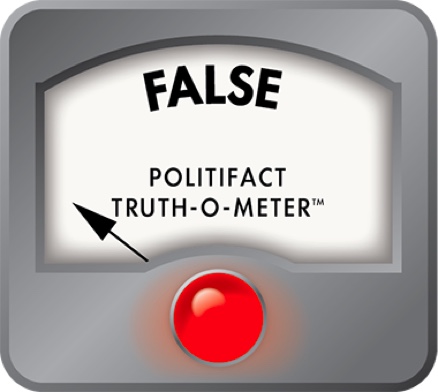 Here's the scoop: Obama has worked in the ice cream business, among many others
MSNBC host Joe Scarborough, pivoting off a Republican guest's suggestion that the Obama administration was not up to the work of governing, launched into a larger point about the president's work history.
"You know what else is hard work? Socialism," Scarborough said on the April 7, 2009, Morning Joe . "And I'm not being negative toward the president. This is the truth though. Think about this. We've got a president who has never received a paycheck ... he's never received a check from a profitmaking business in his entire life, not one check. Think about it."
Another guest, New York Times reporter Andrew Ross Sorkin, thought about it for a split second and pointed out that Obama had received plenty of checks from the publisher of his two books.
"Is that all you've got?" Scarborough replied. "Think about the radicalism of that."
No. That's not all.
It's true that Obama's most well-known jobs, as a community organizer and politician, have been for governments or nonprofit organizations.
But Obama has worked for plenty of private companies, from Baskin-Robbins to Business International Corporation. He worked at law firms. He was a telemarketer. He worked construction. He sold island trinkets in Hawaii.
In his diatribe, Scarborough remarked that "if you're going to run the most complex financial sectors in the world, I hope that you have at least received a paycheck for working at a burger stand."
We're not sure whether the deli at which Obama worked as a young man in Hawaii sold burgers, but it's entirely possible.
Below, compiled from and cross-checked among a host of sources, is what we believe to be the most thorough account of the president's work history. (Several details from his early years are unknown, and will remain so for now; the White House did not respond to our request to verify the accuracy of our list and fill in the blanks.)
1975 or 1976 — ice cream scooper, Baskin-Robbins — Honolulu — Obama claims to have lost his taste for ice cream during this, his first job, the duration of which is not publicly known.
Date unknown — deli counter clerk, business name unknown — Honolulu — Obama had a summer job at a deli counter in Hawaii, making sandwiches, his spokesman said during the presidential campaign.
1980 — gift shop sales clerk, business name unknown — Honolulu — Obama worked at a gift shop in Hawaii selling island souvenirs the summer after his freshman year at Occidental College in California.
Sometime between 1981-1983 — construction worker, business name unknown — New York — Obama cleared a construction site for a summer on Manhattan's Upper West Side while attending Columbia University, the Associated Press reported. Obama referred to this job in Dreams From My Father .
Sometime between 1981-1983 — position unknown, company unknown — New York — During his years at Columbia University, Obama worked one summer for a private company processing health records of either police or firefighters, his spokesman said during the presidential campaign.
Sometime between 1981-1983 — telemarketer, company unknown — New York — During one school year at Columbia, Obama was a telemarketer in midtown Manhattan selling New York Times subscriptions over the phone, his spokesman said during the presidential campaign.
1983-84 — research assistant, Business International Corporation — New York — At this firm that helped American companies do business abroad, Obama was a researcher and writer for a reference service called Financing Foreign Operations; among his duties was writing a newsletter called Business International Money Report.
1985 — project coordinator, New York Public Interest Research Group — New York — Obama mobilized student volunteers at City College in Harlem for NYPIRG, a nonprofit organization that promotes consumer, environmental and government reform. He promoted activism around issues such as mass transit, higher education, tuition, financial aid and recycling.
1985-1988 — community organizer, Developing Communities Project — Chicago — Obama advocated for asbestos removal, job training and public-works services at this community organization on Chicago's South Side.
1988 — research assistant, Lawrence Tribe — student assistant to this Harvard Law School professor and renowned constitutional scholar.
1989 — summer associate, Hopkins & Sutter — Obama held this job the summer between his first and second years of law school.
1990 — summer associate, Sidley & Austin — After his second year of law school Obama was a summer associate for one of the world's oldest and largest law firms, where he met Michelle Robinson, his future wife.
1990-1991 — president, Harvard Law Review — Obama was the first African-American to hold this prestigious position.
1991-1992 — executive director, Project Vote — Ran a campaign that registered nearly 150,000 black voters for the 1992 elections.
1993-2004 — associate and partner (starting 1996), Davis, Miner, Barnhill & Galland — Chicago — defended clients ranging from landlords to a securities trader, and handled employment-discrimination and voting-rights cases at this Chicago law firm.
1993-2004 — part-time lecturer, University of Chicago Law School — Chicago — lectured on constitutional law.
1995 — author, Times Books — published memoir, Dreams From My Father.
1997-2004 — state senator, Illinois — senator from Illinois' 13th District on Chicago's South Side.
2005-2008 — U.S. Senator — represented Illinois in the U.S. Senate.
2006 -- Author, Random House — published The Audacity of Hope: Thoughts on Reclaiming the American Dream.
2009 — President, United States — Washington — In his current position, Obama is the head of state of the most powerful country in the world. He runs the executive branch and serves as commander in chief of the armed forces.
There you have it. By our count, Obama earned paychecks from 11 for-profit businesses, compared to just six nonprofit or government employers. We understand the point that the most well-known part of Obama's work history is in positions outside the private sector, but Scarborough was absolute in his declaration. "Not one check," from a for-profit enterprise, he said. We like Joe. He's hosted segments on PolitiFact. But this claim is False.
Talkingpointsmemo.com, Scarborough: Obama Should Have Tried Flipping Burgers , April 7, 2009
Federal News Service, MSNBC Morning Joe, interview with Sen. John Cornyn, April 7, 2009
Associated Press, The Personal Side: Candidates Talk About Their Worst Jobs, Dec. 5, 2007
The Hotline, Call It Obama-Karma, April 10, 2008
Chicago Sun-Times, The Obama we don't know: deli man; Behind the stump speech: summer jobs, college debt, July 20, 2008
New York Times, Obama's Account of New York Years Often Differs From What Others Say , Oct. 30, 2007
St. Louis Post-Dispatch, Building Blocs, Dec. 9, 2007
The Globe and Mail, Profile: The Man Who Would Be President, Jan. 12, 2008
San Francisco Chronicle, The road to the presidency; Key facts about the backgrounds of the top contenders from the two major parties, Jan. 27, 2008
U.S. News & World Report, Obama's Unlikely Rise to Front-Runner, Oct. 27, 2008
New York Times Upfront, A look at Obama's journey to the Oval Office, Nov. 17, 2008
Chicago Tribune, Obama's Chicago; Take our unauthorized tour of the candidate's stomping grounds, June 25, 2008
New York Newsday, A standout, even in brief NYC job, Nov. 10, 2008
FactCheck.org, Obama's Work Claim , July 2, 2008
New York Times, Barack Obama , June 4, 2008
The Daily Princetonian, Obama '85 Masters Balancing Act , Dec. 7, 2005
Browse the Truth-O-Meter
More by Alexander Lane
Support independent fact-checking.
Become a member!
In a world of wild talk and fake news, help us stand up for the facts.