Stand up for the facts!
Our only agenda is to publish the truth so you can be an informed participant in democracy.
We need your help.
I would like to contribute
NBA bubble keeps virus contained, but not misinformation
If Your Time is short
The NBA resumed its season at Walt Disney World in Orlando, Fla. So far, the league has managed to keep the coronavirus from disrupting the restart.

The Toronto Raptors' Terence Davis and the Denver Nuggets' Michael Porter Jr. recently spread misinformation about the coronavirus on social media.

There is currently no known cure for the coronavirus, which has infected more than 18.5 million people worldwide. The virus was not created for "population control."
The NBA's bubble may keep the coronavirus at bay, but it hasn't put a lid on false information.
In between all the dunks, 3-pointers and overtime finishes from the first week of the league's summer restart in Orlando, Fla., a pair of young players drew controversy off the court when they spread falsehoods and conspiracies about the coronavirus online.
The recent social media postings from Terence Davis and Michael Porter Jr. underscore how easily misinformation can spread among those with the biggest platforms.
The NBA shut down in March when Utah Jazz star Rudy Gobert tested positive. It resumed play July 30 for an abbreviated regular season under strict safety protocols. Only 22 of the 30 teams are participating, and they are operating in an isolation zone set up at Walt Disney World.
The setup has largely worked as intended. Players, coaches and others on site have mostly followed the league's laundry list of rules, and their behavior has so far prevented the coronavirus from creeping in. The league announced July 29 that of the 344 players tested for COVID-19 since July 20, zero returned positive results.
"I think so far, it's been a real success in keeping the players and staff safe," said Zachary Binney, an epidemiologist at Oxford College of Emory University.
"The bubble, to me, shows the importance of driving cases very, very low, then using testing, tracing, isolating and masks to keep it that way," Binney said. "It's the getting the cases very, very low that's the challenge the U.S. faces right now."
But the early payoffs from the league's policies haven't stopped a few players from promoting misinformation related to the coronavirus.
There's no coronavirus cure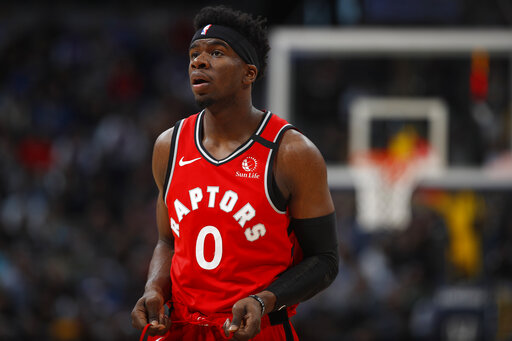 The Toronto Raptors' Terence Davis plays an NBA basketball game on March 1, 2020. (AP)
The New York Times' Marc Stein reported Aug. 2 that the NBA told teams to emphasize the importance of wearing masks, which health experts recommend. The move came one day after Davis, the Toronto Raptors rookie, was photographed wearing a mask with a hole in it.
"Leadership is taking care of that there," Raptors coach Nick Nurse said of the incident.
Davis, 23, appears to have previously posted coronavirus conspiracies to his Instagram story, according to screenshots snapped and posted by social media users on Twitter and Reddit.
The posts have since disappeared, as photos on Instagram stories normally do after 24 hours. Davis and the Raptors did not respond when we asked if the posts were real. But we determined using online image analysis tools that the screenshots are likely unaltered.
One screenshotted post that appears to have come from Davis' account shared the viral video that made inaccurate claims about the coronavirus and was quickly removed by Facebook and YouTube from their sites. The video was also promoted by President Donald Trump. It featured a number of physicians with histories of making unproven, conspiratorial or bizarre medical claims.
One of the doctors, Stella Immanuel, dismissed masks as unnecessary and falsely claimed that hydroxychloroquine, a drug for arthritis that the Food and Drug Administration has not approved for prevention or treatment of COVID-19, is a cure. There is no known coronavirus cure.
Another post that appears to be from Davis' account shared a post about the coronavirus that concluded, "The game is rigged."
"Not one doctor, not one news channel, not one person in authority over the last 5 months told us how to naturally boost our immune systems," the post said. "All they push are masks, social distancing, tests & vaccines. Nothing about vitamins, healthy foods or sunshine."
A healthy immune system is important for preventing and controlling COVID-19, said Jill Weatherhead, assistant professor of tropical medicine and infectious disease at Baylor College of Medicine. Patients with impaired immune systems are at higher risk of severe symptoms.
But the coronavirus isn't stopped or killed off by vitamin C or by exposure to the sun. Both ideas are among the many false remedies that have circulated since the start of the pandemic.
"There is no scientific evidence that additional supplements or vitamins (vitamin C, vitamin D or zinc) will either prevent infection or reduce duration of illness," Weatherhead said.
Health experts say face masks and social distancing are effective ways to curb the spread of the virus, and widespread testing is key to tracking that spread. Until vaccines are ready for use, Weatherhead said, such measures "are the only current scientifically proven tools we have."
The coronavirus isn't a tool for 'population control'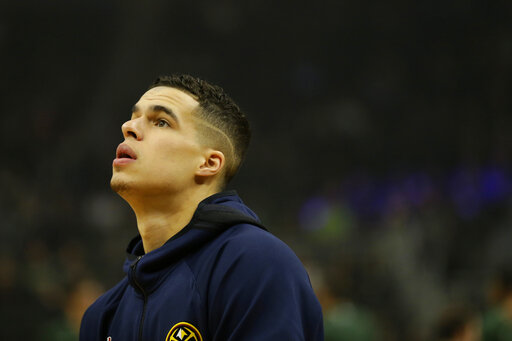 The Denver Nuggets' Michael Porter Jr. warms up before an NBA basketball game on Jan. 31, 2020, in Milwaukee. (AP)
Porter, the 22-year-old Denver Nuggets forward, made headlines of his own days prior, when he said during a Snapchat Q&A that the coronavirus was "overblown." He said:
"Personally, I think that the coronavirus is being used, obviously, for a bigger agenda. It's being used for population control in just terms of being able to control the masses of people ... You might have to have the vaccine in order to travel. That'd be crazy. I've never been vaccinated in my life. I've never had any shots or anything like that."
False claims that the coronavirus was artificially created or weaponized for "population control" have been around since the beginning of the outbreak. But they were always baseless.
"There is no scientific evidence that the virus has been manipulated or developed synthetically to be used as a population control tool," Weatherhead said. "Pandemics are naturally occurring global events that can lead to catastrophic health impacts around the world."
As of Aug. 5, the coronavirus has infected more than 18.5 million people worldwide and killed more than 700,000, according to Johns Hopkins University.
Nuggets coach Michael Malone told reporters a team executive spoke with Porter about his remarks. NBA commissioner Adam Silver said in a recent interview with CNN's Wolf Blitzer that he thought "most people quickly dismissed that comment."
"It's unfortunate that he said that," Silver said. "I would only say, in our league, we have 450 players. Guys are young, occasionally going to say silly things."
Then there's Porter's vaccine claim. The University of Missouri, where Porter enrolled for a year before entering the 2018 NBA draft, says on its website that all students born after 1956 must prove that they were vaccinated for or are immune to measles, mumps and rubella.
Vaccines are effective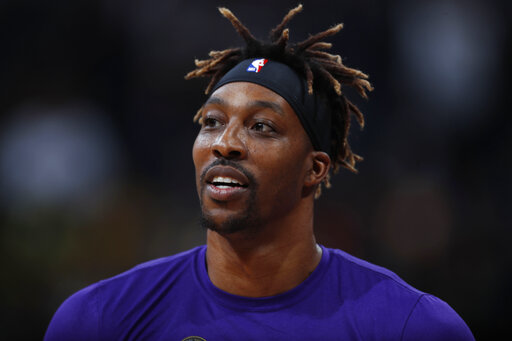 The Los Angeles Lakers' Dwight Howard looks on in the first half of an NBA basketball game in Denver on Feb. 12, 2020. (AP)
The skepticism Porter expressed about vaccines echoed remarks that Los Angeles Lakers center Dwight Howard made earlier in July, shortly after teams arrived in Orlando.
"Do I believe in vaccinations?" Howard, now in his 16th NBA season, said on Instagram Live. "No, I don't. That's my personal opinion, but no, I don't."
We don't fact-check opinions. But despite decades of misinformation about vaccines and their effectiveness, the scientific consensus is that they prevent illness and save lives.
Scientists say they see steady progress in the global effort to develop a coronavirus vaccine that would help people build up antibodies to prevent future infections. Widespread use of the vaccine would help achieve herd immunity and control the spread.
What does player misinformation mean for the NBA?
The recent actions from Davis and Porter shouldn't derail the NBA's bubble, the success of which depends largely on players and staff avoiding contact with people outside it, said Binney, the Emory University epidemiologist.
The two are not the first NBA players to spout false information. Brooklyn Nets star Kyrie Irving dominated headlines for years with talk of the Earth being flat, and former player Andrew Bogut lent credence on social media to the debunked "pizzagate" conspiracy.
But misinformation during a pandemic can be especially dangerous. A gentle nudge in the right direction can sometimes help those who fall for it, Binney said.
RELATED: How to fact-check coronavirus misinformation on your timeline
"It's important not to blame or get angry at or belittle people like Michael, Terence and Dwight," Binney said. "I'd love to get some trusted members of their communities involved to talk to them, understand where they're coming from, and hopefully persuade them to reconsider some of their views."
NBC Sports, "Raptors rookie Terence Davis arrives to game with hole in mask," Aug. 3, 2020
The NBA, "Post Game: Nick Nurse - August 3, 2020," Aug. 3, 2020
University of Missouri, "Immunizations," accessed Aug. 3, 2020
Marc Stein on Twitter, Aug. 2, 2020
Twitter post, Aug. 1, 2020
CNN, "The Situation Room," July 29, 2020
The NBA, "NBA and NBPA announce COVID-19 test results," July 29, 2020
ESPN, "Nuggets talk to Michael Porter Jr. about coronavirus 'population control' theory," July 29, 2020
Yahoo Sports, "Michael Porter Jr. pushes wild conspiracy theory claiming COVID-19 is 'used for population control,'" July 28, 2020
Reddit post, July 28, 2020
Imgur post, July 28, 2020
Twitter post, July 25, 2020
ESPN, "Los Angeles Lakers' Dwight Howard again questions need for masks in bubble," July 20, 2020
The New York Times, "The N.B.A. Is Coming Back. There Are 113 Pages of New Rules," June 17, 2020
PolitiFact, "Who are the doctors in the viral hydroxychloroquine video?" July 29, 2020
PolitiFact, "Fact-checking a video of doctors talking about coronavirus, hydroxychloroquine," July 28, 2020
PolitiFact, "Don't fall for this video: Hydroxychloroquine is not a COVID-19 cure," July 28, 2020
PolitiFact, "A coronavirus vaccine: Where does it stand?" July 13, 2020
PolitiFact, "Fact-checking a video that claims masks 'ain't going to do anything for you,'" July 10, 2020
PolitiFact, "NC Republican wrongfully says masks 'do not work,'" July 9, 2020
PolitiFact, "How helpful can herd immunity be in ending the coronavirus pandemic?" June 3, 2020
PolitiFact, "Laura Ingraham wrong about 'no real scientific basis' for social distancing," May 6, 2020
PolitiFact, "What we know about the source of the coronavirus pandemic," April 17, 2020
PolitiFact, "Are COVID-19 travel restrictions 'more critical in saving lives' than testing? Not really," April 3, 2020
PolitiFact, "Fact-checking COVID-19 prevention, treatment myths," March 26, 2020
PolitiFact, "How the Utah Jazz got 58 coronavirus tests when US testing is sluggish," March 13, 2020
PolitiFact, "7 ways to avoid misinformation during the coronavirus pandemic," March 12, 2020
PolitiFact, "Sun exposure does not kill the coronavirus," March 11, 2020
PolitiFact, "No, vitamin C cannot slow or stop the spread of the coronavirus," Feb. 29, 2020
PolitiFact, "Fact-checking hoaxes and conspiracies about the coronavirus," Jan. 24, 2020
PolitiFact, "5 facts about vaccines," Nov. 1, 2019
Email and phone interviews with Zachary Binney, an epidemiologist at Oxford College of Emory University, Aug. 3, 2020
Email interview with Jill Weatherhead, assistant professor of tropical medicine and infectious disease at Baylor College of Medicine, Aug. 3, 2020
Email interview with Tim Frank, senior vice president of basketball communications for the NBA, Aug. 3, 2020
Browse the Truth-O-Meter
More by Bill McCarthy