Stand up for the facts!
Our only agenda is to publish the truth so you can be an informed participant in democracy.
We need your help.
I would like to contribute
Dan Helmer "believes in abolishing our private insurance system."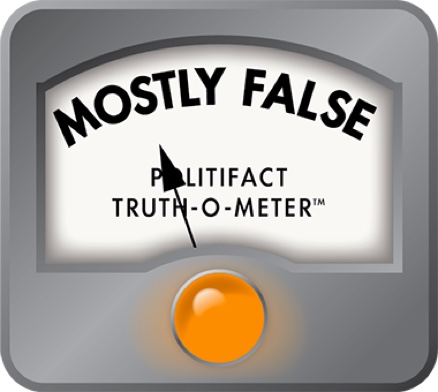 Tim Hugo misstates Dan Helmer's position on private health insurance
Tim Hugo, the last-standing Republican state delegate in Northern Virginia, is telling voters that Democratic challenger Dan Helmer wants to abolish private health insurance.
Hugo has made the claim in at least four campaign mailings in the 40th House District, which spans portions of Fairfax and Prince William Counties. Here's a sampling:
"While my opponent believes in abolishing our health care system entirely and replacing it with a plan that will cost taxpayers trillions of dollars, I believe we can make improvements to our current system while protecting private insurance," Hugo wrote in a Sept. 10 letter.
"Dan Helmer wants to END PRIVATE HEALTH INSURANCE," Hugo says in big brown letters on a glossy mailer.
"Dan Helmer supports abolishing our private health care insurance and creating a massive government-run system," says another mailer with a caricature of a shrunken Helmer behind a podium.
"Now, (Helmer) wants to completely abolish our private health care system and replace it with a big, expensive government-controlled system that taxpayers like us will have to pay," Hugo says in another mailer that calls Helmer "extremist."
A website run by the fundraising Friends of Tim Hugo says, "Dan supports a (medical insurance) plan that would cost taxpayers trillions of dollars. And if that's not bad enough, Dan's plan would also take away people's private insurance."
We fact-checked Hugo's repeated claim.
Hugo, in one of his mailers, says his source is a May 2018 ad by Helmer when he ran unsuccessfully for Democratic nomination for 10th Congressional District seat. Helmer finished fourth in a six-person primary won by Jennifer Wexton, who went on to win the general election.
"I'm for a Medicare-for-All option," Helmer says in the ad. The bottom of the screen says "DAN HELMER MEDICARE FOR ALL." Unlike the audio, the word "option" is missing.
GOP strategist Garren Shipley sent us an email for Hugo's campaign, saying a "Medicare-for-All option" is equivalent to abolishing private insurance.
Let's define the terms:
Medicare 
Medicare is a national health insurance program that covers Americans 65 or older and a few other groups with disabilities or specific diseases. In 2018, it provided health coverage for 59.9 million people, about 52 million them senior citizens.
Medicare for All
Medicare for All would replace the current health insurance system with a single, government-run program that would cover  all Americans. Employers would be barred from offering competing insurance.
Medicare for All is a signature issue in the presidential race of Sen. Bernie Sanders, I-Vt. He's proposed a generous plan that would cover hospital visits, primary care, medical devices, lab services, maternity care, prescriptions as well as vision and dental care. It would not subject consumers to any out-of-pocket costs, except a copay on prescriptions.
The nonpartisan Congressional Budget has not estimated the cost of Sanders' proposal or less-generous single-payer plans. The Mercatus Center, a libertarian research organization affiliated with George Mason University, estimates Sanders' plan would cost $32.6 trillion over 10 years and wouldn't be paid for even if income and corporate taxes were doubled.
The Urban Institute, a more liberal-leaning academic center in Washington, looked at Sanders' plan in 2016 and predicted it would add $32 trillion over the decade. The Institute estimated that state and local governments would save $4.1 trillion over 10 years, and that households and businesses would see about $21.9 trillion in savings.
Public option
Public option plans would give middle and upper-income working adults a choice: They could remain privately insured, or buy into a new government-run program that would use the network of Medicare providers and costs. 
There are at least four public options bills lingering in Congress, including one - called Medicare X -  cosponsored by Sen. Tim Kaine, D-Va. The CBO has not done cost analyses of the bills.  Supporters say Medicare X would at least break even because the bill requires that premiums "cover the full actuarial cost of offering such a plan, including administrative costs." A 2013 CBO study concluded a similar program would reduce federal deficits by $158 billion over 10 years.
Helmer's record
Researching Helmer, we found eight instances where Helmer either said, or was reported to have said that he supported a Medicare-for-All  option. In contrast, we found only one instance where he more broadly stated Medicare-for-All (without option). That was in the print in the TV ad Hugo cites. And remember, at the same time those words appeared, Helmer was saying in the ad that he supported a public option.
In addition to Helmer's spoken words in the commercial, we found three articles in The Washington Post , one by ABC News, and one in The McLean Connection saying Helmer supported a Medicare-for-All option.
Helmer wrote an op-ed in The Winchester Star pledging, "I will fight to ensure every American has access to health care by supporting a Medicare-for-All option that allows any American who doesn't have or doesn't like their insurance to opt in to Medicare." He made a nearly identical statement at a candidates forum.  
Ballotpedia wrote in 2018," On his campaign website, Helmer listed gun safety, expanding the Affordable Care Act to include a Medicare for All option, and job creation as some of his policy priorities."
Hugo's Justification
How does Hugo turn Helmer's repeated calls for health insurance options into a call for ending private medical insurance? By making a very literal argument.
Shipley said there's no such thing as a Medicare-for-All option - it's a contradiction in terms. He said Medicare for All inherently means there's a single insurance provider - the government - and there can be no option.
Shipley noted that "public option" is the correct term for offering a choice between private or government-run health insurance, and Helmer never used those words.
"If Helmer supported a public option plan, he would have said he supported a public option, or 'Medicare X,' as proposed by Tim Kaine," Shipley said. "But he didn't. He said 'Medicare for All.'"
Our ruling
Hugo says Helmer wants to abolish private health insurance.
Helmer repeatedly said in a 2018 campaign that he supports a "Medicare-for -All option" that "allows Americans who doesn't have or doesn't like his insurance to opt into Medicare." In other words, private insurance would continue to exist.
But Helmer used imprecise language that Hugo exploits with a semantic argument. Since Medicare for All means the government would be the sole health insurance provider, Hugo says it can't have a private insurance option. Ergo, Helmer wants to end private insurance, according to Hugo's campaign.
Had Helmer used the proper term - public option - Hugo's logic would have evaporated. But his poor phrasing left him open to interpretation, and Hugo has taken the liberty to misleadingly create a position for Helmer.
We rate Hugo's statement Mostly False.
Tim Hugo, Campaign letter, Sept. 10, 2019
Hugo, 2019 campaign mailer, "Dan Helmer supports big government over us."
Hugo, 2019 campaign mailer, "Dan Helmer is fighting to raise our taxes."
Dan Helmer, TV ad, May 30, 2019.
Helmer, comments in 10th Congressional District candidates forum, May 26, 2018.
Virginia Board of Elections, 10th District Democratic Primary results, 2018.
PolitiFact, "The cost of Medicare for All: Sticker shock or bill relief?" Sept. 13, 2019.
PolitiFact Virginia, "Brat misstates Spanberger's position on Medicare for All," Oct. 11, 2018.
Emails and phone interview with Erice Darcey, campaign manager for Dan Helmer, Sept. 13-16, 2019
Email from Garren Shipley, communications director for House Majority Leader Todd Gilbert, Aug. 16, 2019.
Mercatus Center, "The Costs of a National Single-Payer Healthcare System," July 30, 2018.
Urban Institute, The Sanders Single-Payer Health Care Plan , May 2016.
The New York Times, "The difference between a public option and Medicare for All? Let's define our terms," Feb. 19, 2019.
Henry J. Kaiser Family Foundation, "Compare Medicare-for-All and public plan proposals," May 15, 2019.
Congress.gov, SB981, accessed Sept. 16, 2019.
Congressional Budget Office, "Add a 'public plan' to health insurance exchanges," Nov. 13, 2013.
Friends of Tim Hugo, website, accessed Sept. 16, 2019.
The Winchester Star, Helmer op-ed, May 24, 2018.
Ballotpedia, "Virginia's 10th District Election," 2018.
Medicare Trustees, 2019 annual report, April 22, 2019.
Browse the Truth-O-Meter
More by Warren Fiske
Support independent fact-checking.
Become a member!
In a world of wild talk and fake news, help us stand up for the facts.