Stand up for the facts!
Our only agenda is to publish the truth so you can be an informed participant in democracy.
We need your help.
I would like to contribute
No openly gay man has ever been elected to the Georgia Legislature.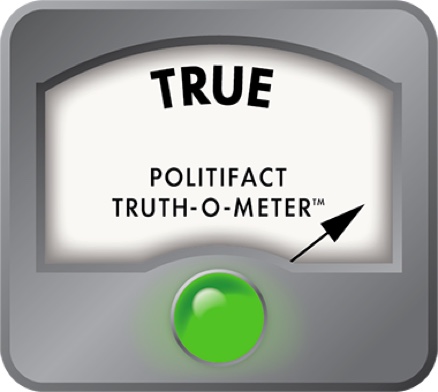 No openly gay man elected to Legislature? True
Just months after a historic U.S. Supreme Court decision that legalized same-sex marriage, an Atlanta newspaper that focuses on LGBT news says Georgia may be poised to make history of its own.
If elected, two announced candidates for seats in the Georgia House of Representatives would become the first gay men elected to the state Legislature, according to the Georgia Voice.
"Roughly a dozen have tried and failed in the last decade," Patrick Saunders wrote in the piece examining the campaigns of Rafer Johnson and Josh Noblitt.
But gay lawmakers, and allies, led the unsuccessful fight against Georgia's 2004 ban on same-sex marriage and were part of the effort to kill state religious freedom bills for the past two years.
So with lawmakers pledging to bring back, for the third, time, the religious freedom bill, PolitiFact Georgia wondered: Did voters never send an openly gay man ever to the 236-member General Assembly?
The relatively short history of gay lawmakers
Openly gay state lawmakers are a somewhat new phenomenon, and not just in Georgia.
The first such official appears to be now-U.S. Senator Tammy Baldwin, an open lesbian who was elected to the Wisconsin Assembly in 1992. She was one of just six openly gay political candidates to win a general election that year nationwide.
A lesbian was also the first openly gay state lawmaker in Georgia. Democrat Karla Drenner was elected to the state House in 2000 and has since represented the District 85 in the Avondale Estates area.
We reached out to Saunders for his source about openly gay men in the Legislature.
He cited the paper's own archives, including a story last year that highlighted three openly gay men running for the state House.
All three of those candidates – Republican Christopher Deraney for House District 78 representing parts of Clayton County; Democrat Bob Gibeling for House District 54 in Buckhead; and Democrat Timothy Swiney for Senate District 9 in Gwinnett – lost.
In the news
The Atlanta Journal-Constitution archives turned up a record year in 2006, when four openly gay candidates ran in the primary election.
Drenner won her first opposed election since her first win. The late Allen Thornell, a gay activist running for a district representing Cabbagetown in Atlanta, narrowly lost what was then described as the opportunity to be the first openly gay man elected as a legislator.
The other two candidates lost.
But what about the other gay lawmakers cited in news articles about the religious liberty bill and other issues since?
Two lesbians, both Democrats, have been elected after Drenner. Simone Bell was elected to represent east Atlanta area neighborhoods in House Distict 58, the one that Thornell almost won previously, in 2009.
Keisha Waites took office in 2012 representing House District 60, covering southeast Atlanta, Hapeville and parts of Clayton and DeKalb counties.
And, one gay man has served. At 27, Rashad Taylor was the youngest member of the General Assembly when he was elected in 2008.
But he was not elected as a gay man. He came out as gay in 2011, after an anonymous accuser sent an email to media accusing him of misconduct.
Taylor lost re-election in 2012 after being placed in the same district as another Democrat by Republican lawmakers during a legislative redistricting.
Saunders cited Taylor in his answer to us – and subsequently updated his story – to note that while Taylor had served, he had not been elected as an openly gay man.
Outside groups
There is little doubt that an openly gay elected state lawmaker would make the news.
But Politifact Georgia also reached out to some advocacy groups that keep varying track of openly gay, lesbian, bisexual and transgender people elected officials.
The Victory Fund, which works to elect those candidates, is likely the best known on the national scene. However, officials from the Washington, D.C. group did not respond to emails and phone calls.
A list of openly gay officials on the Victory Fund website was down, making their records unavailable for review.
Jeff Graham of Georgia Equality, a nonpartisan LGBT advocacy group, said there wouldn't have been any openly gay men on those lists anyway.
Graham's group follows elections in Georgia and has long been concerned with what he calls viable openly gay candidates.
"They need to be good quality candidates who can run a race and be feasible to win," Graham said. "That takes financial resources, a good ground game to reach the voters and a good grasp of all issues. The last couple election cycles we've had openly gay men run but not run what I would consider viable campaigns."
That may, in fact, change in 2016.
Johnson is a somewhat known community advocate who would represent a Democratic stronghold in House District 62, which includes portions of College Park, Douglasville, East Point and parts of Fulton and Douglas counties.
Noblitt is a minister at Saint Mark United Methodist Church and close with state Rep. Margaret Kaiser, who is stepping down to make a run for mayor. The Democratic district includes several Atlanta neighborhoods such as Inman Park, Reynoldstown and Poncey-Highland.
"A lot of it has to do with a particular district, and I suspect the Ponce district is more amenable than others would be," said Kerwin Swint, the director of the political science department at Kennesaw State University.
"Things like this are going to happen very quickly and it could very quickly have an impact on the discussion at the Capitol," he added.
Our ruling
A newspaper focused LGBT news recently said that no gay man has ever been elected to the Georgia Legislature.
Newspaper archives and a statewide advocacy group that follows the issue back up the claim.
Voters have sent three lesbians to serve under the Gold Dome. And one man came out during his stint in office but lost his next election.
We rate the claim True.
Georgia Voice, "Two candidates bid to break through Georgia's 'lavender ceiling,'" Sept. 17, 2015
Georgia Voice, "Three candidates vie to be first openly gay men elected to Georgia General Assembly," Sept. 16, 2014
The Atlanta Journal-Constitution, "After rumors, state lawmaker acknowledges he's gay," May 27, 2011
The Telegraph-Herald, "AIDS, gay rights top agenda," Jan. 4, 1993
The Atlanta Journal-Constitution, Political Insider blog, "The sexual politics behind Tuesday's vote," May 22, 2014
PeachPundit.com, "GOP Split Over Religious Freedom Debate Could Be a Factor in Georgia Next Year," April 6, 2015
The Atlanta Journal-Constitution, Political Insider blog, "Ten years later, the culture war's battle lines are blurring," Feb. 26, 2014
The Atlanta Journal-Constitution, "Some face defeat, others runoffs in Tuesday's elections," Aug. 2, 2012
The Atlanta Journal-Constitution, "4 openly gay people in primary," July 15, 2006
Email interview, Patrick Saunders, deputy news editor, Georgia Voice, Sept. 22, 2015
Interview, Kerwin Swint, Chairman, Political science department, Kennesaw State University, Sept. 23, 2015
Interview, Jeff Graham, executive director of Georgia Equality, Sept. 24, 2015
Browse the Truth-O-Meter
More by April Hunt
Support independent fact-checking.
Become a member!
In a world of wild talk and fake news, help us stand up for the facts.