Get PolitiFact in your inbox.
Says Virginia House Republicans are sacrificing $5 million a day in U.S. funds by refusing to expand Medicaid.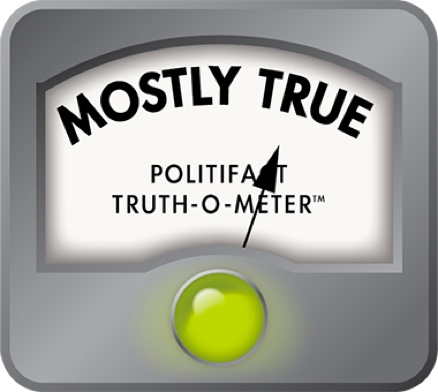 Virginia Democrats says state is giving up $5 million a day by not expanding Medicaid
Virginia is turning down a fortune in federal aid every day the Republican-led House of Delegates refuses to expand Medicaid, according to the state Democratic Party.
"Today alone, @VAHouseGOP wasted $5 mil of our tax $ by refusing to #ClosetheGap," the Democratic Party tweeted on April 15.
We decided to take a look at the $5 million-a-day figure, which has been uttered by a wide circle of politicians seeking to broaden Medicaid eligibility in Virginia, including Gov. Terry McAuliffe, Democratic leaders in the House and Senate, and Republican Sen. John Watkins of Powhatan.
The Affordable Care Act, also known as Obamacare, gives states the option of expanding Medicaid eligibility to people earning up to 138 percent of the federal poverty line, about $16,104 in a one-person household and $21,707  in a two-person household. Uncle Sam will pick up the entire tab for new enrollees during the next three years and pay 90 percent of the cost down the road.
The House has twice refused to broaden the program, saying the federal government can't be trusted to pay its promised share. A stalemate between the House and the Democratic-controlled Senate is delaying passage of a two-year state budget.
Ashley Bauman, a spokeswoman for the state Democratic Party, said the $5 million-a- day figure originates from The Commonwealth Institute for Fiscal Analysis, a think tank that analyzes state policies with a focus on their effects on low- and moderate-income people. In February 2013, it released a one-page paper saying if Virginia expanded Medicaid eligibility by the start of 2014, "the state would be able to draw down about $5 million per day in federal funds."
Michael Cassidy, president of the institute, told us it used 2012 estimates by the state's Medicaid agency of the amount of federal money that would flow into Virginia if the Old Dominion began expansion on Jan. 1, 2014 -- the earliest date permissible. Such action would bring $2.99 billion of federal money into the state between the start of 2014 through June 30, 2015, the agency projected.
The Commonwealth Institute then divided the $3 billion by the number of days in the span, 546. The daily cost to the federal government would be $5,494,505.
But Virginia's Medicaid agency has since lowered its estimate of expansion costs. Its actuary, Pricewaterhouse Coopers, found that the cost per new enrollee has been lower than expected in states that have expanded their programs. That's because the new Medicaid recipients are less likely to be disabled or require long-term care than those who already had been receiving benefits.
The new estimates were released in January 2014. Assuming that expansion in Virginia would begin this July 1, the state's Medicaid agency estimated it would receive $1,264,366,699 in new federal payments through June 30, 2015. That breaks down to $3,464,018 a day.
The total federal dollars will increase over the decade as more people enroll in expanded Medicaid. The agency projects it would receive an extra $1,655,080,206 from Washington  during the state budget year that begins July 1, 2015. That breaks down to $4,522,077 a day.
Our ruling
The state Democratic Party says Virginia is losing out on $5 million a day in federal funding by not expanding its Medicaid program. It throws that figure at the feet of the Republican-led House of Delegates, which twice has rejected expansion.
No doubt, there's a tremendous amount of federal money at stake. As many as 400,000 Virginians could become eligible for Medicaid under Obamacare, and the U.S. would pay their entire health care costs through 2016.  
But the $5 million-a-day figure comes from an old state estimate. The most recent estimate of expansion costs, released in January, breaks down to about $3.5 million a day for the budget year that starts this July 1. The federal contribution would be about $4.5 million a day during the following budget year, starting in mid-2015.
That's lots of money, but not as much as the Democrats say the House is now bypassing. We rate the claim Mostly True.
Tweet on Twitter, @VADemocrats, April 15, 2014.
Email from Ashley Bauman, April 15, 2014.
Emails from Brian Coy, April 15 and
The Commonwealth Institute for Fiscal Analysis, "Medicaid Expansion Delay Costs Millions Each Day," February 2013.
The Commonwealth Institute, "Caution! Coverage Gap Ahead," December 2013.
Interview with Michael Cassidy, president, and Massey Worley, senior policy analyst, from The Commonwealth Institute, April 17, 2014.
Department of Medical Assistance Services, Estimates for Medicaid expansion, presented Jan. 22, 2014.
Browse the Truth-O-Meter
More by Nancy Madsen
Support independent fact-checking.
Become a member!
In a world of wild talk and fake news, help us stand up for the facts.