Stand up for the facts!
Our only agenda is to publish the truth so you can be an informed participant in democracy.
We need your help.
I would like to contribute
"Hospitals have already begun layoffs, a direct result of Republican inaction" on Medicaid expansion.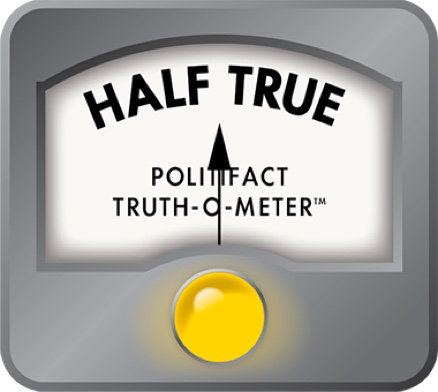 Va. Democrats say hospital layoffs are "direct result" of GOP inaction on Medicaid
The state Democratic Party is continuing to assail the Republican-controlled General Assembly's refusal to expand Virginia's Medicaid program.
In a recent news release, the Democrats said "hospitals have already begun layoffs, a direct result of Republican inaction."
We looked into the claim, made at the start of a special legislative session in mid-September at which Republicans refused to expand Medicaid eligibility to as many as 400,000 additional low-income and disabled Virginians. Under provisions of the Affordable Care Act -- also called Obamacare -- Uncle Sam would pay the entire expansion cost for two years and never less than 90 percent in the future. GOP lawmakers, who control the House and Senate, said they don't trust the federal government will pay its promised share.
Democrats have strongly supported the expansion, arguing, in part, that it would ease losses hospitals suffer from treating indigent patients.
We asked Morgan Finkelstein, spokeswoman for state Democratic Party, for proof of the party's claim that hospital layoffs have begun as a "direct result" of the GOP's opposition to expansion. She sent us a number of articles and announcements of hospital layoffs and closings in Virginia during the last few years.
Here's the list of layoffs at 13 Virginia hospitals:
The news releases and articles cite the rejection of Medicaid expansion as one reason for the layoffs. But it wasn't the only reason.  
The hospitals -- mostly in rural areas --  also blamed declining patient populations and lower Medicare payments.  
The ACA reduces reimbursements to hospitals for treating Medicare patients -- mostly people 65 and older. Obamacare supporters originally thought hospitals would recoup most of the money through the expansion of Medicaid. But the equation changed in 2012 when the U.S. Supreme Court ruled that states could not be compelled to broaden their Medicaid programs. That left an opening that's allowed Virginia and 22 other states to resist expansion.
Several of the Virginia hospitals that had layoffs reported Medicare populations as high as 60 percent. So they've been disproportionately hurt by the lowered Medicare reimbursements while, at the same time, unable to tap into extra Medicaid money.
For example, Mountain States Health Alliance told the Kingsport Times-News in Tennessee in January that Medicaid expansion would help the system recover $20 million of its expected loss of $30 million every year. Mary Washington Healthcare told The Free Lance-Star in Fredericksburg that it's expecting to lose $31 million in Medicare reimbursements and that the expansion of Medicaid would have compensated for $14 million of the loss.
In a news release about closing Lee Regional Medical Center, Wellmont attributed the cause to "reimbursement cuts associated with the Affordable Care Act, extremely low community use of the hospital and a lack of consistent physician coverage."
It should be noted that rural hospitals across the country were in financial trouble long before Obamacare became part of our lexicon, facing shrinking patient populations and under pressure to shorten hospital stays. The Office of the Inspector General at the U.S. Department of Health and Human Services found in a 2003 report that 208 rural hospitals closed from 1990 to 2000. The report has not been updated.
Eight of the 13 Virginia hospitals cited by the Democratic Party have operated in the red during every fiscal year since 2009, according to records from Virginia Health Information.
Our ruling
The Democratic Party of Virginia says that hospital layoffs have begun as a "direct result" of Republican legislators' refusal to expand the state's Medicaid program. The Democrats point to news releases from four hospital systems -- mostly in rural areas -- that have announced staff cuts since June 2013.
The systems cited the state's resistance to Medicaid expansion as one of several reasons for the layoffs. Of greater impact, however, was a reduction in Medicare reimbursements under Obamacare. Several hospital officials said the expansion of Medicaid would have allowed them to offset some -- but not nearly all -- of the loss.
It also should be noted that most of the individual hospitals where the layoffs occurred had been in the red since at least since 2009 -- some of them all but losing their patient base.
The GOP's refusal to expand Medicaid came at a tough time for the hospital systems and certainly added to their woes. But saying the layoffs are the "direct result" of the Republicans' action is an exaggerated claim that ignores deeper factors.
The Democratic claim is partially accurate but leaves out important details. We rate it Half True.
The Democratic Party of Virginia, "Countdown to #MedicaidCharade: Myths and Facts for Speaker Howell," Sept. 16, 2014.
The Free Lance-Star, "Mary Washington Healthcare lays off 66 workers," Sept. 4, 2014.
WJHL, "Wellmont cuts 50 positions at Virginia hospitals," June 5, 2013.
Mountain States Health Alliance, "Mountain States Health Alliance takes action to mitigate financial impact of federal health care cuts, volume declines," Jan. 15, 2014.
Kingsport Times-News, "MSHA to cut 161 jobs," Jan. 15, 2014.
Wellmont Health System, "Lee Regional Closing In Wake Of Healthcare Reform; Hospital To Help Patients, Co-Workers Transition," September, 2013.
The Winchester Star, "Valley Health lays off 33 employees, cuts 25 vacant positions," Jan. 8, 2014.
Email from Matthew Moran, communications director for Speaker Bill Howell, Sept. 19, 2014.
The Virginian-Pilot, "A diagnosis of misplaced blame," Sept. 29, 2013.
Thomas Jefferson Institute for Public Policy, "The Financial Health of Virginia's Hospitals," September 2014.
Virginia Hospital and Healthcare Association, "VHHA Statement on Thomas Jefferson Institute Report on the Financial Health of Virginia Hospitals," Sept. 10, 2014.
Chmura Economics and Analytics, "The Economic Impact of Medicaid Expansion on Virginia's Economy," Dec. 7, 2012.
Kaiser Family Foundation, "Status of state action on the Medicaid expansion decision," Aug. 28, 2014.
Browse the Truth-O-Meter
More by Nancy Madsen
Support independent fact-checking.
Become a member!
In a world of wild talk and fake news, help us stand up for the facts.