Get PolitiFact in your inbox.
Says PolitiFact has ruled that Ed Gillespie's ads are false and misleading.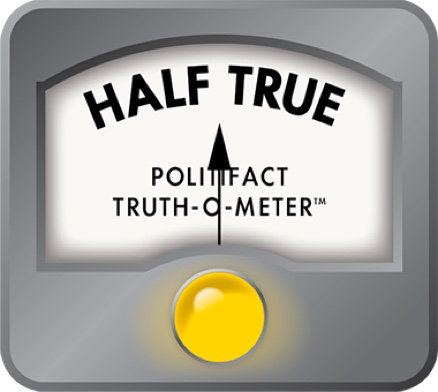 Warner embelishes PolitiFact finding on Gillespie ad
U.S. Sen. Mark Warner is airing a TV ad accusing Ed Gillespie, his Republican opponent, of running deceptive campaign commercials.
Warner cited two of our Truth-O-Meters as proof.
"Ed Gillespie … is attacking Mark Warner with false ads experts call misleading, completely made up," the narrator of ad says.
While those words are being spoken, the written words "SIMPLY FALSE" and "MISLEADING" pop up on the screen with citations from PolitiFact this year -- the first from Sept. 28 and the second from April 25.
Let's take a look at what we actually said about the Gillespie claims that Warner denounces.
The first case concerns a False rating we gave to a recent Gillespie ad that indicated our colleagues at PolitiFact National gave Warner its "Lie of the Year" award in 2013 for promising four years earlier that he wouldn't vote for health care reform that took away insurance plans people like.
We did use words "simply false" in the ruling summary. PolitiFact's story announcing to lie of the year never mentioned Warner. It focused on President Barack Obama's repeated promises that under the Affordable Care Act, "If you like you insurance, you can keep it." Obama made the promise at least 37 times over the years and stood by it long after he enacted regulations that guaranteed some people would lose that plans because of minimum coverage requirements in the ACA.
The second citation by Warner concerns a fact check we did on a statement by the Republican Party of Virginia that Warner has voted with the president "97 percent of the time." But far from debunking the claim -- which has become a staple of Gillespie's speeches and ads -- we rated it True.
We pointed out a few issues with the statistic, which is compiled by CQ Weekly, a nonpartisan Washington news service once known as Congressional Quarterly. For one thing, Obama has taken a position only 28 percent of the bills Warner has voted on, and more than half of those were for confirmation of presidential appointees. Also, Senate Democrats on the whole have backed the president 95.4 percent of the time during Warner's term.
Warner most notably backed the president when he voted for Obamacare in 2010. He's bucked the president by voting against regulating assault weapons and against delaying the start of automatic budget cuts in 2013.
Warner says the presidential support rating ignores his efforts to work across the aisle with Republicans, particularly trying to fashion a bipartisan plan to reduce debt. He correctly notes that several congressional watchdogs have rated him among the most conservative Senate Democrats.
Did we call the statistic misleading? Nope. But a political scientist we quoted did. Stephen Farnsworth of the University of Mary Washington said, "To imagine that Warner votes like a politburo member for the president would be misleading."
Our ruling
A Warner TV commercial says PolitiFact Virginia has frowned upon two negative claims that have aired in Gillespie ads.
Warner's right that we labeled as "simply false," the indication in one Gillespie ad's that the Warner was awarded the "Lie of the Year" by our colleagues at PolitiFact National.
But the senator is wrong in suggesting we labeled as "misleading" another attack by his opponent -- that Warner has voted with the president 97 percent of the time. In fact, we rated the statistic True. In the article, we quoted a political scientist who said it would be "misleading" to conclude from the statistic that Warner is a yes-man to the president.
Warner tries to walk a fine line on the ad by having the moderator say "experts call" the ads misleading. But the bold letters on the screen saying "POLITIFACT VIRGINIA" put the words in our mouth. In one case, that's so; in one case, it's not.  All together, Warner's ad statement is Half True.  
Browse the Truth-O-Meter
More by Nancy Madsen
Support independent fact-checking.
Become a member!
In a world of wild talk and fake news, help us stand up for the facts.