Stand up for the facts!
Our only agenda is to publish the truth so you can be an informed participant in democracy.
We need your help.
I would like to contribute
U.S. Senate candidate Michelle Nunn "earned as much as $300,000 running a nonprofit that had laid off 90 workers."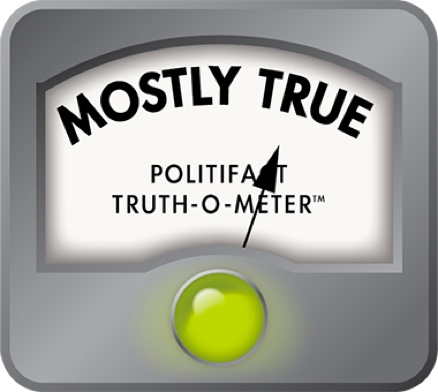 Super PAC goes after Nunn on layoffs, raise
Even before David Perdue's snatched the GOP U.S. Senate nomination from longtime Congressman Jack Kingston on Tuesday, the Ending Spending Action Fund was out with a television ad attacking the Democrat in the race, Michelle Nunn.
Nunn, the daughter of former Democratic U.S. Sen. Sam Nunn, is viewed as one of the party's best hopes for reclaiming a high-profile statewide office and for helping the party retain its majority in the U.S. Senate.
The Ending Spending Action Fund is a conservative, well-funded super political action committee that originally focused on earmarks but has expanded its message and targets. It was founded by Joe Ricketts, the former CEO of TD Ameritrade and a known conservative backer whose family owns the Chicago Cubs baseball team. Brian Baker, the group's president, was an adviser to former U.S. Sen. Bob Dole, R-Kan.
The group's attack ad on Nunn began running last weekend and is being aired statewide.
The 30-second spot tries to tie Nunn to President Barack Obama (opening with an image of the two of them) and the Affordable Care Act. It also criticizes her leadership as CEO of the nonprofit Points of Light Foundation.
"Come on -- Nunn earned as much as $300,000 running a nonprofit that had laid off 90 workers," the ad states. "Do you really think she'll look out for us in Washington?"
PolitiFact Georgia decided that was a claim worth checking.
The Ending Spending Action Fund's current attack ad makes some of the same charges that the group's pre-primary spots did. Among them is a claim that Nunn supports higher taxes. PolitiFact in April rated that specific claim Mostly False.
We reached out to Baker this week on the latest ad. He told us the PAC has spent about $900,000 on two anti-Nunn ads -- the one before the primary and the current spot.
"We opposed no other candidates besides Nunn and (Republican U.S. Rep. Phil) Gingrey," he said in an email.
Gingrey lost in the crowded May 20th GOP Senate primary that landed Perdue and Kingston in the runoff.
Baker sent us a summary of the PAC's ad research, including excerpts from articles in Politico, The Atlanta Journal-Constitution and National Review about the merger of HandsOn Network, a nonprofit Nunn helped establish and ran, and the Points of Light Foundation, a service-oriented organization inspired by President George H.W. Bush.
The research also focused on the layoff of 90 to 95 of the two groups' combined 175 employees, as well as a jump in Nunn's salary from $120,00 at Atlanta-based Handsn Network to $250,00 at Points of Light.
Tax records show that Nunn's salary was $250,000 in 2007, the first year she took over as CEO at Points of Light. Her total compensation three years later exceeded $300,000.
Those same tax records show that her Points of Light predecessor, Robert K. Goodwin, earned $325,000 during his last full year on the job.
Nunn told Politico that an executive committee set her salary and that she had argued for it to be lower than Goodwin's because "of the tough times we were going through."
Of the layoffs, Nunn said, they were necessary "in order to have the strength and success we've had today."
Two years after the two groups merged, Neil Bush, a son of the first President Bush and chairman of the Points of Light board, described to the Chronicle of Philanthropy why the merger was needed.
"The Points of Light Foundation, honestly, being an inside-the-Beltway Washington institution, became a little too dependent on federal funding, a little too bloated for the work it was engaged in," Bush told the Chronicle.
Others said they initially wondered whether Nunn would make the hard decisions needed to make the merger work -- including the layoffs.
"She clearly came through," Walt Shill, a managing director at Accenture Management Consulting, told the Chronicle in October 2009.
The Chronicle of Philanthropy recently described Nunn as one of the most visible faces in a burgeoning national movement to promote volunteerism. Under her leadership, Points of Light has a $30 million-plus budget and 250 affiliates across the country, according to the group.
Nunn's on leave from the organization while she campaigns. She and Perdue face off in November to succeed retiring Republican U.S. Sen. Saxby Chambliss.
At Points of Light, Nunn's annual salary has fluctuated. It was $197,506 in 2008 and 2009, according to the organization's Form 990s.
The annual filings show Nunn received $322,056 in total compensation in 2010, with a base compensation of $285,533. She took a cut in compensation in 2011, down to $299,346, with a base salary of $274,793.
To sum up our findings on the new ad: The Ending Spending Action Fund is correct that about 90 jobs were abolished when HandsOn Network and Points of Light joined forces. It is also correct that Nunn has earned as much as $300,000 annually as head of the charity, getting a significant raise after the merger.
Nunn got a huge raise while some employees were getting pink slips.  
But a bit of context is needed. Layoffs following mergers are common. And a nonprofit's success can hinge on whether the public believes that it's operating as efficiently as possible.
Nunn's salary at Points of Light, meanwhile, was less than her predecessor's.
We rate the statement in the ad as Mostly True.
Attack ad from Ending Spending Action Fund
"Michelle Nunn unscathed – for now, Politico magazine, May 20, 2014
"Republicans Squint at Michelle Nunn's salary, Political Insider, The Atlanta Journal-Constitution, May 27, 2014
Phone calls and emails with Brian Baker, president of End Spending Action Fund
End Spending Action Fund research
Points of Light Form 990s for 2005, 2006, 2007, 2008, 2009, 2010, 2011 and 2012
"Nunn works to blend nonprofits," The Atlanta Business Chronicle, Oct, 22, 2007
"Non-profits pay for Top Talent," The Atlanta Journal-Constitution , April 8, 2012,
Charitable Navigator on Points of Light
The Chronicle of Philanthropy story from 2009
Browse the Truth-O-Meter
More by Nancy Badertscher
Support independent fact-checking.
Become a member!
In a world of wild talk and fake news, help us stand up for the facts.