Stand up for the facts!
Our only agenda is to publish the truth so you can be an informed participant in democracy.
We need your help.
I would like to contribute
The fastest-rising expense in the U.S. Defense Department is health care.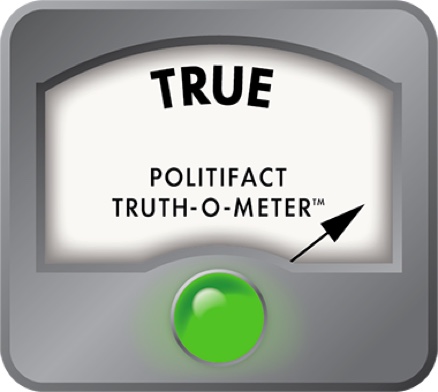 Senator says military health care costs going higher and higher
U.S. Sen. Saxby Chambliss has been going around the Atlanta region in recent weeks talking about the dangerous consequences of the federal government's inability to rein in spending.

One area of spending that has the Georgia Republican concerned is the U.S. Defense Department's health care budget. We thought one claim by the senator was a case for the Truth-O-Meter.

In an April 11 speech to the Marietta Rotary Club, The Marietta Daily Journal paraphrased Chambliss as saying health care costs are the fastest-rising expense in the Defense Department.

"If we're not careful, it's going to consume our ability to buy weapons systems and to pay our men and women at the rate we need to pay them," Chambliss told the crowd in Marietta.

Chambliss, who serves on the Senate's Armed Services Committee, made a similar point in an April 23 speech at the Atlanta Press Club.

"If I went around this room to every company represented here and I asked you what is the fastest-rising expense in your business over the last decade, I dare say 100 percent of you would say it's health care costs," Chambliss said. "And it's exactly that way in the federal government, including TRICARE in the Department of Defense, which is taking away our ability to spend money on other quality-of-life issues and identify weapons systems to equip our men and women."

TRICARE is the program that provides health care to active-duty service members.

Since defense is such an important part of the duties of the federal government, PolitiFact Georgia decided to examine whether the senator was correct.

Bronwyn Lance Chester, a spokeswoman for Chambliss, sent us several newspaper articles and other documents to back up the senator's claim. She did not specify the time period to which Chambliss was referring. That left us to our own interpretation.

The Military Health System budget, which pays for care for nearly 10 million military members, their families, retirees, dependent survivors and some others, nearly tripled over the past decade, Defense Department officials say in their budget overview, released in February. According to the overview, spending rose from $19 billion in fiscal year 2001 to the 2012 fiscal year total of about $53 billion. That $53 billion total does not include health care costs for military operations in Iraq and Afghanistan.

The federal budget year begins Oct. 1 and ends Sept. 30. We're currently in fiscal year 2012.

Multiple news accounts quote former Defense Secretary Robert Gates and other military officials as saying health care is the fastest-growing cost of the department budget. We saw nothing in that report that shows a larger increase in any department.

PolitiFact Georgia also looked at the latest Defense Department budget, which was completed in March. Lance Chester referred us to Table 5-5 of the budget, known as the Green Book, which has a breakdown of spending in several categories dating back to 1970 and projected through fiscal year 2017, which would begin Oct. 1, 2016.

We began by looking at the last five years. Here, the numbers were higher than what we saw in the February report. The current fiscal year spending under the health category was $100 billion. In fiscal year 2008, it was $82.74 billion. By our calculations, that was nearly a 21 percent increase over that five-year time span. That was the largest increase we saw. The second-highest increase was in fuel, which rose by 19.6 percent.

In fiscal year 2017, the health portion of the Defense Department budget is projected to be $114.24 billion. Other medical costs rose by a similar percentage.

Maya MacGuineas, president of the Committee for a Responsible Federal Budget, an organization of former federal budget officials, members of Congress and experts, is frustrated with politicians of all stripes in Washington for their failure to manage taxpayer money. We asked her if Chambliss is correct about this claim.

"It's true," said MacGuineas, who describes herself as a political independent.

Defense officials are proposing to cut health care costs by increasing health care fees, copays and deductibles for retirees.

Any way you slice the numbers, it appears the senator's claim is based on some solid numbers. Health care spending was the fastest-rising cost over the most recent five years, Defense Department figures show. It is also projected to be the fastest-rising cost over the next five years.

We rate this Chambliss claim as True.
American Forces Press Service, "Panetta Announces Fiscal 2013 Budget Priorities," Jan. 26, 2012
Atlanta Press Club speech by U.S. Sen. Saxby Chambliss, April 23, 2012

Defense Department budget overview, fiscal year 2013 budget request overview
Defense Department Green Book, March 2012
Email from Bronwyn Lance Chester, spokeswoman for U.S. Sen. Saxby Chambliss, April 19, 2012

The Marietta Daily Journal, "Chambliss in Marietta: Republicans have to replace, not only repeal, Obamacare," April 12, 2012
Telephone interview with Maya MacGuineas, president, Committee for a Responsible Federal Budget, April 19, 2012
Browse the Truth-O-Meter
More by Eric Stirgus
Support independent fact-checking.
Become a member!
In a world of wild talk and fake news, help us stand up for the facts.