Stand up for the facts!
Our only agenda is to publish the truth so you can be an informed participant in democracy.
We need your help.
I would like to contribute
Says some Georgians can get health insurance for $105 a month.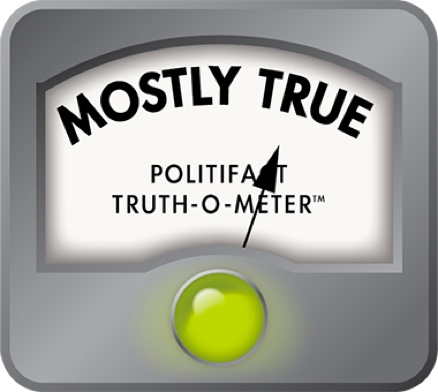 Low cost insurance available with subsidies
U.S. Secretary of Health and Human Services Kathleen Sebelius was in Atlanta recently, encouraging young Georgians to join a health insurance exchange before the March 31 deadline and suggesting that reasonably priced plans are out there.
In a speech that later made it to YouTube, she said some Georgians can get a plan for as low as $105 a month.
"Here in Atlanta, if you're 27 years old and make $25,000 a year, you can find a plan that would cost you $105 a month," she said.
Sebelius acknowledged that some people might be skeptical. After all, she said, it's hard to get a pair of decent running shoes or a monthly contract for cellphone service at that price.
Knowing that what's affordable to one person might be out of reach for another, we decided to run her statement on premium prices through the Truth-O-Meter.
At HealthCare.gov, we were able to confirm that, under the Patient Protection and Affordable Care Act, sometimes called Obamacare, such premiums do exist.
We found, for example, that a 27-year-old living in Cobb County and making $25,000 a year can qualify for the lowest bronze plan and $105-a-month premiums.
But there are several caveats to consider. The premium we found is after a monthly tax credit of $61. The maximum out-of-pocket expenses for that Cobb resident will be $5,200, which for some can be, or seem, cost-prohibitive. And lastly, plan costs can vary widely across the state.
Information from the U.S. Department of Health and Human Services shows plans available to a 27-year-old living anywhere in Georgia, in some cases, for as low as $142 a month (basically catastrophic coverage), $179 a month (the lowest bronze plan), $208 a month (the lowest silver plan), $221 a month (second-lowest silver plan) and $242 a month (lowest gold plan). Should that same person qualify for a tax credit, he or she could obtain the lowest bronze plan for $103 a month and the second-lowest silver plan for $145 a month.
The lowest bronze plan in the Atlanta area would be $105 after the tax credit, according to HHS.
As of March 1, 139,371 people have actually signed up for a marketplace plan in Georgia. Of those, 85 percent qualify for federal subsidies, HHS data show.
According to Region IV of HHS in Atlanta, qualifying health plan providers in Georgia are: Ambetter from Peach State Health Plan; Anthem Blue Cross and Blue Shield; Humana Insurance Co.; Humana Employers Health Plan of Georgia Inc.; and Kaiser Foundation Health Plan of Georgia.
William Custer, the director of the Center for Health Services Research at Georgia State University, said, by comparison, the average monthly premium for a single person with an employer plan is $490, with 75 percent of the employees paying at least 25 percent, or $122 or more, out of their own pocket.
Generally, group plans are richer than plans in the individual market, Custer said. But, he said, according to a Kaiser/HRET Survey from 2013, 43 percent of employer plans with an out-of-pocket maximum have an out-of-pocket max of $4,000 or more.
For 12 percent, there is no maximum on the out-of-pocket, Custer said.
Sebelius' statement is "true on the face of it," he said.
"There is a plan for $105, and there are other plans that offer more coverage with a modest increase in premiums," Custer said.
A single person making $25,000 could buy a silver plan for $144 a month, regardless of where he or she lived in Georgia, even though the full premium could vary considerably and vary more here than in other states, he said.
For example, a 25-year-old living in rural Miller County and making $25,000 a year can apply his or her subsidy, which is based on a silver plan, to a bronze plan and have coverage for $78 a month with a $4,000 deductible, he said.
The Affordable Care Act limits out-of-pocket costs under any plan to $6,350 annually for an individual and $12,700 for a family.
Humana offers a silver plan in the Atlanta market for $128 a month with an out-of-pocket maximum of $4,750, Custer said.
But how will it play?
"Health insurance is expensive, so the costs of coverage for individuals may seem unaffordable even with the subsidies available," Custer said.
John Crew, a health care consultant who primarily works in rural parts of Georgia, said the high deductible creates a plan that is not usable for many consumers.
"If someone making $25,000 a year purchases a plan with a $6,300 deductible, 25 percent of their gross income would go toward medical expenses if they ever needed significant health care services," he said.
"Basically, they have purchased catastrophic coverage," he said. "Although preventive services are covered at no cost share to the patient, I don't think that this plan would encourage the patient to get any sub-acute care."
Crew also pointed out something that gave us additional pause about Sebelius' claim. A plan that may cost $105 a month in Atlanta can cost much more in other parts of the state.
Why? In the Atlanta area, there are at least three health care companies offering insurance, so there is a consumer-friendly marketplace that drives prices down. In much of Georgia, Blue Cross Blue Shield is the only health care provider, so those seeking health care have to pay its prices, he said.
A spreadsheet Crew sent PolitiFact Georgia with federal marketplace health care plans offered in Georgia highlighted the differences. The price for bronze plans in the five largest metro Atlanta counties ranged from $166 to $243 a month. In some counties with one health care provider, the bronze plans ranged from $305 to $360 a month. The top prices for gold plans in counties with one provider were about 50 percent higher than similar plans in metro Atlanta counties.
Custer said it would be burdensome for anyone earning $25,000 to have to meet the full deductible. But in that circumstance, a person would likely be facing a serious health condition, he said.
"Without health insurance, they may not have access to adequate care at all," Custer said.
Last year, HHS estimated that nearly 1.7 million Georgians were uninsured and eligible for coverage through the marketplace. Of those people, about 1.2 million, or 69 percent, had at least one full-time worker in the family, and 671,466, or 40 percent, were ages 19 to 34.
Sebelius says, and data from HHS show, that health insurance is available to some Georgians for as little as $103 to $105 per month, with a qualifying tax credit. But for others, the premiums can be much higher.
Some of these policies come with high deductibles that experts worry could discourage people from seeking medical attention. That's something only time may tell. It's also some context we believe is necessary to fully examine this claim.
Sebelius' statement is accurate but needs some context to be fully understood.
We rate it Mostly True.
YouTube video of Channel 2 Action News story about Kathleen Sebelius, March 11, 2014.
Telephone interview with health care consultant John Crew, March 18, 2014.
Emails with William Custer, director, Center for Health Services Research, Georgia State University.
Kaiser Family Foundation subsidy calculator
U.S. Department of Health and Human Services report on health insurance marketplace premiums, September 2013.
U.S. Department of Health and Human Services addendum to October 2013 - March 2014 enrollment marketplace report, March 11, 2014.
U.S. Department of Health and Human Services, "How the Health Care Law is Making a Difference for the People of Georgia," updated July 29, 2013.
Browse the Truth-O-Meter
More by Nancy Badertscher
Support independent fact-checking.
Become a member!
In a world of wild talk and fake news, help us stand up for the facts.