Get PolitiFact in your inbox.
I "kicked crooked cops and government officials off the public pension rolls."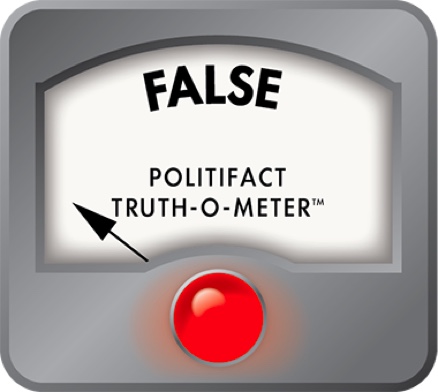 Fernandez says he stripped crooked cops and government workers of their Providence pensions
Former Providence City Solicitor Joseph Fernandez, one of three Democrats running for attorney general, has painted himself as a crime- and corruption-busting prosecutor during his nearly-eight years in Mayor David N. Cicilline's administration.

In a mailing to Rhode Islanders citing "the facts, plain and simple," Fernandez says that "during his term, crime dropped 30 percent over previous years" and he "protected tax dollars" because he "kicked crooked cops and government officials off the public pension rolls."

We discussed the crime rate drop, which Cicilline also claims credit for, in an earlier PolitiFact item, in which we questioned whether Cicilline was directly responsible. The same question applies to Fernandez.

So we focused on the pension question, and whether he actually kicked crooked officials off the rolls.

Our first stop was the Fernandez campaign. We wanted to know whom they were talking about. Campaign manager Dan Herkert said the mailing referred to four people implicated in corruption probes -- former administration director Frank Corrente, former tax collector Anthony Annarino, former Police Chief Urbano Prignano and Kathleen Parsons, a former parks department employee.

Herkert said that in February 2003, when Fernandez was in his second month on the job, he issued a key ruling that a criminal conviction was not required to revoke the pension of an employee who had acted dishonorably while on the job.

"Based on that ruling, the Retirement Board moved forward and voted to either reduce or strip the pensions," said Herkert. "He developed the legal strategy that led to either the reduction or revocation of the pensions."

But it's a lot more complicated than that.

The city's Retirement Board voted to revoke Annarino's pension in February 2002 -- almost a year before Fernandez became solicitor --  after Annarino pleaded gulty to conspiracy, attempted extortion and mail fraud as part of Operation Plunder Dome, which focused on corruption in the administration of Mayor Vincent "Buddy" Cianci, now a talk-show host on WPRO (630-AM).

Then in October 2002 -- two months before Fernandez took office -- the board voted to strip the pension from Corrente, Cianci's former director of administration, after Corrente was convicted of racketeering, conspiracy and attempted extortion in conjunction with the Plunder Dome probe.

The Fernandez ruling first became relevant in the case of Prignano, who retired after being implicated in a police promotions cheating scandal. His case was different because it was the city's first attempt to strip the pension of an employee for violating the "Honorable Service Ordinance," even though he had never been convicted of a crime. It took until June 2008 for the board to actually vote to remove him from the pension rolls.

Finally, there is Parsons, a former office manager in the parks department. She was originally granted a $1,895-a-month pension in June 2005, even though she had confessed on Nov. 24, 2004, to embezzling nearly $27,000 from an off-the-books account in the department. It took the board until April 2007, another 21 months, to vote to slash her pension by 99 percent. The Journal reported at the time that some Retirement Board members said they were not informed of her plea by Fernandez's office. He blamed it on miscommunication.

Fernandez didn't prosecute any of these four cases directly. Instead, the city sometimes hires outside lawyers to act on behalf of the Retirement Board, said Vincent A. Ragosta Jr., who handled the Prignano case and independently recommended that it go forward. Ragosta issued the report that the board used to make its decision.

Ragosta said Fernandez "has been at the forefront" of all the cases, hiring outside lawyers with expertise in labor and employment law, supervising those lawyers, and following the proceedings at the Retirement Board and in Superior Court, where the board's decisions needed to be ratified before they can actually be implemented.

He said taking credit for the actions against the four employees is akin to the attorney general taking credit for putting a murderer behind bars even if an assistant attorney general actually tried the case. "In a broad sense, that's an accurate and truthful statement."

All four cases have been long, involved and subject to appeals in Superior Court -- and in at least one instance -- to the state Supreme Court. Fernandez's office was responsible for pursuing them. He was also city solicitor when the board decided to reinstate part of Corrente's pension in August 2008, on the grounds that he had served honorably during his first stint in City Hall.

There are two problems with Fernandez's claim.

First, he says he "kicked crooked cops" off the public pension rolls. But the only police officer on the list the campaign supplied is Prignano. Last time we checked our dictionary, the word "cops" meant more than one.

When we asked Herkert about this, he said, "the statement stands as it is. The statement is accurate."

Not that part of it.

Second, two of the four ex-employees are still receiving their pensions while their cases are under review in Superior Court. Prignano is getting $5,884.50 per month and Parsons is receiving $1,895.04 a month. They have not been kicked off the pension rolls at all.

Herkert's response: "We're basing our statement on the actions of the Retirement Board."

So the tally of those who have actually lost their pensions so far: two government officials -- Corrente and Annarino. And their pensions were acted on by the Retirement Board before Fernandez began working for the city.

We think the average person reading the Fernandez campaign material would be led to believe that, thanks to the work of the former city solicitor, the city is no longer paying pension money to at least two crooked police officers and two crooked government officials.

That wouldn't be accurate.

Fernandez and the city get credit for trying to hold public officials accountable by pursuing the pension cases. But the statement in his mailing greatly exaggerates the facts.

We rate his claim False.
Mailing, "Don't Think Corruption Affects You? The Corruption Connection," Joe Fernandez for Attorney General, received Aug. 25, 2010

PolitiFact.com, "Cicilline says Providence's crime rate is the lowest in 30 years," published July 19, 2010.

Interviews and emails, Dan Herkert, campaign manager, Joe Fernandez for Attorney General, Sept. 1 and 7, 2010

The Providence Journal, "Operation Plunder Dome - Pension vote goes against Annarino," Feb. 28, 2002

The Providence Journal, "Board Weighs Corrente Pension," Sept. 19, 2002

The Providence Journal, "City board suspends Corrente's pension," Oct. 24, 2002

The Providence Journal, "Solicitor: Retirement Board can revoke Prignano pension," Feb. 13, 2003

The Providence Journal, "Pension OK'd for Providence embezzler," June 23, 2005

The Providence Journal, "City Retirement Board slashes Parsons' pension by 99 percent," April 26, 2007

ProJo.com, "Board strips Prignano of pension," June 26, 2008

The Providence Journal, "Partial pension for Corrente - Despite corruption, Cianci's former top aide awarded $22,231 pension," Aug. 14, 2008

ProJo.com, "Ruling empowers Retirement Board to revoke or reduce pensions," Sept. 9, 2009

ProJo.com, "High court orders stay in police pension case," Nov. 12, 2009

Interview, Vincent A. Ragosta Jr., Sept. 7, 2010

Email, Octavio Cunha, Providence pension administrator, Sept. 8, 2010
Browse the Truth-O-Meter
More by C. Eugene Emery Jr.
Support independent fact-checking.
Become a member!
In a world of wild talk and fake news, help us stand up for the facts.