Stand up for the facts!
Our only agenda is to publish the truth so you can be an informed participant in democracy.
We need your help.
I would like to contribute
"FBI confirms evidence of huge underground Clinton sex network."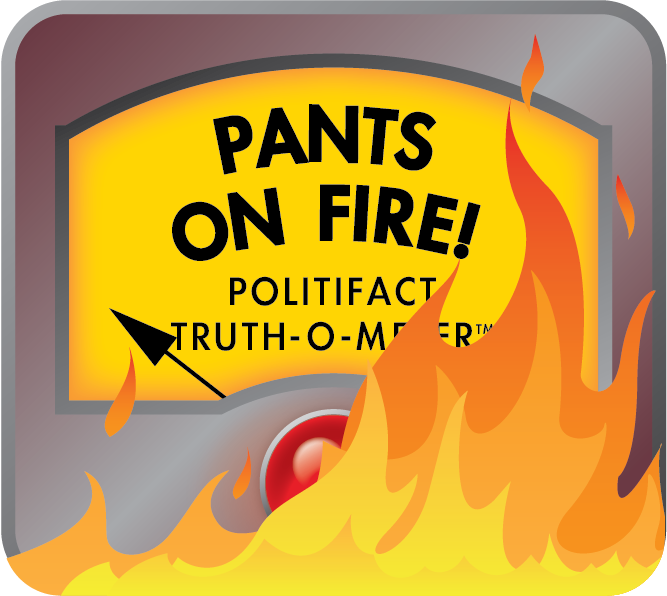 Evidence ridiculously thin for sensational claim of huge underground Clinton sex network
The presidential race has tightened again, this time after the FBI revealed that Hillary Clinton emails might be found on the laptop of Anthony Weiner, the estranged husband of Clinton aide Huma Abedin.
Now some conservative websites are claiming — without offering any evidence — that the probe has uncovered evidence of a pedophile sex ring run under the guise of the Clinton Foundation.
"Breaking: FBI confirms evidence of huge underground Clinton sex network," the Conservative Daily Post said on Nov. 1.
"A source from the FBI has indicated ... that a massive child trafficking and pedophile sex ring operates in Washington, D.C.," the website reports, saying "there are at least six members of Congress and several leaders from federal agencies that partake in the pedophile ring, which they say was run directly with the Clinton Foundation as a front."
No sources are named. No documents are cited.
The claim about a child trafficking and a pedophile sex ring links to a New York Post story that makes no reference to either child trafficking or a sex ring.
The claim about the Clinton Foundation and members of Congress links to an internet message board where anonymous people have posted under the topic, "Breaking: Its (sic) worse than classified emails. Political Pedophile Sex Ring exposed."
"Hillary, Bill, all of them knew/know and were active participants," says the poster, who has the nickname "WartHog76." "DC and the FBI, DOJ fear a complete loss of public support for the federal government. ... Both parties, all levels of government. Its (sic) about to come apart."
Subsequent posts by other people range from speculation that the story is part of a Clinton strategy ("Throw out some wild claims, have them proven false, and their real crimes will be dismissed as false") to a link to another website claiming that Bill Clinton and Donald Trump are connected to a place called Sex Slave Island.
The latter pertain to the real-life story of financier Jeffrey Epstein, a billionaire sentenced to 18 months in jail and ordered to register as a pedophile in 2008 after pleading guilty to a Florida felony charge of soliciting a minor. He had been accused of hiring underage girls for massages and sex at Epstein's Palm Beach mansion.
Clinton has repeatedly flown on his plane. Trump's phone numbers were found in Epstein's address book.
The Conservative Daily Post article doesn't mention Trump's connections to Epstein.
We contacted the FBI. Spokesman Andrew Ames said in an email, "We have provided no comment, nor confirmed any investigation, beyond the existence of a letter from the Director to select members of Congress, which was then provided to the media by members of Congress."
Another commentator on the message board says, "NYPD has verified it. It's not a false claim." An NYPD spokesman said he was unaware of anyone make such a statement.
Our ruling
The Conservative Daily Post says, "FBI confirms evidence of huge underground Clinton sex network."
We could find no evidence that such a network exists; there is definitely no evidence that the FBI has confirmed it. The blog post seems to be relying on an anonymous claim put up on an internet message board.
Here at PolitiFact, we believe it's up to the entity making a claim to support it with real evidence, especially when a claim is as extraordinary as this one.
For now, the Post story fails to rise above rumor or hoax. Without anything real to go on, the website is blowing smoke. And in this case, where there's smoke, there's Pants on Fire!
Conservative Daily Post, "Breaking: FBI confirms evidence of huge underground Clinton sex network," Nov. 1, 2016
New York Post, "New Clinton emails found during Anthony Weiner sexting probe," Oct. 28, 2016
Email, Andrew Ames, spokesman, Federal Bureau of Investigation, Nov. 3, 2016
The Daily Beast, "The Billionaire Pedophile Who Could Bring Down Donald Trump and Hillary Clinton," June 30, 2016
Sun Sentinel, "Mayo: Some sex offenders get life, Epstein gets Paris," Feb. 4, 2015
Gawker, "Here Is Pedophile Billionaire Jeffrey Epstein's Little Black Book," Jan. 23, 2015
FoxNews, "Flight logs show Bill Clinton flew on sex offender's jet much more than previously known," May 13, 2016
Browse the Truth-O-Meter
More by C. Eugene Emery Jr.
Support independent fact-checking.
Become a member!
In a world of wild talk and fake news, help us stand up for the facts.