Stand up for the facts!
Our only agenda is to publish the truth so you can be an informed participant in democracy.
We need your help.
I would like to contribute
"I got a letter from 20 people who said they wanted their money back, 14 never gave me a penny."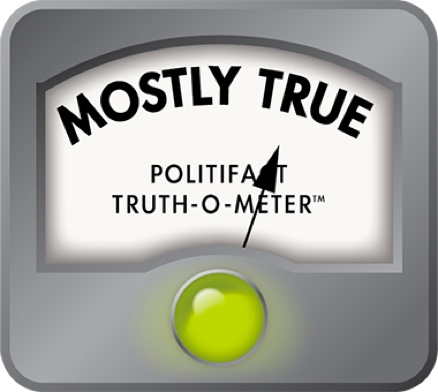 Charlie Crist says people asking for refunds never donated
Though he officially declared his "independence" by leaving the Republican Party on May 12, 2010, Florida Gov. Charlie Crist says he won't return money contributed to his U.S. Senate campaign while he was running as a Republican.
"People gave to a good cause, and we're going to spend it on a good cause,'' Crist said minutes after switching his voter registration. "That's why I'm going to keep it. It's important to be able to get our message out and communicate with the people of Florida.''
The next day, in a wide-ranging interview with the editorial board of the St. Petersburg Times, the refund talk resurfaced.
This time, Crist discussed a letter he received from 20 Republican heavyweights asking for refunds. He suggested that the letter was more a stunt than a sincere request.
"I got a letter from 20 people who said they wanted their money back, 14 never gave me a penny," Crist told the Times, adding, "You gotta give it to me first before you can have the option."
We wanted to see if Crist is right.
The letter in question actually is published on Marco Rubio's Senate campaign website. It reads in part:
"We helped to support, and yes to bankroll, your political career. For years you have been asking us for money. And for years we have put our names and credibility on the line by asking our friends to donate to you. Those days are over.

"As part of your transition into this new phase of your political career, we respectfully request that you return every penny of donor money from every donor who asks for a refund. For those of us who have donated to your Senate campaign, you can start by refunding in full the contributions we have made.

"Recent reports with the Federal Elections Commission indicate your campaign is sitting on a stockpile of approximately $7.6 million dollars in contributions.

"Charlie, that is not your money."
The letter is signed by mainly Florida Republicans, including former Florida GOP Chairman Al Cardenas, Outback Steakhouse executive Chris Sullivan, Palm Beach County GOP chair Sid Dinerstein and former U.S. Ambassador to Portugal Al Hoffman.
Palm Beach Post reporter Mike Bender quickly took the list of letter writers and compared it to the list of Charlie Crist's campaign contributors. He published the results of his analysis on the Post's political blog.
The analysis showed that of the 20 people listed on the letter, only nine actually donated to Crist's Senate campaign, and of the nine -- Hoffman -- got his contributions back in February 2010 (Hoffman asked for his money back in February over allegations of excessive spending by the Republican Party of Florida and Crist's hand-picked chairman Jim Greer).
PolitiFact Florida checked Bender's reporting by searching the Federal Election Commission's electronic campaign database and came up with the same number. Here's a list of the signers and how much they contributed to Crist's campaign.
Bill Becker, Vero Beach, FL - $0
Wayne Berman, Washington, D.C. - $0
Al Cardenas, Miami, FL - $4,800
Sid Dinerstein, Palm Beach Gardens, FL - $0
Ed Easton, Key Biscayne, FL - $2,400
Peter Feaman, Boynton Beach, FL - $500
Gay Gaines, Palm Beach, FL - $0
Phil Handy, Winter Park, FL - $0
Mike Hightower, Jacksonville, FL - $0
Charlie Hilton, Panama City, FL - $0
Ambassador Al Hoffman, North Palm Beach, FL - $4,800
Congressman Gary A. Lee, Ft. Myers, FL - $0
Anita Mitchell, West Palm Beach, FL - $0
Tom Petway, Jacksonville, FL - $2,400
Ambassador John Rood, Jacksonville, FL - $4,800
Peter Rummell, Jacksonville, FL - $4,800
Frank Schwerin, Naples, FL - $0
Jason Steele, Satellite Beach, FL - $0
Chris Sullivan, Tampa, FL - $4,800
Jason Unger, Tallahassee, FL - $2,400
Hilton did donate $2,000 to Crist's 1998 Senate campaign. The Post reported that one of the 20 to sign the letter, Gay Gaines of Palm Beach, hasn't donated to Crist in at least 15 years. She gave $2,400 this year to Rubio.
Crist, in his statement to the St. Petersburg Times editorial board, is off a little bit by saying 14 of the 20 have asked for a refund. Actually, 11 never gave Crist "a penny" for his 2010 Senate campaign. And a 12th person had his money back before sending the letter to Crist. That's close enough, however, to rate Crist's claim Mostly True.
Browse the Truth-O-Meter
More by Aaron Sharockman
Support independent fact-checking.
Become a member!
In a world of wild talk and fake news, help us stand up for the facts.