Get PolitiFact in your inbox.
Tucker Carlson's 'Patriot Purge' film on Jan. 6 is full of falsehoods, conspiracy theories
If Your Time is short
"Patriot Purge," Tucker Carlson's three-part documentary series about Jan. 6, attempted to rewrite the events of the insurrection.

The series floated several conspiracy theories about Jan. 6, including that the violence was instigated by left-wing activists, that it may have been an FBI-led false flag, and that the government is using it to strip millions of Trump voters of their constitutional rights.

The series flashed to imagery from the post-9/11 era and included sympathetic interviews with people involved in the events of Jan. 6. It falsely claimed the rioters are "political prisoners."
In his controversial and conspiratorial documentary series attempting to rewrite the events of Jan. 6, Fox News host Tucker Carlson described the attack on the U.S. Capitol as a false-flag operation contrived to frame, trap and "purge" Trump voters in a "new war on terror."
The series started airing Nov. 1 on Fox Nation, Fox News' subscription streaming service. It was produced as part of a multiyear deal Carlson signed to make specials for Fox Nation, and it was co-written by Scooter Downey, who previously directed films for far-right figures. On Fox News' flagship morning show, "Fox & Friends," Carlson defended it as "rock-solid factually."
Yet the three-part documentary, "Patriot Purge," not only whitewashed what happened on Jan. 6, as supporters of former President Donald Trump stormed the Capitol, clashed with police and halted congressional proceedings in an effort to overturn the 2020 election. It also conjured a dystopian, alternative explanation for the insurrection, centered on a mix of conspiracy theories, including that the violence outside the Capitol was spurred on by left-wing instigators and agents provacateurs, and that the siege may have been a trap orchestrated by the FBI. It warned that the same national security apparatus that swelled in the wake of the terrorist attacks of Sept. 11, 2001, is now being turned inward and aimed at taking out Trump supporters.
"They've begun to fight a new enemy in a new war on terror," Carlson said in the series, which flashed to images of violence, terrorism and torture from the post-9/11 era. "Not, you should understand, a metaphorical war, but an actual war. Soldiers and paramilitary law enforcement, guided by the world's most powerful intelligence agencies, hunting down American citizens, purging them from society, and throwing some of them into solitary confinement."
The characters Carlson highlighted in his series as experts include the editor of the right-leaning site Revolver News, a former Trump White House speechwriter who was fired after appearing on a panel with a white nationalist; and a writer for Glenn Beck's TheBlaze, who entered House Speaker Nancy Pelosi's office with the rioters and tweeted that they were "revolutionaries."
The film also featured sympathetic interviews with conservatives involved in the harrowing events of Jan. 6, such as "Stop the Steal" organizer Ali Alexander and Richard Barnett, the Arkansas man who stole a letter from Pelosi and was photographed with his feet on her desk and a stun gun in his pocket. And it spotlighted the family of Ashli Babbitt, the woman fatally shot by law enforcement as she tried to force her way further into the Capitol.
"It is political propaganda that is meant to rally a support base that has shown a willingness to mobilize on the basis of disinformation and lies," said Michael Jensen, a senior researcher at the University of Maryland's National Consortium for the Study of Terrorism and Responses to Terrorism. "That's how we got Jan. 6 in the first place."
Here are the main themes from Carlson's documentary series, fact-checked. Fox News did not respond to a request for comment.
Claim: The government constructed a false narrative around Jan. 6 to justify a "purge" of Trump voters and strip them of their constitutional rights.
The picture Carlson painted is dystopian and scary. "Jan. 6 is being used as a pretext to strip millions of Americans — disfavored Americans — of their core constitutional rights," he claimed minutes into the series, a theme he returned to throughout.
But Carlson's claim about the government weaponizing Jan. 6 to strip millions of their rights isn't supported by evidence, and he did not provide any. PolitiFact rated it Pants on Fire.
An estimated 2,000 to 2,500 people entered the Capitol on Jan. 6, according to the Washington Post. The Justice Department has arrested approximately 650 people, not millions, on charges ranging from entering restricted federal property to assaulting police officers and conspiracy.
Even among those charged, there's no evidence that constitutional rights are under threat, experts said, and there's no action underway that would result in that outcome.
Claim: The media lied about Capitol Police Officer Brian Sicknick's death to create "a pretext for a national crackdown."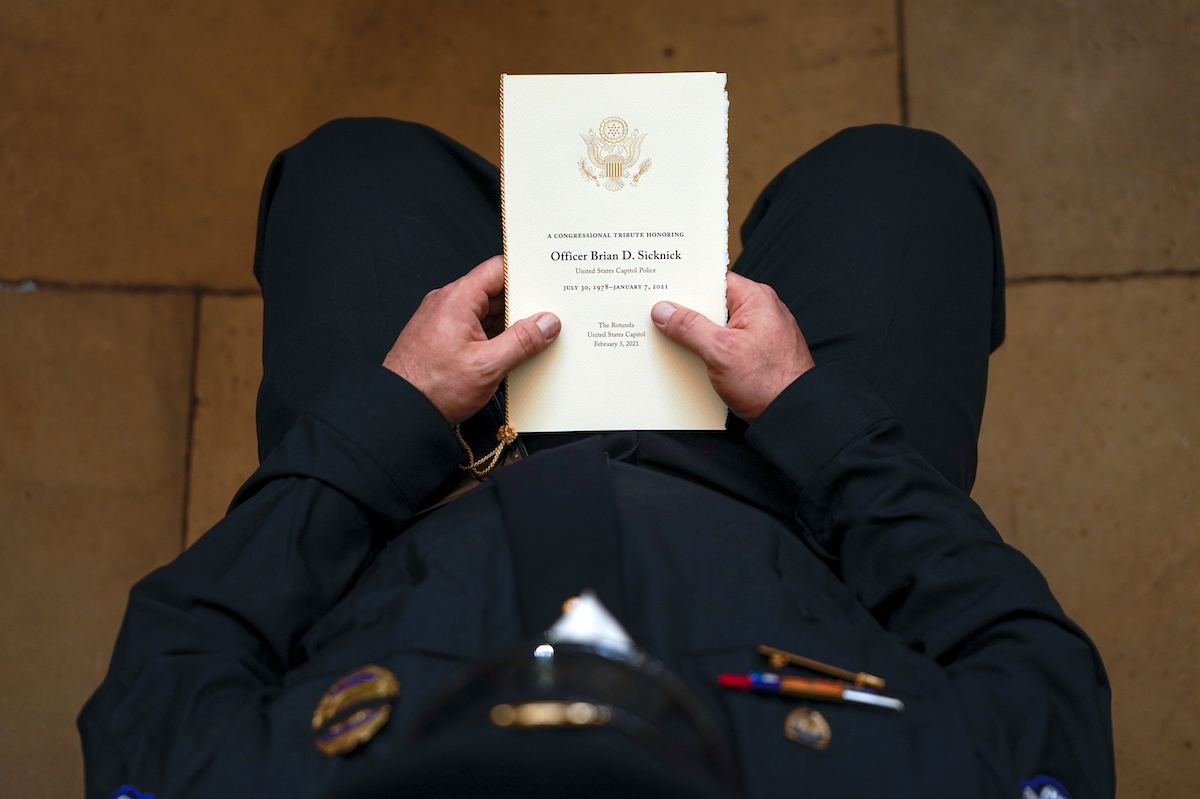 A U.S. Capitol Police Officer holds a program during a ceremony memorializing U.S. Capitol Police officer Brian Sicknick in the Capitol Rotunda on Feb. 3, 2021, in Washington. (AP)
Speaking about Capitol Police Officer Brian Sicknick, who died Jan. 7, Carlson said "a false news story published by the New York Times became the pretext for a national crackdown."
The Times did revise an early report about Sicknick's death that, citing law enforcement sources, said the 42-year-old officer was struck on the head with a fire extinguisher.
Follow-up coverage had challenged that reporting, and in April, a medical examiner ruled that Sicknick died from two strokes at the base of his brain, caused by a blood clot in an artery. The examiner told the Washington Post that there was no sign of injury or an allergic reaction to chemical irritants, but also that Sicknick was among the officers who engaged with the rioters outside the Capitol and that "all that transpired played a role in his condition."
Most of the charges filed against Jan. 6 rioters have had nothing to do with the officer's death. Two men face charges for allegedly spraying Sicknick with a chemical irritant. Meanwhile, about 140 officers were assaulted that day, and the Capitol suffered $1.5 million in damage.
Several dozen rioters had already been arrested and made their first appearances in court before the Times published its original report about Sicknick's death on Jan. 8. Law enforcement officials including Jeffrey Rosen, the acting attorney general at the time, vowed on Jan. 7 to hold those who perpetrated the assault and stormed the Capitol accountable.
Claim: The crowd at the Capitol was just "mom and dad who were mad about what they saw to be an election that they thought was unfair, rigged, fortified, stolen."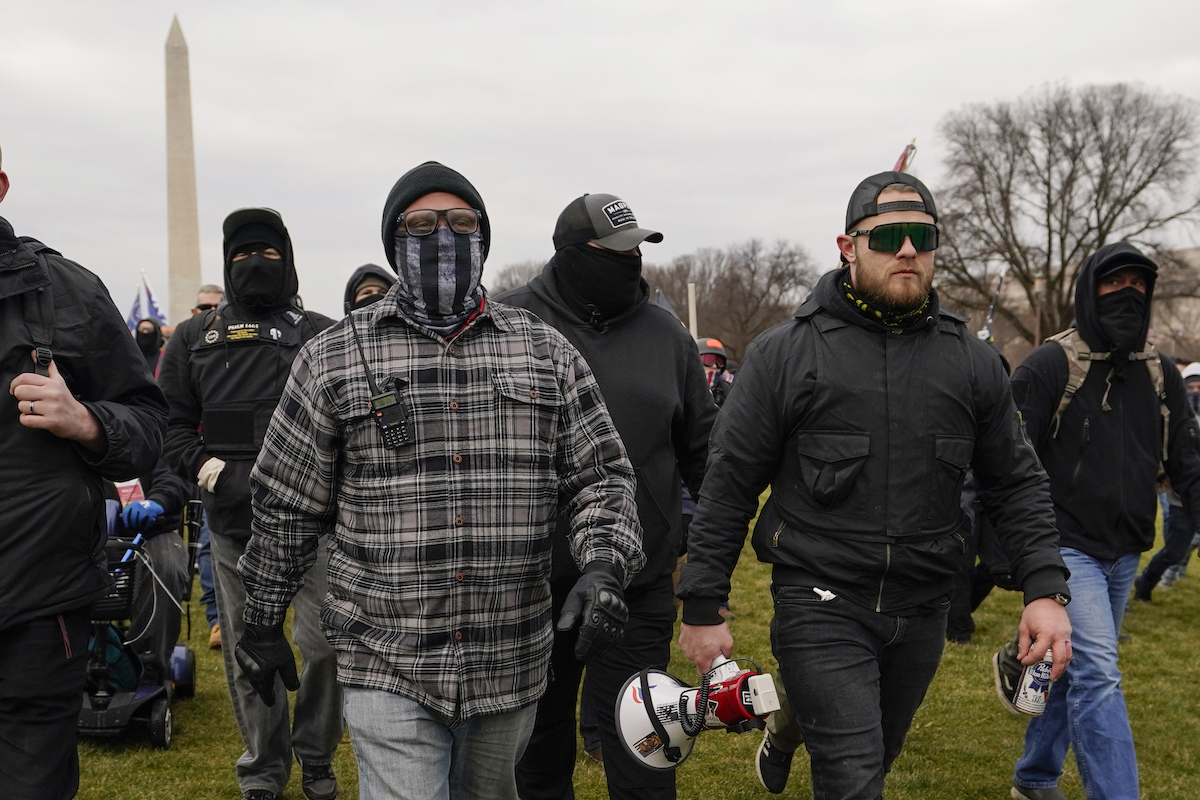 Proud Boys members Joseph Biggs, left, and Ethan Nordean, right, walk toward the U.S. Capitol in Washington on Jan. 6, 2021. (AP)
This claim, from BlazeTV writer Elijah Schaffer, ignored the outsize role played by members of right-wing militia groups such as the Proud Boys and Oath Keepers.
These groups were among the most coordinated in their efforts to disrupt Congress on Jan. 6, PolitiFact reported, based on a review of court filings. Members wore combat gear and used military-style tactics to wind through the crowd. Many now face conspiracy charges.
The Chicago Project on Security and Threats, a University of Chicago group led by political science professor Robert Pape, has also examined reports on the roughly 650 people arrested through Oct. 25. Research director Keven Ruby said those arrests include 89 members of extremist groups or militias, including 42 Proud Boys, 23 Oath Keepers and 16 Three Percenters.
But even rioters who were not affiliated with any extremist group, like Colorado geophysicist Jeffrey Sabol, went beyond simply voicing their beliefs that the election was stolen.
According to the Justice Department, at least 190 people have been charged with assaulting, resisting or impeding police officers, including over 60 who were charged with using a weapon or causing serious bodily injury. Over 40 face charges for destruction to government property.
The woman shown on screen as Schaffer described the crowd as "mom and dad" is Donna Bissey of Indiana, who pleaded guilty to parading, demonstrating or picketing in a Capitol building, and who spoke supportively at her hair salon about QAnon and other conspiracy theories before the riot, according to charging documents.
Claim: The violence on Jan. 6 was led by left-wing agitators and agents provocateurs.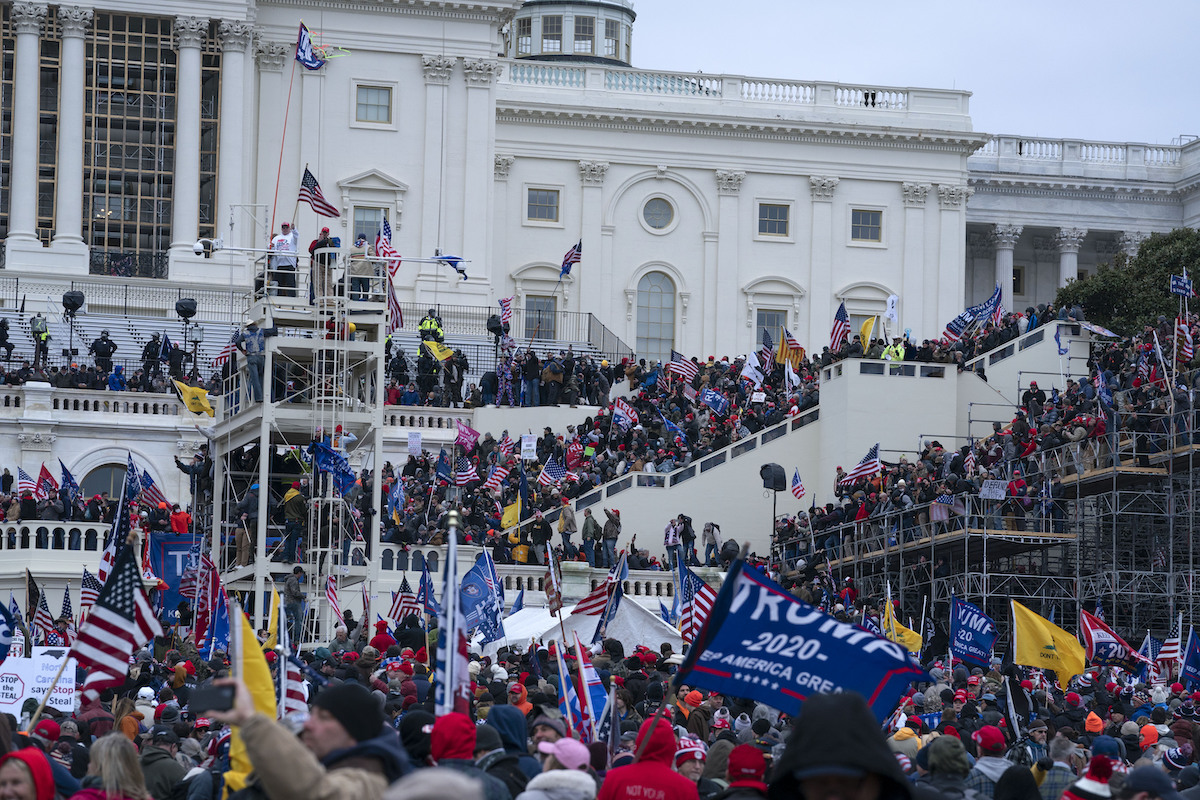 Supporters of President Donald Trump outside the U.S. Capitol on Jan. 6, 2021, in Washington. (AP)
Carlson's series recycled a long-debunked conspiracy theory about Jan. 6, with interviewees claiming they saw left-wing instigators "changing clothes" and "goading members of the crowd," and with Carlson himself wondering aloud whether "other agitators (were) there that day."
There was never any evidence that antifa or other left-wing instigators riled up the crowd or initiated the violence.
The Jan. 6 mob wore and waved Trump-branded paraphernalia as they fought with police and breached the Capitol. Many came straight from Trump's rally in Washington. Some broadcast live-streams from inside the building. And about 85% were charged in part using evidence from their own or others' social media accounts, according to George Washington University.
Several rioters held up in early social media postings as examples of antifa involvement — such as the QAnon supporter who wore face-paint and a horned fur cap — were not actually antifa.
Some of those arrested over the riot even took to social media themselves to dispel the claims about antifa involvement. "It was not Antifa at the Capitol," one rioter tweeted. "It was freedom loving Patriots who were DESPERATE to fight for the final hope of our Republic."
Months after the attack, even more is known about the makeup of the mob. PolitiFact reviewed court documents and other information for more than 520 of the first defendants charged in relation to the riot. The crowd consisted overwhelmingly of Trump supporters, we found.
"There is no evidence of left wing agitators involved in the violence," Ruby said, citing the Chicago Project on Security and Threats' own analysis of the Jan. 6 defendants.
Carlson's series focused on the case of John Sullivan, a controversial activist from Utah who filmed his entry into the Capitol and captured on video the moment when Babbitt was shot.
Sullivan, a polarizing figure on both sides of the political spectrum, is charged with several crimes, including aiding and abetting, entering a restricted building with a deadly or dangerous weapon, and making false statements to the FBI. Ruby said that Sullivan was the only case of a potentially left-wing activist arrested on Jan. 6 that his team identified among the more than 650 defendants charged through Oct. 25.
Claim: The Jan. 6 attack was a trap orchestrated by the FBI to trap Trump supporters, and it may have been a false flag.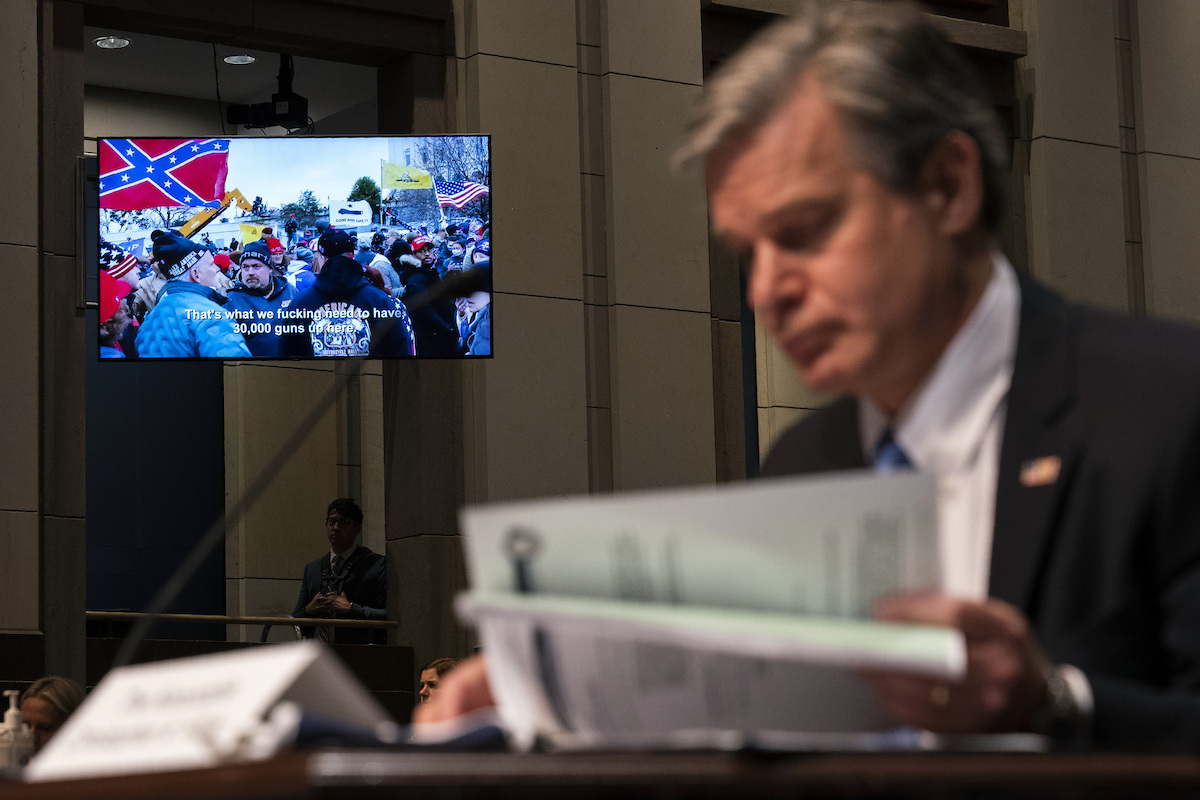 FBI Director Christopher Wray reads during the House Judiciary Committee oversight hearing on June 10, 2021, in Washington. (AP)
Carlson claimed that FBI agents directly incited people on Jan. 6 and "intentionally entrapped" American citizens. Schaffer said Jan. 6 was "a honeypot."
"It is my opinion that false flags have happened in this country, one of which may have been Jan. 6," Emily Grace Rainey, a former U.S. Army captain who brought a group to Washington, said in one of the series' featured interviews.
The claim about an FBI setup is False, just as it was wrong when Carlson previously pushed it on his primetime TV show. There is no evidence that the FBI, or any government agency, orchestrated the attack or incited it. And there is no evidence that it was staged or a false flag, as Rainey suggested.
To advance these theories, Carlson relied on circumstantial evidence and speculation provided by the Revolver News editor, including the fact that an extremist plot to kidnap Michigan Gov. Gretchen Whitmer was foiled by informants and undercover FBI operatives.
Carlson also relied on a misleading characterization of what led to the arrest of former Drug Enforcement Administration agent Mark Ibrahim, who brought a gun onto Capitol grounds. And he cited the work of journalist Trevor Aaronson, who reported on FBI stings targeting Muslims after 9/11. But Aaronson has strongly disputed Carlson's claims about Jan. 6 and told PolitiFact that the FBI-plot theory is "absolutely ludicrous."
False flag claims require "more than just unsubstantiated assertions" to prove, especially with significant events that create overwhelming amounts of evidence, said Mark Fenster, professor of law at the University of Florida and author on conspiracy theories.
"Patriot Purge" did not provide that proof. Instead, the series' false flag claims cut against all the documentary evidence from the riot, as well as the many public statements of lawmakers, staff, police, journalists, and rioters who were at or near the Capitol as the insurrection took place.
Claim: The Jan. 6 rioters are "political prisoners" facing excessive punishment.
Carlson claimed repeatedly that the Jan. 6 defendants are "political prisoners."
"Suddenly, the United States of America has political prisoners," he said in the series' final episode. "American citizens. Some of them committed no violence whatsoever on Jan. 6 and remain rotting in pretrial detention in one of the worst jails in the country."
PolitiFact rated a similar claim Mostly False in July. A political prisoner is someone who is arrested on the basis of his or her political beliefs, said Lisa Hajjar, an expert on human rights and professor of sociology at the University of California, Santa Barbara.
"The Jan. 6 protesters were not arrested for their political beliefs, although those beliefs motivated their actions that day," Hajjar said. "Rather, they were arrested for breaking the law which is not a 'politicized' law. Breaching the Capitol and perpetrating violence are illegal acts, regardless of the political motivations of the perpetrators."
Richard Barnett of Arkansas, who was indicted on seven counts, was spotlighted in Carlson's film. "I'm absolutely a political prisoner," he said. "What else could I be?"
But Barnett was not arrested for his politics. He was photographed inside Pelosi's office with his feet on her desk and a stun gun in his pocket. He also stole a letter from Pelosi, confronted police and took a bullhorn to rile up rioters, prosecutors alleged in court documents. Carlson's film claimed the stun gun was "inoperable" and used "as a walking stick," but prosecutors rejected that as "pure fiction," noting that he purchased it shortly before Jan. 6, "proudly discharged" it for a crowd the night before the riot, and hid it before his arrest. Barnett faces numerous charges, including aiding and abetting, entering and remaining in a restricted building with a deadly or dangerous weapon, disorderly conduct with a deadly or dangerous weapon and theft of government property.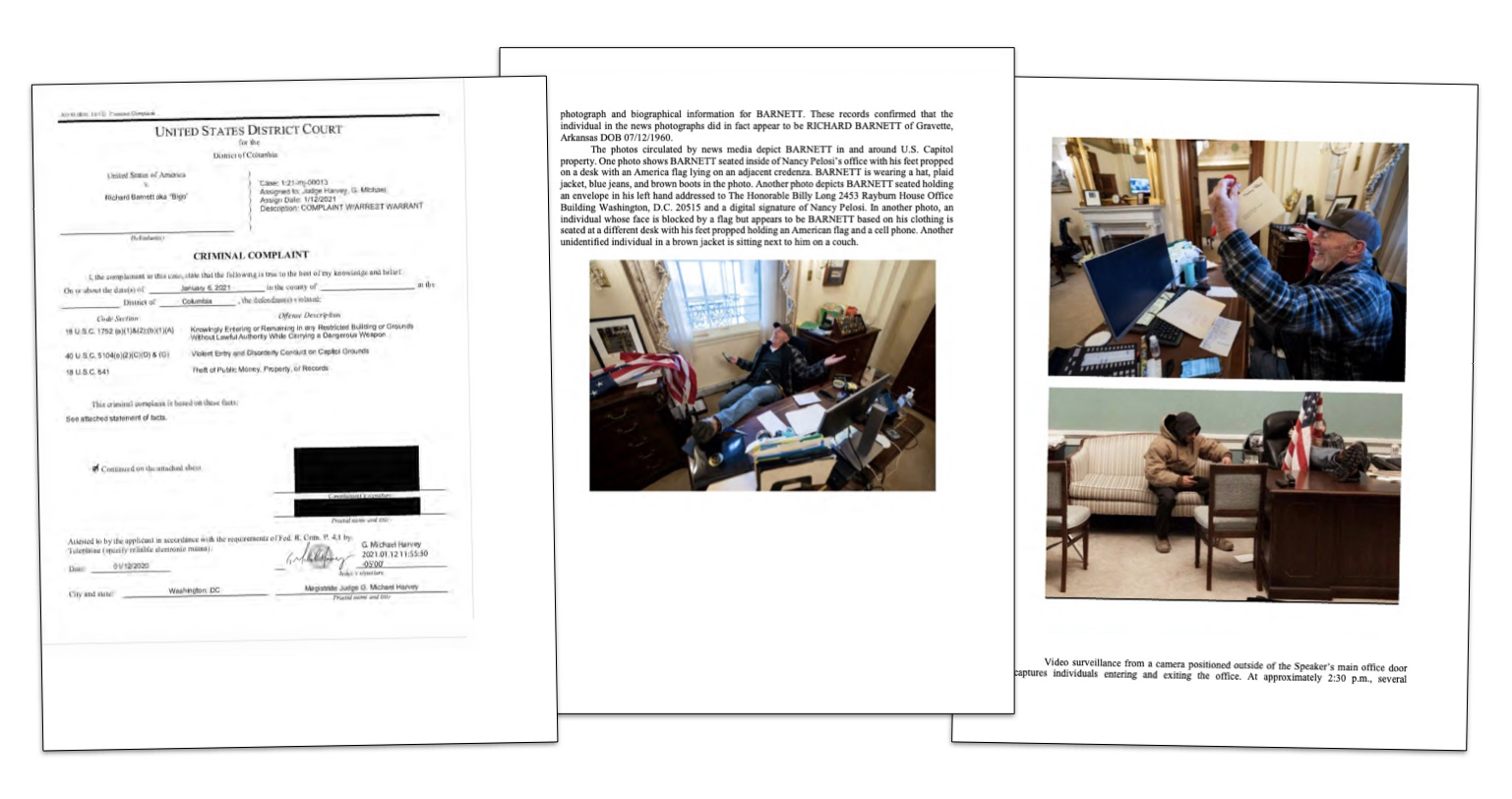 An illustration shows charging documents in the federal court case against Richard Barnett.
Barnett spent four months in custody, but he has since been released pending trial — as have most defendants. His release came after a court ruling made it harder for the Justice Department to detain Jan. 6 defendants who were not charged with assault or pre-planning.
"More than 90% of the individuals who have been charged for participating in the insurrection have been granted release pending trial," said Jensen, the University of Maryland terrorism expert, citing the Justice Department's public database of cases stemming from Jan. 6.
Of those who have pleaded guilty and been sentenced, only a handful have been set to serve any time in jail, Jensen said, and most were slated to serve only 45 days. "These are hardly draconian criminal justice outcomes," Jensen said.
Barnett's attorney, Joseph McBride, claimed in Carlson's film that "the left is hunting the right … dragging them to D.C. in the middle of night, sticking them in the Gulag, sticking them in Guantanamo Bay for American citizens, leaving them there to rot."
No Jan. 6 defendants are being shipped to any gulag, a term referring to forced labor camps from Joseph Stalin's reign in the Soviet Union. They aren't being sent to Guantanamo Bay, either, or to any prison where the conditions approach what took place in Guantanamo post-9/11.
"It's ridiculous to compare the post-Jan. 6 investigation and prosecutions to what happened after 9/11," said David Alan Sklansky, a professor and the faculty co-director of the Criminal Justice Center at Stanford Law School. "People were held without charges post-9/11. People were tortured. There is nothing remotely equivalent to that happening."
Claim: Jan. 6 put Mark Ibrahim and Emily Grace Rainey out of their jobs.
Carlson also misled in his film about two people who he claimed lost their jobs because of what happened on Jan. 6: Ibrahim, the former DEA agent, and Rainey, the former Army Captain.
"DEA agent Mark Ibrahim was forced from his job and later indicted simply because he was near the Capitol protest on Jan. 6," Carlson said of Ibrahim.
PolitiFact rated that False. Ibrahim had already submitted his intent to resign from the DEA weeks before Jan. 6, and he was considered a probationary employee on leave the day of the insurrection, court documents show. He was indicted because investigators found that he brought a gun with him onto Capitol grounds, and because he then made false statements to federal agents in a recorded interview, not "simply because he was near the Capitol protest."
Rainey, who has not been charged and said she did not enter the Capitol, similarly claimed in Carlson's film that she was compelled to leave her post in Fort Bragg, N.C., because she attended the "Stop the Steal" rally. "They ostensibly ruined my career," she said.
But as local and national news outlets, including Fox News itself, reported, Rainey had already announced her resignation from her commission before she traveled to Washington.
Claim: Ashli Babbitt was assassinated despite posing no threat on Jan. 6.
Carlson repeatedly referred to the death of Ashli Babbitt as an assassination.
"Ashli Babbitt presented no imminent threat to anyone," he said at one point.
Babbitt, a military veteran who embraced Trump and QAnon, was fatally shot in the shoulder as she tried to force her way further into the Capitol through a broken glass door panel.
But law enforcement experts, citing video evidence, told PolitiFact that the Capitol Police officer's decision to fire was defensible, given the risk of serious bodily harm to officers or lawmakers. We rated False the claim that "there was no reason" for it.
The officer who shot Babbitt was cleared of wrongdoing in investigations by both the Justice Department and the Capitol Police.
Carlson also claimed that the officer "gave no verbal warning before shooting." But the officer said in an interview that he did warn Babbitt. Thomas Baranyi, who was near Babbitt as she was shot and caught her as she fell, also told a news crew that he heard warnings.
"A number of police and Secret Service were saying, 'Get back, get down, get out of the way,'" Baranyi said after the riot, with Babbitt's blood still on his hand. "She didn't heed the call."
PolitiFact reporter Samantha Putterman contributed to this report.
Fox Nation, "Patriot Purge: Part 1," Nov. 1, 2021
Fox Nation, "Patriot Purge: Part 2," Nov. 2, 2021
Fox Nation, "Patriot Purge: Part 3," Nov. 3, 2021
U.S. Justice Department, "Capitol Breach Cases," accessed Nov. 4, 2021
George Washington University, "Capitol Hill Siege," accessed Nov. 4, 2021
University of Chicago, "Chicago Project on Security and Threats at the University of Chicago," accessed Nov. 4, 2021
U.S. Attorney's Office District of Columbia, "Nine Months Since the Jan. 6 Attack on the Capitol," Oct. 12, 2021
The New York Times, "Debunking the Pro-Trump Right's Claims About the Jan. 6 Riot," Sept. 17, 2021
The Associated Press, "Records rebut claims of unequal treatment of Jan. 6 rioters," Aug. 30, 2021
The Intercept, "Capitol Police Officer Who Shot Ashli Babbitt Insists He Did Warn Her Before Opening Fire," Aug. 27, 2021
Fox News, "Army investigating officer Emily Rainey who led group to DC rally ahead of Capitol riots," Jan. 11, 2021
PolitiFact, "Tucker Carlson's conspiracy theory about FBI and Jan. 6 continues to be wrong," Nov. 4, 2021
PolitiFact, "Tucker Carlson film falsely claims Jan. 6 is 'pretext to strip millions' of 'constitutional rights,'" Nov. 2, 2021
PolitiFact, "Carlson's Jan. 6 documentary doesn't tell full story about former DEA agent," Nov. 2, 2021
PolitiFact, "'Everything we trained for': How the far-right Oath Keepers militia planned for violence on Jan. 6," Sept. 23, 2021
PolitiFact, "Jailed defendants in Jan. 6 attack aren't 'political prisoners.' They're charged with real crimes," July 8, 2021
PolitiFact, "Fact-checking Donald Trump on there being 'no reason' for shooting Ashli Babbitt," July 8, 2021
PolitiFact, "Misinformation and the Jan. 6 insurrection: When 'patriot warriors' were fed lies," June 30, 2021
PolitiFact, "Why the new false flag conspiracy theory that FBI orchestrated Capitol attack is wrong," June 18, 2021
PolitiFact, "The ridiculous claim that those at the Capitol Jan. 6 resembled a 'normal tourist visit,'" May 13, 2021
PolitiFact, "Update: Capitol police officer Brian Sicknick died of natural causes," April 20, 2021
PolitiFact, "Tucker Carlson's false claim downplaying role of white supremacists at Capitol riot," Feb. 23, 2021
PolitiFact, "What we know about Capitol Police officer Brian Sicknick's death," Feb. 22, 2021
PolitiFact, "No, the storming of the Capitol wasn't a false flag," Jan. 7, 2021
PolitiFact, "There's no proof antifa stormed the Capitol. The rumor spread quickly anyway," Jan. 7, 2021
Email interview with Keven Ruby, senior research associate and research director at the Chicago Project on Security and Threats at the University of Chicago, Nov. 4, 2021
Email interview with Lisa Hajjar, professor of sociology at the University of California, Santa Barbara, Nov. 4, 2021
Email interview with Mark Fenster, professor of law at the University of Florida and the author of "Conspiracy Theories: Secrecy and Power in American Culture," Nov. 4, 2021
Email interview with David Alan Sklansky, professor of law and faculty co-director of the Criminal Justice Center at Stanford Law School, Nov. 1, 2021
Email interview with Michael Jensen, senior researcher with the National Consortium for the Study of Terrorism and Responses to Terrorism at the University of Maryland, Nov. 2, 2021
Browse the Truth-O-Meter
More by Bill McCarthy