Stand up for the facts!
Our only agenda is to publish the truth so you can be an informed participant in democracy.
We need your help.
I would like to contribute
"We're one of the seven nations in the world that allow abortion on demand at 20 weeks."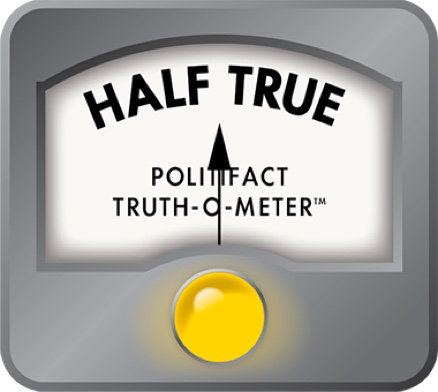 Fact-checking Lindsey Graham on the US allowing abortions at 20 weeks
If Your Time is short
Worldwide, a dozen nations, including the U.S., allow an abortion based solely on the request of the woman up to the point of viability of the fetus.

Many nations allow abortions at 20 weeks or later for broad reasons, including the welfare of the pregnant parent or their family.

Different legal frameworks make international abortion law comparisons challenging.
In an interview on Fox News, Sen. Lindsey Graham, R-S.C., said the U.S. is unusually permissive on abortion relative to the rest of the world.
"We're one of the seven nations in the world that allow abortion on demand at 20 weeks," Graham said May 8 on Fox News Sunday.
Graham spokesman Kevin Bishop told PolitiFact that group included China and North Korea, adding that "the United States should not be in that club."
The group also includes countries, such as Canada, the Netherlands, South Korea and New Zealand. But before we dig into the details, Graham's phrase, "abortion on demand," opens the door to adding more countries to the list. Particularly in Europe, broad exceptions allow women to get an abortion at up to 20 to 24 weeks.
Graham's statistic traces back to a 2014 report by the Charlotte Lozier Institute, a research group that opposes abortion. The countries flagged in the Lozier report are: the United States, China, North Korea, Canada, the Netherlands, Vietnam and Singapore. 
The Lozier study included countries if their laws failed to specify the allowed reasons for an abortion — the wellbeing of the woman, for example — and permitted abortions at 20 weeks or later in the pregnancy. 
In a footnote, Supreme Court Justice Samuel Alito referred to the report in his leaked draft opinion, which would overturn the 1973 landmark case Roe v. Wade. 
The footnote also cited data from the Center for Reproductive Rights, a group that supports abortion rights, and added Iceland and Guinea-Bissau to the list because they "are now also similarly permissive." 
Margaret Harpin, a legal adviser for the Center for Reproductive Rights, told PolitiFact that by their count, 12 countries now allow abortions up to 20 weeks or later without specifying a particular reason for seeking one.
Graham's reference to seven nations tracks with the 2014 Lozier study, but since then, laws have changed and that number has increased to 12. 
Beyond that, PolitiFact's analysis found that there are more nations that allow abortions at or beyond the 20-week mark. They do so on the basis of socioeconomic welfare or mental health.
Graham cast the U.S. as an outlier, but Fordham University law professor Julie Suk said international comparisons are challenging. 
"Many Americans use the term 'abortion on demand' in a way that would encompass 'medically indicated abortion' in Europe," Suk said. "So the comparison of abortion here and abortion in Europe gets very sloppy and confused."
(The challenge of international comparisons has led to different PolitiFact ratings over the years, with most finding that claims like Graham's leave out important context.)
Reasons why other countries allow abortions beyond 20 weeks 
Under current U.S. Supreme Court rulings, a woman has the right to an abortion up to the point of viability of the fetus. No exact minimum number of weeks defines when a fetus can survive outside the womb. The most premature infant that has survived in the U.S. was born at about 21 weeks. Once a fetus is viable, states can ban abortion, so long as the life or health of the mother is not at risk. 
In over 20 countries, family circumstances or mental health are grounds for an abortion at 20 weeks or later. In Australia, laws vary by state or territory, but the three largest states permit abortions at 22 to 24 weeks.
Japan allows abortions up to 22 weeks for socioeconomic reasons. In South Africa, abortions based on socioeconomic factors are allowed up to 20 weeks. Rwanda allows abortions on broad socioeconomic grounds until 22 weeks.
Our scan of laws across Europe found 18 countries extend the allowable number of weeks to get an abortion based on the mental health of the mother or socioeconomic concerns. In the Czech Republic, an abortion can take place up to week 20 for mental health reasons. In Ukraine, the law gives flexibility up to the 22nd week. Great Britain allows abortion until 24 weeks of pregnancy if continuation of the pregnancy involves risk "of injury to physical or mental health" of the patient or any of her existing children. 
Northeastern University law professor Martha Davis has spoken with legal experts across Europe about the ease of accessing abortions at 20 weeks or later.
"Folks from places like Denmark, Sweden, England, and others with similar laws said that it was a non-issue to meet the paper requirements to obtain a later term abortion," Davis said.
Law professor Federico Fabbrini at Dublin City University said that a woman's request carries weight and in the U.K., "medical approval of an abortion request is a matter of course," at up to 24 weeks in pregnancy. 
Access to abortion in other countries not based purely on individual rights 
The U.S. and other countries view abortion law through different lenses. In Europe and elsewhere, a woman's right to choose is less at the center of these laws than Americans might think.
"None of the countries that the U.S. considers to be its peers recognize a constitutional right to terminate pregnancy, as a matter of private choice, for any reason, up until the moment of fetal viability," wrote Suk of Fordham in a forthcoming William and Mary Law Review article.
It's less about individual rights, Suk said, and more about defining the terms of what will lead to the best outcome for both the country and the person who is pregnant and their family.
A de facto three-phase approach has emerged. In the first phase, the state imposes few limits on abortions up to about 11 to 14 weeks.
"Between early pregnancy and approaching the viability line — anywhere from 20 to 28 weeks — the law imposes procedural hurdles for permitted abortions," Suk wrote.
After that, the law might or might not explicitly ban abortions, but in either case, they are rare and only occur in immediate life-threatening circumstances. 
Our ruling
Graham said that the U.S. is one of "seven nations in the world that allow abortion on demand at 20 weeks."
This is based on a 2014 study from a center that opposes abortion rights; the study highlighted countries that allow abortions at 20 weeks or later in a pregnancy and whose laws did not spell out under what circumstances abortions are permitted.
Since that study, five additional countries now meet those criteria. And beyond that, there are more than 20 countries with flexible frameworks that allow abortions at 20 weeks or later.
Graham's statement is partially accurate but leaves out important details and context.
We rate his claim Half True.
RELATED: Fact-checking 5 claims in the leaked Supreme Court draft opinion on Roe v. Wade
Fox News, Fox News Sunday, May 8, 2022
U.S. Supreme Court, Justice Samuel Alito's draft opinion, February, 2022
Guttmacher Institute, An Overview of Abortion Laws, May 1, 2022
United Nations, Abortion laws and policies, 2017
World Health Organization, Global abortion policies database, accessed Nov. 30, 2021
Center for Reproductive Rights, The world's abortion laws, May 5, 2022
William and Mary Law Review, A World Without Roe: The Constitutional Future of Unwanted Pregnancy, April 29, 2022
Washington Post, How abortion laws in the U.S. compare with those in other countries, May 3, 2022
Guttmacher Institute, Abortion in Asia, August 2017
Library of Congress, South Korea: Abortion Decriminalized since January 1, 2021, accessed May 11, 2022
Charlotte Lozier Institute, Gestational Limits on Abortion in the United States Compared to International Norms, February 2014
U.S. Supreme Court, Brief of European law professors in support of respondents, Sept. 20, 2021
U.S. Supreme Court, Brief of international and comparative legal scholars as amici curiae in support of respondents, Sept. 20, 2021
Children by Choice, Australian Abortion Law and Practice, accessed May 11, 2022
Parliament of the United Kingdom, Abortion in Northern Ireland, Oct. 26, 2021
BBC, What are the UK's laws on abortion?, Oct. 22, 2019
United Kingdom, A new legal framework for abortion services in Northern Ireland, March 2020
Best Practice and Research Clinical Obstetrics and Gynaecology, When there are no abortion laws: A case study of Canada, January 2020
USA Today, Where is abortion legal in the world? Canada, other countries allow abortions and these ban them., May 6, 2022
Washington Post, Is the United States one of seven countries that 'allow elective abortions after 20 weeks of pregnancy?', Oct. 9, 2017
Email exchange, Federico Fabbrini, professor of law, School of Law and Government, Dublin City University, May 9, 2022
Email exchange, Margaret Harpin, adviser, Legal Global Strategies Unit, Center for Reproductive Rights, May 9, 2022
Email exchange, Martha Davis, professor of law, Northeastern University School of Law, May 9, 2022
Email exchange, Julie Suk, professor of law, Fordham University School of Law, May 9, 2022
Browse the Truth-O-Meter
More by Jon Greenberg
Support independent fact-checking.
Become a member!
In a world of wild talk and fake news, help us stand up for the facts.