Get PolitiFact in your inbox.
The documentary "2,000 Mules proves" Democrats "cheated on the 2020 elections."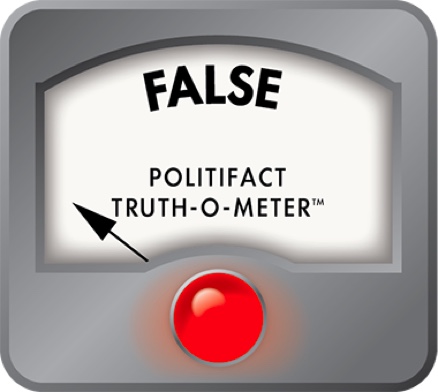 Instagram post falsely says '2,000 Mules' proves Democrats cheated
If Your Time is short
A documentary film by a right-wing commentator alleged massive voter fraud involving ballot drop boxes and cellphone location data. Experts said the movie is based on a flawed analysis.

William Barr, who served as attorney general during the Trump administration, has said the cellphone data revealed nothing at all.

Convictions related to the use of ballot drop boxes are extremely rare.
Republicans who believe the falsehood about widespread voter fraud in 2020 often cite the "2,000 Mules" movie about mail ballot drop boxes in battlegrounds, including Arizona. 
An Instagram post praises efforts by people filming voters at drop boxes "to make sure that there is no ballot stuffing."
The post then states: "We all Watch the documentary 2000 mules and watched how they cheated on the 2020 elections not to mention the Dominion voting machines." It adds that the ballot boxes and electronic machines should be outlawed "because that's how the Dems are going to cheat again and again and again."
The post was flagged as part of Facebook's efforts to combat false news and misinformation on its News Feed. (Read more about our partnership with Meta, which owns Facebook and Instagram.) 
The Instagram post is wrong. The "2,000 Mules" documentary did not prove that Democrats engaged in widespread cheating in 2020. Don't take just our word for it: Republican election and government officials have said so.
The 2,000 Mules movie doesn't prove fraud
The "2,000 Mules" documentary was made by Dinesh D'Souza, a far-right commentator, author and documentary filmmaker with a long record of provocation and incendiary rhetoric. Former President Donald Trump pardoned D'Souza for a felony campaign finance violation.
The movie alleges that massive fraud took place in the 2020 presidential election. Specifically, it argued that 2,000 people collected 400,000 illegal votes and delivered them to vote drop boxes in key states that went for Joe Biden. 
The movie incorporates research by Texas-based True the Vote, a national organization that has spread misinformation about voting. The organization claimed that certain people it called "mules" repeatedly passed by certain drop boxes. These repeat visits, they argued, revealed a set of delivery runs.
In testimony to the House select committee investigating the Jan. 6, 2021, insurrection at the U.S. Capitol, former Attorney General William Barr said the data revealed nothing at all.
"If you take 2 million cellphones and figure out where they are physically in a big city like Atlanta or wherever, just by definition, you will find many hundreds of them have passed by and spent time in the vicinity of these boxes," said Barr, who served during the Trump administration.
Drop boxes are placed in busy places to make voting convenient. Inevitably, many people will pass by drop boxes several times.
This wasn't just Barr's take. State officials said cellphone data showing 279 cellphones tracked multiple times within 100 feet of an absentee drop box was not evidence of a crime, Georgia Public Radio reported.
We sent the Instagram post to election or law enforcement officials in a handful of battleground states to ask whether they found the movie showed Democrats cheating via drop boxes or if they ever received evidence to back up the allegations in the movie. None of them did.
The Georgia State Election Board sent subpoenas to True the Vote in April seeking their evidence. Robert Sinners, a spokesperson for the Georgia secretary of state said that as of Oct. 26 the group has not complied. 
"'2,000 Mules' proves that you can make a neat map of Moscow, throw a few dots on it, and raise a bunch of money," Sinners said.
True the Vote representatives met with officials from the office of Arizona Attorney General Mark Brnovich, a Republican, three times about their allegations, wrote Reggie Grigsby, a chief special agent for the attorney general. But the group never provided evidence of ballot stuffing or voter fraud. 
A spokesperson for Pennsylvania's attorney general said his office was never provided evidence to prove Democrats cheated via drop boxes. We received a similar response from a spokesperson for the Michigan secretary of state and the Wisconsin Elections Commission. A Wisconsin elections spokesperson referred us to a statement from the commission that said "data allegedly showing cell phones that were tracked multiple times near absentee ballot drop boxes is, alone, not evidence of a crime."
We could find only a couple of instances of criminal convictions related to the use of ballot drop boxes in 2020; both were in Arizona. 
Under a 2016 Arizona law, it is illegal for anyone other than a direct relative or caregiver to deliver someone else's early ballot. Guillermina Fuentes, a Democratic Party activist and former mayor of San Luis, was charged with dropping off four early ballots in violation of that law. She pleaded guilty to the felony charge of ballot abuse. A friend who was with her that day pleaded guilty to a misdemeanor.
The Associated Press surveyed state and local election officials nationwide and found no major problems with the use of mail ballot drop boxes. All but five states responded to the questions, and none of the states that allowed drop boxes reported any instances connected to voter fraud. 
The Instagram post is one of many social media posts nationwide this fall that are born out of the falsehood that voting by mail invites significant fraud. These falsehoods have lived on despite facts presented by Republican officials, including Arizona Gov. Doug Ducey, defending the 2020 election's security. The majority of Arizonans cast ballots by mail.
Our ruling
An Instagram post says that the documentary "2,000 Mules" proves Democrats "cheated on the 2020 elections."
Elections and law enforcement officials in battleground states have said that they have not received evidence to prove the allegations in the "2,000 Mules" movie that suggests widespread cheating via ballot drop boxes. Barr, attorney general under Trump, also publicly rejected the movie's premise. 
We could find only two cases of individuals convicted related to violating rules about ballot drop boxes. 
We rate this statement False.

RELATED: In Jan. 6 hearing, former AG Bill Barr discredits '2,000 Mules' voter fraud film
RELATED: The faulty premise of the '2,000 Mules' trailer about voting by mail in the 2020 election
CBS, Arizona sheriff steps up security around ballot drop boxes, Oct. 25, 2022
Reggie Grigsby, chief special agent at the Arizona Attorney General, Letter to whom it may concern, Oct. 14, 2022
Washington Post, ​​The team behind '2000 Mules' is called out for deception. Again. Oct. 17, 2022
Texas Monthly, How True the Vote Fabricates Claims of Election Fraud, for Fun and Profit, Aug. 22, 2022
Atlanta Journal-Constitution, Subpoenas seek evidence of Georgia ballot collection, April 27, 2022
Email interview, Robert Sinners, Georgia secretary of state spokesperson, Oct. 26, 2022
Email interview, Kara Richardson, Office of the Attorney General Chris Carr spokesperson, Oct. 26, 2022
Email interview, Sophia Solis, Arizona secretary of state spokesperson, Oct. 26, 2022
Email interview, Jacklin Rhoads, Pennsylvania Attorney General spokesperson, Oct. 27, 2022
Email interview, Aneta Kiersnowski Crisp, Secretary of State Jocelyn Benson spokesperson, Oct. 27, 2022
Email interview, Riley Vetterkind, Wisconsin Elections Commission spokesperson, Oct. 27, 2022
Browse the Truth-O-Meter
More by Jon Greenberg
Support independent fact-checking.
Become a member!
In a world of wild talk and fake news, help us stand up for the facts.