Get PolitiFact in your inbox.
"We watched Terry McAuliffe, when he was governor, lower the (accreditation) standards in our schools..."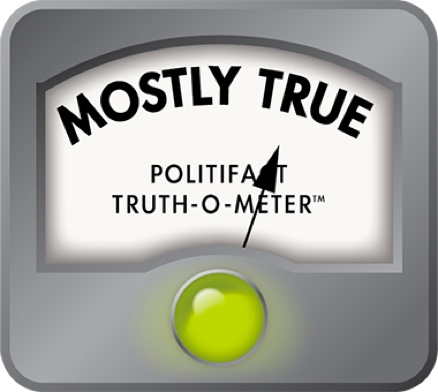 McAuliffe helped ease school accreditation standards as governor
If Your Time is short
McAuliffe signed a 2015 bill ordering a deemphasis of standardized test results in accrediting Virginia public schools.
Eighty-eight schools were denied accreditation in 2017, the last year of the old standards.
No school has been denied accreditation since the new standards went into effect in 2018.
Republican gubernatorial nominee Glenn Youngkin says Virginia's public education has suffered in recent years and puts some of the blame on Democratic nominee Terry McAuliffe, who led the state from 2014 to 2018.
"We watched Terry McAuliffe, when he was governor, lower the standards in our schools so that schools that weren't being accredited could now be accredited," Youngkin said during an Aug. 6 radio interview on the conservative John Fredericks Show.
We looked into Youngkin's claim and found McAuliffe made it much easier for schools to win state accreditation. In fact, no Virginia school has been denied accreditation since McAuliffe-backed changes went into effect at the start of the 2018-19 school year.
But what Youngkin calls a lowering of standards, McAuliffe calls a long-awaited reform that added fairness to the accreditation process and that, in principle, received bipartisan legislative support. Their disagreement is an issue in the gubernatorial race.
Background
For years, Virginia accreditation was based almost entirely on what percentage of students passed state standardized tests - called the Standards of Learning. 
Supporters said the tests hold students and schools accountable for a base level of achievement and let the public know how each school is performing. Opponents said the assessments put teachers under pressure to craft rote lessons around the tests at the expense of encouraging critical thinking. They argue that basing accreditation off the tests stigmatized students and schools, often in low-income areas, that performed poorly. And they criticized the system for giving no credit to substandard schools with improving test scores.
Strict standardized testing was a growing trend across the country in the 1990s and 2000s. But in 2012, a national coalition of educators, civil rights and parent groups began protesting the use of standardized tests in making high-stakes determinations such as school accreditation, teacher and principal evaluations and grade promotion. In Virginia, 30 local school boards signed a petition calling on the state to ease up on the SOL exams.
McAuliffe pledged to deemphasize the tests and cut the number of them during his 2013 gubernatorial campaign. In 2015, the General Assembly overwhelmingly passed a bipartisan bill - which McAuliffe signed - directing the state Board of Education to devise new standards that "recognize the progress of schools that do not meet accreditation benchmarks but have significantly improved their pass rates."
The law came to fruition in 2017 when the board, filled with McAuliffe appointees, enacted major changes to the accreditation process starting in the 2018-19 school year. The board added measures to determine whether a school is accredited, such as absenteeism, achievement gaps between students of different backgrounds and whether a school is showing improvement on the state exams. The board also lowered the number of standardized tests students must pass to graduate.
Youngkin's criticism
Youngkin's campaign sent us records of the board's 2017 actions when asked for proof of its claim that McAuliffe lowered accreditation standards. Among other things, the campaign sent a 2020 editorial by The Washington Post headlined, "Virginia made a mistake by easing its academic standards"
In 2018-19, the first year for the new standards, 92% of Virginia's schools were fully accredited - up 6 percentage points from the previous year. No school was denied accreditation, compared to 88 schools the prior year. 
The worst rating was "accredited with conditions," given to 130 schools, or 7 percent of all schools.  Underperforming schools with that rating are given corrective plans and can only be denied accreditation if they don't implement the remedial actions.
No school was denied accreditation in 2019-20 as well; 132 were conditionally accredited.
Virginia did not go through the rating process for the 2020-21 school year because of COVID-19. 
Youngkin promises to rescind the accreditation reforms if he wins. "On day one, I will sign an executive order returning Virginia to pre-McAuliffe standards," he wrote in his education platform.
McAuliffe takes issue with the contention that standards dropped. "To be clear: no standards were lowered," said Renzo Olivari, a campaign spokesman. "The truth is that Terry worked with Republicans and Democrats to reform Virginia's accreditation process to help students succeed and better measure school progress and success."
Our ruling
Youngkin said, "We watched Terry McAuliffe, when he was governor, lower the standards in our schools so that schools that weren't being accredited could now be accredited."
Accreditation standards were eased during McAuliffe's governorship. The plan was devised by his hand-picked state school board. Eighty-eight schools were denied accreditation the year before the reforms took effect. None have been denied certification since. 
McAuliffe ran for governor in 2013 promising to deemphasize the state's reliance on its  standardized tests in determining public schools' accreditation. At least 30 local school boards demanded such reforms and the General Assembly overwhelmingly ordered it in 2015. So, the changes were not brought unilaterally by McAuliffe, as Youngkin suggests. There was a strong bipartisan calling.
On the whole, we rate Youngkin's claim Mostly True.
Glenn Youngkin, Radio interview, Aug. 6, 2021 (5:50 mark).
Email from Youngkin campaign, Aug. 13, 2021.
Youngkin, Education platform, July 1, 2021.
Email from McAuliffe campaign, Aug. 16, 2021.
PolitiFact Virginia, "McAuliffe overstates school progress in Petersburg, Va. during his governorship," May 12, 2021.
Report of the Secretary of the Commonwealth, 2017-2018, page 89.
The Washington Post, "Test scores to play smaller role in Virginia school accreditation," Npv. 16, 2017.
Richmond Times-Dispatch, "More schools accredited under new state rules," Sept. 28, 2018.
The Washington Post, "Virginia schools boards pass anti-SOL resolutions," Oct. 27, 2013.
The Washington Post, "National resolution against high-stakes tests released," April 24, 2012.
The Washington Post, "Virginia made a mistake by easing its academic standards," Feb. 8, 2020.
Legislative Information System, HB1873, 2015 session
Terry McAuliffe, Education platform, accessed Aug. 14, 2021.
Virginia Department of Education, "Board of Education Revises School Accreditation & Graduation Requirements," Nov. 16, 2017.
VDOE, "Eighty-Six Percent of Schools Fully Accredited," Sept. 13, 2017.
VDOE, "New Accreditation Standards Require Continuous Achievement for all Schools," Sept. 27, 2018.
VDOE, "2019-2020 Accreditation Ratings Shine Light on School Progress and Needs," Sept. 30, 2019.
Browse the Truth-O-Meter
More by Warren Fiske
Support independent fact-checking.
Become a member!
In a world of wild talk and fake news, help us stand up for the facts.