Get PolitiFact in your inbox.
"Mexico, they took 30% of our automobile business."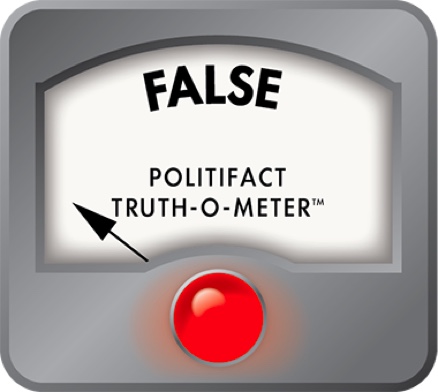 No, Mexico didn't take 30% of U.S. auto business as Trump claims
Amid on-again, off-again threats of tariffs and an ongoing border crisis, President Donald Trump has kept the pedal to the metal on one specific claim about the U.S. and Mexico.
He says the U.S. has lost 30% of its automobile business to its southern neighbor.
He said it on CNBC. He said it on Twitter in May and again in June. And he circled back to it during his latest visit to Wisconsin.
"Mexico, they took 30% of our automobile business, I don't know if you know that or not," Trump said during a June 12, 2019 speech at Derco Aerospace where he touted the pending United States-Mexico-Canada Agreement on trade. 
"They have plants the likes of which you've never seen before," Trump said. "They took 30% — probably more than that — of our automobile (business). I don't blame them. I don't blame anyone. I blame our past leaders."
Trump has pushed for a trade agreement with Mexico and Canada to replace NAFTA since taking office. The countries have now agreed to a new pact, though it faces hurdles in Congress, especially the Democratic-controlled House.
But has the recent trade environment really generated the 30% automotive swing Trump claims?
Defining the claim
Trump's reference to the 30% number was fairly vague in Wisconsin, referring only to the "automotive business." The White House did not response to requests to clarify the claim or provide supporting evidence.
But Trump's June 10, 2019 reference on CNBC was more specific.
"They took 30% of our automobile companies," Trump said on CNBC's "Squawk Box." "They moved into Mexico. All of the people got fired. They would all move back if they had to pay a 25% tax or tariff."
So we'll start our fact check there.
No U.S. auto productions shuttered in favor of Mexico
The Center for Automotive Research, an independent research group that gets some funding from automakers, says no manufacturers have left the U.S. for Mexico as Trump described to CNBC.
"There are no cases that I can name where an automaker closed a plant in the U.S., moved that work, opened a new plant in Mexico, and you can definitely call it a replacement," said Bernard Swiecki, assistant director of the center's industry labor and economics group.
Shifts in production are "almost impossible" to track anyhow, he said, since automakers regularly move production between plants based on available capacity. Swiecki said major automakers treat their American, Mexican and Canadian operations as one unit and "move vehicles around that footprint at will."
For example, Ford announced it was moving production of the Ford Focus from Michigan to Mexico (though that was later moved to China instead), a move blasted by Trump. But the Michigan plant wasn't closed — it instead took on production of the new Ranger and Bronco lines. The Focus is now discontinued.
"That plant actually made out big time because it went from one mediocre product to two very successful products," Swiecki said.
Mexico landing more new plants
Though no U.S. automakers have outright moved an operation to Mexico, the industry clearly favors our southern neighbor when it comes to new plants.
Of the 13 assembly plants announced in North America since 2009, nine went to Mexico and only four to the U.S., Swiecki said.
A broader measure of auto manufacturing spending shows the U.S. holding its own, though.
From 2012 through this June, automakers announced $92 billion of investments in North America, according to the Center for Automotive Research. The firm tracks announcements of new plants, expansions and infrastructure improvements (acquisitions are not included).
The U.S. received 74% of those investments, Mexico 19% and Canada 7%. No such investments have been announced in Mexico since 2017.
Mexican auto industry has grown by other measures
So Trump's 30% claim falls short if we focus on the CNBC version that refers to physical movement. But is there any element of the automotive business that has seen such a shift?
We compared the two countries on automotive sales, production and employment.
SALES — Total sales of new passenger vehicles and light trucks totaled about 17.2 million in the U.S. in 2018, Forbes reported. The U.S. Department of Commerce says Mexico exported about 2.7 million such vehicles to the U.S., meaning Mexican production accounts for about 15% of U.S. sales.
That's up from about 12% five years ago.
Our colleagues at the Associated Press leaned on the Mexican import data in a June 11, 2019, fact check that said Trump's 30% claims on Twitter and CNBC were "incorrect."
PRODUCTION — Mexico has roughly doubled its automotive production in recent decades, from an average of about 1 million cars per year in the early 2000s to nearly 2 million the last several years, according to the International Organization of Motor Vehicle Manufacturers. Meanwhile, U.S. annual production dropped from about 5 million in the early 2000s to around 3 million the last two years.
If you combine U.S. and Mexican auto production, Mexico accounted for 19% of that total in 2000 but 36% now.
EMPLOYMENT — Both countries have seen major gains in the number of vehicle and parts manufacturing jobs in recent years.
Since 2009, Mexico has grown from about 400,000 auto manufacturing jobs to more than 800,000, according to Mexico NOW, a business magazine. In that same span the number of automotive jobs in the U.S. grew from about 650,000 in 2009 to about 1 million this year, according to the U.S. Bureau of Labor Statistics.
Much of the Mexican production is focused on parts. About 16% of parts used by automakers in U.S. assembly plants come from Mexico, Swiecki said. 
Our ruling
Trump said Mexico "took 30 percent of our automobile business."
Experts say there isn't one example of an automaker closing a plant in the U.S. in order to open one in Mexico, much less enough to total 30% of anything.
And Mexican-built cars still account for only 15% of sales in the U.S.
It's noteworthy that car production has decreased in the U.S. while increasing in Mexico in recent years, and that Mexico has landed the majority of the new vehicle plants built in North America in the last decade.
But neither of those trends match Trump's description in the more detailed CNBC claim, of plants being closed and workers let go in the U.S. as work moves to Mexico.
We rate Trump's claim False.
YouTube.com, Donald Trump, Remarks: Donald Trump on the U.S.-Mexico-Canada Trade Agreement in Milwaukee – July 12, 2019, July 12, 2019
CNBC, CNBC Transcript: President Donald Trump Speaks with CNBC's Joe Kernen on CNBC's "Squawk Box" Today, June 10, 2019
Donald Trump, tweet, May 31, 2019
Donald Trump, tweet, June 11, 2019
Associated Press, AP fact check: Trump overstates benefits from Mexico tariffs, June 11, 2019
Reuters, Trump's Mexican tariffs threaten to disrupt auto sector, May 31, 2019
International Organization of Motor Vehicle Manufacturers, Production Statistics 2000-2018, accessed July 19, 2019
Interview and email exchange with Bernard Swiecki, assistant director of the industry labor and economics group, Center for Automotive Research, July 17-23, 2019
Email exchange with Bruce Belzowski, retired managing director of Automotive Futures, University of Michigan Transportation Research Institute, July 19, 2019
U.S. Department of Commerce, International Trade Administration, U.S. Imports of New Passenger Vehicles and Light Trucks, accessed July 19, 2019
Center for Automotive Research, Automaker Investment Announcements by Place, July 19, 2019
U.S. Bureau of Labor Statistics, motor vehicle employee data, accessed July 23, 2019
Mexico NOW, Employment in Mexico's automotive industry reached record high in 2017, March 26, 2018
New York Times, 2014 Auto Sales Jump in U.S., Even With Recalls, Jan. 5, 2015
USA TODAY, GM, Ford, Toyota sales fall in December, but auto industry posts surprisingly solid 2018, Jan. 3, 2019
Browse the Truth-O-Meter
More by Eric Litke
Support independent fact-checking.
Become a member!
In a world of wild talk and fake news, help us stand up for the facts.