Stand up for the facts!
Our only agenda is to publish the truth so you can be an informed participant in democracy.
We need your help.
I would like to contribute
Republicans are "trying to create a fake unemployment insurance crisis."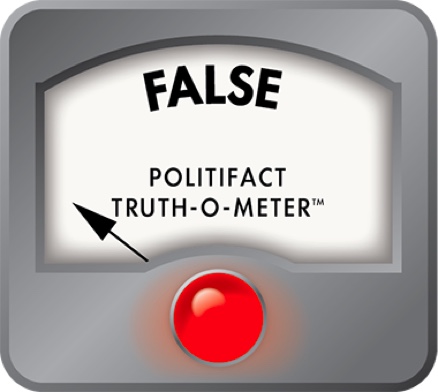 No, unemployment is not a 'fake' crisis in Wisconsin
If Your Time is short
Wisconsin's outdated unemployment insurance system has remained largely unchanged despite an array of warning signs across the last three gubernatorial administrations.

Hintz was condemning Republicans for not acting in 2020 as tens of thousands of Wisconsin residents saw checks delayed — often by months — due to the overwhelmed system.

But Hintz moved beyond blame in claiming that Republicans are now pushing a "fake" crisis, which is flat wrong.
The floundering unemployment system has been an ongoing thorn in Wisconsin's side, as the outdated system has staggered beneath the weight of a pandemic-fueled surge in claims.
It has provided yet another excuse for partisan finger-pointing, with Republicans blaming Democratic Gov. Tony Evers for not taking action to address the crisis, and Democrats noting Republicans haven't pursued substantive upgrades for the system through the eight years they controlled state government — or throughout 2020.
RELATED: No, Evers cannot unilaterally OK a new unemployment system
The sides came together — a rare occurrence in recent Wisconsin politics — on the first steps of an overhaul plan, which Evers signed into law Feb. 25, 2021. The project is expected to cost around $100 million and take years to complete.
But the runup to that agreement included an interesting moment on the Assembly floor, as Minority Leader Gordon Hintz, D-Oshkosh, took the microphone and chastised his Republican colleagues for the lack of action to that point.
"You guys can try to spin this and try to play politics with something like unemployment insurance, but it's cynical, and it's contrary to what we're here to do today," Hintz said Feb. 23, noting steps Republicans have taken in recent years to add requirements for collecting unemployment. "We need to have some urgency, we need to depoliticize the pandemic, and we need to be honest.
"You need to be honest with yourselves about what the obstacles to UI have been and quit trying to create a fake unemployment insurance crisis because of your guilt over all the things that you did over eight years."
The last line jumped out to us.
Is it reasonable to claim Republicans are "trying to create a fake unemployment insurance crisis"?
The unemployment mess
An audit released in September 2020 found fewer than 1% of calls to the Department of Workforce Development call centers were answered between March and June. That came shortly after Evers had asked the head of the agency to resign over the lingering backlog.
RELATED: Evers right that unemployment benefits harder to access, but multiple factors involved in delays
In November, the Milwaukee Journal Sentinel detailed the devastating struggles of people who had been waiting months for their unemployment checks. For instance, Robert Johnson, a Milwaukee resident, had to sell a snowmobile, guns and a computer to pay bills, and he said his thoughts at one point turned to suicide.
At that point in time, more than 74,000 Wisconsin residents were still caught in the backlog of unemployment claims, adding up to over 554,000 weekly claims in need of processing.
In December, the Journal Sentinel reported 27,000 people were still stuck in the monthslong backlog. The article included the story of Angela Torres of Berlin, who had to file for bankruptcy while waiting since June for her claim to be processed.
News outlets and legislators alike have been flooded with similar stories from people forced into impossible decisions by the system's failure to do timely processing. The Journal Sentinel in January detailed stories of people still waiting for their checks after the department asserted in December the backlog had been eliminated.
In short, there's nothing fake about this crisis.
Joanna Beilman-Dulin, a spokeswoman for Hintz, defended his phasing this way:
"To be clear: Rep. Hintz absolutely believes, and has consistently highlighted, that people not getting their unemployment benefits when they need them was and still is a crisis in Wisconsin," she said in an email. "People not getting their benefits more quickly over the last nine months because legislative Republicans chose to try to make Gov. Evers look bad rather than taking legislative action to address the UI delays, on the other hand, is an artificially-created, or fake, crisis."
DOCUMENT: View a full transcript of Hintz's remarks here
That simply doesn't ring true.
There's plenty of blame to go around in a discussion of why this crisis existed and persisted, but that doesn't make it any less of a crisis. And it stemmed from an insufficient system that leaders from both parties failed to address for more than a decade.
Democratic Gov. Jim Doyle started a project to upgrade the system, but it was abandoned in 2007 after spending $23 million because of delays and cost overruns. His successor, Republican Gov. Scott Walker didn't revive the project in his eight years despite having full Republican control of the Legislature and audits that showed significant deficiencies.
Our ruling
Criticizing Republican inaction in the face of a staggering Wisconsin unemployment system, Hintz said they are "trying to create a fake unemployment insurance crisis."
There's a point to be made about Republican inaction throughout 2020, as the Wisconsin Legislature was one of the least active in the nation in the face of the pandemic.
But Hintz's claim went beyond that — to a description that flies in the face of what many Wisconsinites have experienced. This is a very real crisis that has had a devastating impact on thousands of people around the state.
We rate Hintz's claim False.
Wisconsin Assembly Democrats YouTube channel, Rep. Hintz 2.23.21 Assembly Floor Speech, March 1, 2021
Transcript of comments by Rep. Gordon Hintz, Feb. 23, 2021, in Assembly Floor speech
Email exchange with Joanna Beilman-Dulin, spokeswoman for Rep. Gordon Hintz, Feb. 26-March 1, 2021
PolitiFact Wisconsin, No, Evers cannot unilaterally OK a new unemployment system, Feb. 3, 2021
PolitiFact Wisconsin, Evers right that unemployment benefits harder to access, but multiple factors involved in delays, Feb. 2, 2021
Milwaukee Journal Sentinel, Less than 1% of calls to state unemployment call centers were answered, audit shows, Sept. 25, 2020
Milwaukee Journal Sentinel, Thousands still waiting on unemployment payments despite hires by Department of Workforce Development, June 19, 2020
Milwaukee Journal Sentinel, Gov. Tony Evers asks Wisconsin DWD leader to resign over unemployment backlog, Sept. 18, 2020
Milwaukee Journal Sentinel, So much for holiday cheer. Thousands of Wisconsinites still waiting in unemployment backlog, Dec. 23, 2020
Milwaukee Journal Sentinel ,'I don't know what to do': With weekly unemployment claims rising, Wisconsinites are still waiting for answers, Jan. 15, 2021
Browse the Truth-O-Meter
More by Eric Litke
Support independent fact-checking.
Become a member!
In a world of wild talk and fake news, help us stand up for the facts.