Stand up for the facts!
Our only agenda is to publish the truth so you can be an informed participant in democracy.
We need your help.
I would like to contribute
"There was no violence on the Senate side, in terms of the chamber."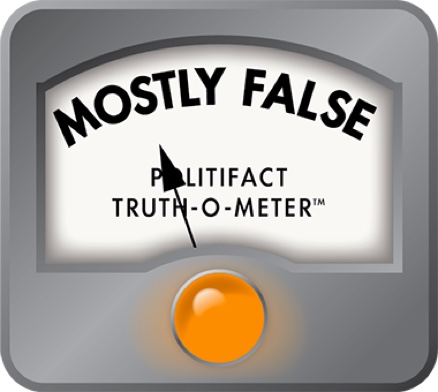 Johnson errs claiming Senate had no violence Jan.6
If Your Time is short
Johnson was defending comments comparing the Jan. 6 Capitol insurrection to violence connected to the social justice movement.
It's true there was more violence around the House chambers, including a protester who was shot and killed

The rioters didn't reach the Senate chambers until Senators had been evacuated, though one group was near the Senate before being led away by a lone police officer Eugene Goodman.

But Johnson is drawing a largely meaningless distinction since the Capitol protesters got in by attacking police, injuring more than 100 of them, and breaking doors and windows -- unquestionably violent actions.
Sen. Ron Johnson has taken every opportunity in recent months to downplay the seriousness of what took place in the U.S. Capitol on Jan. 6, 2021, and the role of President Donald Trump's supporters in it.
On Feb. 7, the Wisconsin Republican pondered whether the impeachment proceedings were a "diversionary operation … meant to deflect away from potentially what (U.S. House Speaker Nancy Pelosi) knew and when she knew it."

On Feb. 15, he asserted the Jan. 6 incursion "didn't seem like an armed insurrection." We rated that claim Pants on Fire.

On March 11, he compared the Jan. 6 event and rioters to the social justice movement. "I knew those were people (on Jan. 6) that love this country, that truly respect law enforcement, would never do anything to break the law, and so I wasn't concerned," Johnson said in an interview on conservative radio host Joe Pag's show. "Now, had the tables been turned — Joe, this could get me in trouble — had the tables been turned, and President Trump won the election and those were tens of thousands of Black Lives Matter and Antifa protesters, I might have been a little concerned."
As a quick aside, we'll note the rank absurdity of attributing a respect for law enforcement and country to a group of rioters that injured 140 police officers, with one winding up dead, while violently forcing their way into the Capitol in an attempt to halt the Democratic process.
But that comparison brings us to Johnson's latest assertion, which came as he sought to defend those remarks March 20, 2021, to a conservative group in West Allis.  
"One of the reasons I'm being attacked is because I very honestly said I didn't feel threatened on January 6. I didn't," Johnson said. "There was much more violence on the House side. There was no violence on the Senate side, in terms of the chamber. I mean, you've seen the video, guys just strolling in there, and the police just going, kinda saying, do you want to back off?"
"We exited out of there and I walked back to my office. That's it. … I didn't feel threatened. I never felt threatened. It's a true statement."
We can't fact check descriptions of an emotional state. But Johnson went a significant step beyond how he felt in asserting there was "no violence on the Senate side."
Let's drill down on that.
Johnson's distinction
Several of the most tragically memorable moments occurred around the House chamber. That's where we saw pictures of law enforcement wielding guns inside a barricaded chamber as protesters pushed at the door. And a Capitol Police officer shot and killed 35-year-old Ashli Babbitt as she climbed through another barricade just outside the chamber.
But Johnson here is drawing a largely meaningless distinction. If armed men break into a home and attack the residents, the attack wouldn't be any more or less violent based on which particular room people were attacked in.
The hundreds of people swarming the Capitol in search of lawmakers, intending to halt the machinations of democracy, didn't get in by asking politely. They forced entry to the seat of American democracy by arming themselves with all manner of weapons, forcing their way violently past law enforcement and breaking through windows and doors.
What happened in the Senate chamber
In any case, we got a more detailed picture of the Senate happenings during the second day of the Senate impeachment trial in February. The Senate had convened to debate challenges to the Arizona electoral vote lodged in a joint session of Congress when the rioters breached the Capitol.
"The threat to the Senate was no less than that to the members of the House," U.S. Rep. Eric Swalwell, D-Calif., one of the House Impeachment managers, said during his presentation.
Senators sheltered in the chamber for the first 15 minutes after rioters broke through windows on the Senate side and stormed the halls around the chamber, as noted by CNN.
During that time Officer Eugene Goodman faced down dozens of rioters on his own, retreating twice up a flight of stairs to lure the mob away from the Senate chambers. He was hailed as a hero by lawmakers.
"You know how close you came to the mob," Swalwell told the Senate. "Some of you I understand could hear them."
About 2:30 p.m. local time, the senators were hustled out of the chamber by law enforcement. Security video shows a mass of police officers creating a line at the end of a connecting hallway to block protesters from reaching the senators' escape route.
"As you were moving through that hallway, I paced it off. You were just 58 steps away from where the mob was amassing, and where police were rushing to stop them," Swalwell said.
Rioters breached the Senate chamber about 2:45 p.m., with one man heard on video asking, "Where the (expletive) are they?" The rioters rifled through desks, stole documents and posed for pictures. Several were wearing helmets and tactical gear, and two were carrying zip cuffs. Jacob Chansley of Arizona, the Qanon adherent who donned a fur hat and carried a six-foot spear, left a note for Vice President Mike Pence that read in part, "It's only a matter of time, justice is coming."
"If the doors to this chamber had been breached just minutes earlier, imagine what they could have done with those cuffs," Swalwell said.
Luke Mogelson, a reporter for The New Yorker who videotaped the Senate chamber throughout the incident, described a bizarre scene in which a lone police officer, noting he was outnumbered, inquired, "Any chance I could get you guys to leave the Senate wing?" When a mass of officers later arrived, the rioters were allowed to simply walk out of the chamber, with one officer thanking them for being peaceful even as he stood with a ripped shirt, a crooked tie and eyes red from pepper spray.
Our ruling
Johnson said at a West Allis presentation he didn't feel threatened Jan. 6 because "there was no violence on the Senate side, in terms of the chamber."
The highest-profile violent acts indeed occurred around the House chamber. But this is an absurd description for any element of an event where hundreds of rioters forced their way past police and into the U.S. Capitol, forcing lawmakers to scurry to safety and leaving more than 100 injured officers in their wake.
The fact no one was killed or injured in the chamber does little to lessen the violence inherent to the presence of rioters who acted violently to get in the building. Senators like Johnson had the luxury of being potentially less fearful only because of officers like Goodman and whatever happenstance led more rioters initially to the House chamber, allowing senators to escape before rioters forced their way into the chamber.
We rate this claim Mostly False.
Ricardo Torres, tweet, March 20, 2021
C-Span, Senate Impeachment Trial Day 2, Part 2, Feb. 10, 2021
Politico, Ron Johnson says he didn't feel threatened Jan. 6. If BLM or Antifa stormed Capitol, he 'might have,' March 13, 2021
CNN, Ron Johnson falsely claims there was 'no violence' on Senate side of US Capitol on January 6, March 20, 2021
The Washington Post, How the rioters who stormed the Capitol came dangerously close to Pence, Jan. 15, 2021
New York Times, Assaulting the Truth, Ron Johnson Helps Erode Confidence in Government, March 21, 2021
The New Yorker, Among the Insurrectionists, Jan. 15, 2021
NPR, Reporter's Video From Inside Senate On Jan. 6 Shows A Crowd Prepared For Violence, Feb. 25, 2021
Aaron Rupar, tweet, Feb. 7, 2021
PolitiFact Wisconsin, Yes, Jan. 6 Capitol assault was an "armed insurrection," Feb. 15, 2021
Browse the Truth-O-Meter
More by Eric Litke
Support independent fact-checking.
Become a member!
In a world of wild talk and fake news, help us stand up for the facts.