Get PolitiFact in your inbox.
State Sen. Emmett Hanger "has voted for the three largest tax increases - proposed tax increases - in Virginia history."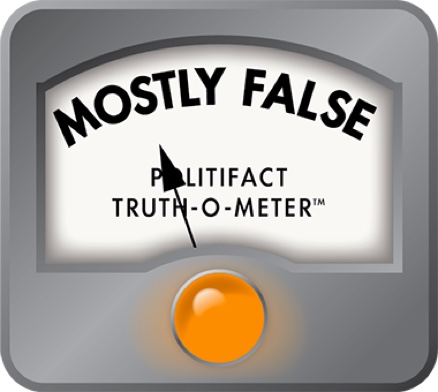 Contrary to Tina Freitas, Emmett Hanger didn't vote for three largest Virginia tax plans
Emmett Hanger, co-chairman of the budget-writing Senate Finance Committee, is under fire in a Republican primary this spring for supporting tax increases.
The criticism is coming from challenger Tina Freitas, a GOP activist in the 24th Senate District, stretching from Staunton to Culpeper. Hanger has been the district's state senator since 1996 and served in the House of Delegates from 1983 to 1992.
Freitas is opposing Hanger from the right on social and financial issues. "I believe in your right to make to make (your) life everything it can possibly be through your hard work and ingenuity through the free market and voluntary cooperation," she said during an April 8 interview on Virginia Free Radio.
"On the other hand, you have my opponent who has voted for the three largest tax increases - proposed tax increases - in Virginia history," she added.
We fact checked whether Hanger has, indeed, backed the three biggest proposed tax hikes in state history.
Freitas' list
Freitas - the wife of Del. Nick Freitas, R-Culpeper - sent us a list of the votes at the heart of her claim. They are:
1: A failed $1 billion annual tax increase proposed in 2006 by Democratic Gov. Tim Kaine to improve transportation. It would have raised levies on gas and motor vehicle sales. Hanger voted for the bill, telling us he thought it was fair and would help his rural constituents. The bill easily passed the Senate with bipartisan support, but died in a House committee.
2: A transportation tax package passed in 2013 that reaped $1.25 billion last year when it was fully phased in. The plan was proposed by Gov. Bob McDonnell, a Republican, and passed with bipartisan support. Its key elements were raising state levies on gas and general sales, and creating authorities in Northern Virginia and Hampton Roads that have imposed regional taxes for roads.
Hanger opposed the bill each of three times it faced an up-or-down Senate vote, telling us he thought the plan was "convoluted," and not of ample help to rural areas.
Freitas, in claiming Hanger supported the tax hikes, cites a procedural vote. The House and the Senate passed different versions of the bill and Hanger voted to allow the chambers to work out a compromise - a traditional courtesy in the General Assembly. When the compromise was reached, Hanger voted against it.
3:  A successful $700 million tax increase in 2004 proposed by Democratic Gov. Mark Warner to help education and other general services. The key component was a half-penny sales tax hike. Hanger voted for the package, which had bipartisan support.
Half-century list
Freitas' stated that Hanger voted for the three largest "proposed tax increases in Virginia history." But the list she sent us doesn't meet that criteria.
We can't go back to Virginia's first legislature in 1619 and review every tax increase that's been proposed, but we're confident $100 million-plus packages are fairly modern developments.
We reviewed major tax-increase proposals since the 1960s and adjusted them for inflation in 2019 dollars. Here's list of the three highest proposals and Hanger's role in them:
1: A failed $2.3 billion tax increase for education and transportation was proposed in 2004 by Sen. John Chichester, R-Stafford, who was chairman of the Finance Committee. The package would have significantly raised taxes on sales, income and fuel, among other things. Adjusted for inflation, the plan would have raised about $3.2 billion this year.
The bill gave cover to Warner's effort that year (discussed above) to win a more modest $700 million hike for education. Hanger voted for Chichester's more expensive plan, telling us that the state had needs in transportation and education, and it was a good idea to raise taxes for both at the same time. The bill passed the Senate with bipartisan support and was killed in a House committee.
2: Landmark legislation in 1966 by Democratic Gov. Mills Godwin that established the state sales tax - phased in at 3% over three years with an additional 1% option for localities. The tax, earmarked for public education and to help build the community college system, brought in $282 million for the budget year ending June 30, 1970, according to a report from the Department of Taxation. That's equal to $1.9 billion this year.
Hanger wasn't in the legislature in 1966 and had no vote on the bill. 
3: McDonnell's 2013 tax increase for transportation, worth $1.25 billion this year. Hanger, as we noted, voted against the measure.
All told, we checked Hanger's record on six major tax increase proposals over the last half century. He voted for three of the bills, opposed two, and wasn't in office when one was was considered.
Hanger stands by all his votes. "Fiscal responsibility requires paying your bills," he said.
Our ruling
Freitas says Hanger "has voted for the three largest tax increases - proposed tax increases - in Virginia history."
Her list of the largest proposals is flawed and, in one instance, misrepresents Hanger's up-or-down votes.
Hanger's record on taxes is nuanced; sometimes backing increases, sometimes opposing them. Of the three largest tax-hike proposals since 1966, Hanger voted for one, against one, and wasn't in office when one was considered. So we rate Freitas' claim Mostly False.
Tina Freitas, Interview on Virginia Free Radio (23:53 mark), April 8, 2019.
Email from Freitas, April 25, 2019.
Legislative Information System, SB708, 2006 session; HB 2313, 2013 session; HB5018, 2004 session; SB635, 2004 session.
Interview with Sen. Emmett Hanger, April 27, 2019.
PolitiFact Virginia, "Jamie Radke says transportation bill would impose 'largest tax increase in Virginia history,'" March 3, 2013.
Bureau of Labor Statistics, Inflation calculator, assessed April 28, 2019.
Browse the Truth-O-Meter
More by Warren Fiske
Support independent fact-checking.
Become a member!
In a world of wild talk and fake news, help us stand up for the facts.