Stand up for the facts!
Our only agenda is to publish the truth so you can be an informed participant in democracy.
We need your help.
I would like to contribute
Rep. Robert Pittenger "stood against funding for the border wall."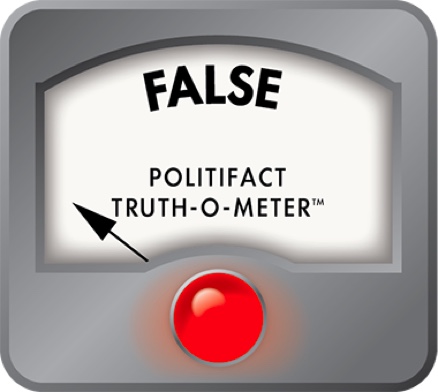 Did NC Republican oppose funding for border wall?
The Republican primary in North Carolina's 9th Congressional District has become a race to the right.
Ads by incumbent Rep. Robert Pittenger greatly exaggerated his opponent's short-lived opposition to Donald Trump before Trump became president. His opponent, Mark Harris, falsely accused Pittenger of being one of the most liberal Republicans in Congress.
Now, Harris is criticizing Pittenger's vote on a recent spending bill.
"Robert Pittenger stood against funding for the border wall," Harris posted on his Facebook page.
The post goes on to say that Pittenger and others "left our President out on an island. The vote on the spending bill that funded almost every liberal priority from the left, did NOT include the money requested by our President to build the wall on the southern border."
Harris is referring to a $1.3 trillion bill Congress passed on March 22 to fund the federal government and avoid a shutdown. The legislation, known as an omnibus bill, combines several issues into a single package.
PolitiFact contacted the Harris campaign about their claim that Pittenger opposed funding for the border wall.
Harris spokesman Jason Williams responded by email and referenced a March 2017 story where Pittenger is quoted saying he believes the wall is a euphemism. That means he thinks Trump's use of the word "wall" alludes to broad efforts to secure the southern border — not necessarily a single barrier.
Williams also pointed to a March 21 article in The Atlantic, in which anonymous sources are quoted saying that Trump is upset that the bill didn't fully fund the wall.
"There are a number of articles that report the President's dismay over lack of funding for the border wall," Williams wrote. "There is some funding for some fencing and some border security, but not the actual construction of the wall itself."
Pittenger, for his part, said "as Chairman of the Congressional Task Force on Terrorism and Unconventional Warfare, I have always been in favor of building a wall and securing our porous southern border," he said in a statement.
"The FY2018 omnibus and earlier legislation I supported clearly provides funding to begin construction, and President Trump himself tweeted that 'much can be done with the $1.6 billion given to building and fixing the border wall.' Mark Harris cannot continue to have it both ways. Either he supports President Trump, as I have done consistently with a 97 percent pro-Trump voting record, or he doesn't. The facts are very clear."
What the bill funds
The Harris campaign has a point about what the bill funds. As PolitiFact recently noted, the bill provides funding for projects that improve or replace fencing, but doesn't fund any of the eight border wall prototypes ordered by the Trump administration.
In total, the omnibus bill includes $1.5 billion for physical barriers and "associated technology" along the southwest border, according to a memo from Rep. Rodney Frelinghuysen, chairman of the House Appropriations Committee.
"This amount provides for more than 90 miles of 'border wall system,' going beyond the administration's budget request for 74 miles" this fiscal year, Frelinghuysen wrote in the memo.
The 2,232-page document specifies $251 million for 14 miles of "secondary fencing" along the southwest border near San Diego and a total of $641 million for border fencing near the Rio Grande Valley in Texas.
Even more specifically, the bill funds 33 miles of barriers in Hidalgo and Starr counties, the McAllen Monitor reported. In an interview with Fox News, House Speaker Paul Ryan elaborated on how the funding amount was determined.
"Here is the deal on the border. We asked the border patrol: 'What do you need on the border?' What they tell us is, the conditions on the ground determine what kind of wall they want, different types in different places," Ryan said.
"For instance, they want concrete barrier with a fence on top, with earth behind it in the Rio Grande Valley so it doesn't get washed away in floods," he continued. "In the desert they want a see-through wall, so they can see what is going on through it. So we do that."
Pittenger and the wall
Harris' broader argument is that Pittenger stood against Trump by not funding the wall to a level that Trump desired.
However, Pittenger has been one of Trump's most consistent supporters.
Last July, Pittenger voted for a $790 billion spending bill that would've funded border security to the tune of $1.57 billion. (So did some of the same Republican Congressmen who described the recent bill's $1.6 billion in border funding as too low)
Pittenger again aligned himself with Trump on immigration as recently as last October. He said the first step toward immigration reform is securing the border.
"This includes building a physical barrier along our porous southern border," Pittenger wrote in a column published by TheCharlotteWeekly.com. "Any attempt to fix immigration will fail without first stopping the flow of illegal immigrants."
Pittenger has a record of supporting Trump and Trump's agenda. So it's disingenuous to say that Pittenger "stood against" funding for a border wall simply because he supported a bill that doesn't fully fund the wall's full construction – a bill which Trump, himself, wavered on.
Trump and the bill
Trump's public stance on the bill wasn't consistent. On March 21, Trump tweeted: "Got $1.6 Billion to start Wall on Southern Border, rest will be forthcoming." Later the same day, he again boasted on Twitter that he "had to fight for Military and start of Wall."
Then, on March 23, Trump tweeted that he was considering vetoing the omnibus bill, "based on the fact that the 800,000 plus DACA recipients have been totally abandoned by the Democrats (not even mentioned in Bill) and the BORDER WALL, which is desperately needed for our National Defense, is not fully funded."
According to Vox, Trump's demand for full-funding of the wall was a "last minute" request. The day before Trump tweeted his criticism of the bill, White House budget director Mick Mulvaney acknowledged that the administration didn't get everything it wanted in the bill.
But, Mulvaney said, the bill included "more money than requested for technology and facilities" and that the White House was generally happy with the immigration provisions.
"We asked for 74 miles worth of wall, we got 100," budget director Mick Mulvaney told Fox News. "Not exactly what we wanted, where we wanted. Congress chose to ignore some of the suggestions that [Customs and Border Protection] made on where the best kind of wall should go and that's unfortunate."
Trump then signed the bill and promptly began touting funding for the wall, saying construction would start immediately after signing the bill.
"We have a lot money coming to the border, and it will be coming over a period of time," Trump said. "We funded the initial down payment of $1.6 billion. We're going to be starting work – literally – on Monday on not only some new wall ... but also fixing existing walls."
On March 25, Trump tweeted, "Much can be done with the $1.6 Billion given to building and fixing the border wall. It is just a down payment. Work will start immediately. The rest of the money will come - and remember DACA, the Democrats abandoned you (but we will not)!"
Our ruling
Harris said Pittenger "stood against funding for the border wall." Harris bases this claim on the idea that Trump wanted more money for the wall than Pittenger and other Republicans ultimately gave him. But just because Pittenger voted for a bill that doesn't fully fund the wall doesn't mean he stood against funding or doesn't support the idea. PolitiFact found no evidence that Pittenger worked to block wall funding, so we rate this claim False.
Email correspondence with Jason Williams, spokesman for Rev. Mark Harris.
A copy of the omnibus bill posted on the U.S. House of Representatives website.
A memo from Rep. Rodney Frelinghuysen, chairman of the U.S. House Appropriations Committee.
Fact check by PolitiFact, "Donald Trump wrongly claims border wall is under construction," published April 4, 2018.
Story in The Atlantic, "Trump Vents His Anger Over Border-Wall Funding," published March 21, 2018.
Stories in The News York Times, "House Approves Spending Package, Border Wall and All," published July 27, 2017; "Trump Signs Spending Bill, Reversing Veto Threat and Avoiding Government Shutdown," published March 23, 2018.
Story in the Washington Post, "House passes bill to boost defense, fund border wall," published July 27, 2018.
Story in The Robesonian, "Pittenger: Trump didn't mean an actual wall," published March 17, 2017.
Story in The (McAllen) Monitor, "House bill funds border wall in Rio Grande Valley," published March 23, 2018.
Story in the Texas Tribune, "How Donald Trump's border wall fared in the $1.3 trillion spending bill he just signed," published March 23, 2018.
Story on Vox.com, "Congress's new $1.3 trillion omnibus spending bill, explained," published March 23, 2018.
Press statement released on House Speaker Paul Ryan's speaker.gov webpage, "Speaker Ryan Discusses Funding Bill's Critical Wins on 'Fox & Friends,'" published March 22, 2018.
Story on Fox News, "Funding for border wall in spending bill divides conservatives and establishment Republicans," published March 22, 2018.
Column by Rep. Robert Pittenger on The Charlotte Weekly website, "Pittenger: The immigration system is broken," published Oct. 27, 2017.
Story in The Washington Examiner, "Conservatives fear a missed opportunity on funding for the border wall," published March 25, 2018.
The "Make America Secure Appropriations Act," published on Congress.gov.
Browse the Truth-O-Meter
More by Paul Specht
Support independent fact-checking.
Become a member!
In a world of wild talk and fake news, help us stand up for the facts.