Get PolitiFact in your inbox.
Says Patrick Morrisey "ran for Congress in NJ as pro-choice."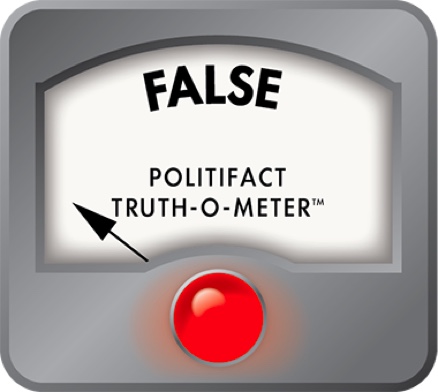 Did Patrick Morrisey once support abortion rights?
In the West Virginia primaries for U.S. Senate, the Republican candidates are lobbing accusations of being insufficiently conservative.
West Virginia Attorney General Patrick Morrisey first attacked his opponent, U.S. Rep. Evan Jenkins, R-W.Va., on Twitter for being a political opportunist due to changes in his party affiliation. Morrisey and Jenkins are competing for the GOP nomindation to challenge Sen. Joe Manchin, a Democrat.
"GOP, then Dem for 20 years, then Jenkins becomes a rank political opportunist and joins GOP. Jenkins stands for nothing but himself," Morrisey tweeted.
Jenkins responded by accusing Morrisey of supporting abortion rights in a 2000 race for U.S. Congress in New Jersey. (Morrisey moved to West Virginia in 2006.)
"Guy who ran for Congress in NJ as pro-choice and just took $100k in pill money," Jenkins said.
Both candidates have received endorsements from anti-abortion groups in recent years, and Morrisey received the endorsement from West Virginians for Life this year. So is it accurate that Morrisey advocated for abortion rights in a race to represent New Jersey's 7th District? Not exactly.
Morrisey clearly opposes abortion. Jenkins' claim essentially boils down to Morrisey not having opposed it enough in 2000.
When we asked Jenkins' campaign for evidence, they directed us to the following line in a May 15, 2000, AP story about the GOP primary race between Mike Ferguson and Morrisey:
"Ferguson has the support of state and national anti-abortion organizations and says he would support a constitutional amendment to ban abortion. The other abortion opponent in the field, Morrisey, says he would not support such an amendment," the story said.
"While Ferguson and Morrisey are against abortion, and (Tom) Kean favors abortion rights, (Joel) Weingarten says only that lawmakers should respect 'current constitutional strictures' by not trying to overturn the 1973 Supreme Court decision, Roe vs. Wade, that legalized abortion," the story went on to say.
So the same article that Jenkins says shows Morrisey supported abortion rights also referred to him twice as an abortion opponent.
The only other evidence the Jenkins campaign provided for his claim was an April 2000 news article in which Morrisey and Weingarten accused Ferguson of conducting a push poll in which Morrisey was portrayed as an abortion rights advocate.
"(Morrisey) also said he is ProLife and not ProChoice on the abortion issue as he said was indicated in the Ferguson campaign poll," the story said.
The Westfield Leader wrote of Morrisey's abortion stance two months later: "The candidate said he is pro-life on the abortion issue, with exceptions for rape, incest, and when the life of the mother is in danger. He opposes partial birth abortion."
Wanda Franz, the president of West Virginians for Life, which endorsed Morrisey for Senate, called Jenkins' accusation inaccurate. Franz emphasized that Morrisey had been fighting against abortion since the 1990s as a lawyer on Capitol Hill. (Morrisey served as Counsel to the House Commerce Committee under Republican leadership.)
"Both of the pro-life candidates were pro-life, that's what it said in the article," Franz said. "Simply the difference had to do with the Human Life Amendment as a constitutional effort."
Human life amendment
The human life amendment is a pretty broad term encompassing not one but several proposals to amend the Constitution to effectively overturn Roe vs. Wade. Most of the proposed amendments define personhood as starting at fertilization or conception, which poses a problem to some who believe abortion should be permitted in certain cases.
"A Constitutional Human Life Amendment is the only practical action we can take to broadly prohibit abortion and permanently protect unborn human life," said Andy Sere, Jenkins' spokesman. "If a candidate for Congress says he would not support the only way to do that, then that is a pro-choice position — no matter if that politician would like to be labeled pro-choice or not."
Just to be clear, Morrisey sent a letter to the West Virginia GOP that said he would "strongly support" a constitutional amendment in the U.S. Senate to overturn Roe vs. Wade.
"For my entire career, I have been opposed to that horrific decision," Morrisey wrote.
So what about his stance in 2000?
Morrisey's campaign did not recall the reason for Morrisey's opposition to a constitutional amendment in 2000. We were unable to gather the specifics of the amendment Morrisey opposed.
"Mike Ferguson was pro-life, no exceptions, and all the articles about Morrisey had some exceptions in the case of rape or incest," said Nachama Soloveichik, Morrisey's spokeswoman. "It's possible they were talking about some specific amendment that didn't have exceptions."
Charles Camosy, author of Beyond the Abortion Wars and theology professor at Fordham University, explained this was a common reason for opposition to the amendment.
Larry Arnold, the author of the AP article in question, said Morrisey's position on the amendment likely came from Morrisey's campaign website, which the Wayback Machine showed included a link to a position paper on partial birth abortion. (We were unable to track down the paper.)
There's also the chance Morrisey opposed the amendment for other reasons, like believing it was not the most effective way to push the anti-abortion agenda or that it was a decision that should be left to the states.
Franz said that either way, opposition to the amendment by itself wouldn't have meant he supported access to abortion in most cases, as the practicality of a constitutional amendment has long been contested even among people pushing for abortion restrictions.
"We have not thought of the human life amendment as a viable option for decades," Franz said. "We don't have it on our candidate questionnaires. It isn't an issue for us anymore because we have other strategies."
The Susan B. Anthony List, a prominent anti-abortion group, is not focused on pushing the amendment, Camosy explained, whereas other groups such as the American Life League and the Human Life Action Center still consider it a long-term goal of the anti-abortion movement. The National Pro-Life Alliance includes the issue on their candidate questionnaire.
"There are various paths to providing legal protection for unborn children," said Carol Tobias, a spokeswoman for National Right to Life. "A constitutional amendment is one. Another would be for the Supreme Court to overturn Roe vs. Wade, followed by action at the state level to enact pro-life measures."
In other words, the importance of the amendment is contested among anti-abortion groups, but Carmosy agreed that equating opposition to an amendment — no matter the reason — to supporting abortion rights was unfair. He proposed the example of the LGBT rights movement in the 1990s.
"Was someone who, back then, was arguing only for civil unions and not a constitutional amendment about marriage not a genuine LGBT ally?" Camosy said. "That's ridiculous. It was a difference in political strategy."
Our ruling
Jenkins said Morrisey "ran for Congress in NJ as pro-choice."
We found no evidence Morrisey supported abortion rights during a New Jersey congressional race in 2000. Morrisey opposed abortion except in cases of rape, incest and when the woman's life is in danger.
The Jenkins campaign cited a 2000 AP story that said Morrisey was opposed to a constitutional amendment to ban abortion, one of the more extreme tactics among those who oppose abortion. However, experts and anti-abortion groups told us that opposition to the amendment would not have made Morrisey an abortion rights advocate.
We rate this statement False.
Correction: This report initially said that both candidates had received endorsements from an anti-abortion group this year. We have corrected it to note that both candidates have received endorsements in recent years. 
Evan Jenkins, Tweet, Oct. 23, 2017
AP, Morrisey, Jenkins trade barbs over abortion stances, May 15, 2000
Phone interview with Nachama Soloveichik, Patrick Morrisey spokeswoman, Oct. 25, 2017
Phone interview with Wanda Franz, president of West Virginians for Life, Oct. 24, 2017
Email interview with Larry Arnold, former AP reporter who covered the GOP primary congressional race in New Jersey in 2000, Oct. 24, 2017
Phone interview with Andy Sere, spokesman for Evan Jenkins, Oct. 25, 2017
Phone interview with Charles Camosy, author of Beyond the Abortion Wars and theology professor at Fordham University, Oct. 25, 2017
Email interview with Carol Tobias, a spokeswoman for National Right to Life, Oct. 25, 2017
Charleston Gazette-Mail, Morrisey, Jenkins trade barbs over abortion stances, Oct. 14, 2017
Westfield Leader, Weingarten, Morrisey Accuse Ferguson of Push Polling; Candidate's Aides Say Poll Was Legitimate Survey Walsh, Gardner Bow, April 20, 2000
Westfield Leader, Mr. Morrisey Feels Washington Experience Puts Him in Excellent Position for Upset, June 1, 2000
Browse the Truth-O-Meter
More by Manuela Tobias
Support independent fact-checking.
Become a member!
In a world of wild talk and fake news, help us stand up for the facts.