Stand up for the facts!
Our only agenda is to publish the truth so you can be an informed participant in democracy.
We need your help.
I would like to contribute
"The standard of voting in North Dakota is the easiest in the country."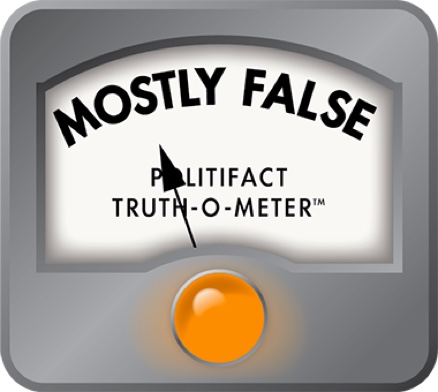 Does no registration make voting easiest in North Dakota?
In the first North Dakota Senate debate, incumbent Heidi Heitkamp and Republican challenger and U.S. Rep. Kevin Cramer sparred over the fairness of who will get to participate in one of the most hotly contested elections.
The moderator asked the two candidates whether they believe the Supreme Court made the right decision in upholding North Dakota's new voter ID law on Oct. 9. The law requires residents show ID with a current street address.
A federal district court in North Dakota originally ruled to allow voters to show either a current street or mailing address, like a PO box. The U.S. Court of Appeals for the 8th circuit put that order on hold. The Supreme Court allowed the hold to stay in place. The case continues before the 8th Circuit.
Heitkamp called attention to the law's disproportionately negative effect on Native American voters, many of whom don't have a street address and use a PO box instead.
"Our district court judge did the right thing and ruled that this was an inappropriate infringement on voting rights," Heitkamp said. "I hope Native American veterans get an opportunity to vote because they put on a uniform and earned that opportunity."
"And they do get to vote, Senator," Cramer replied. "That's the point. The standard for voting in North Dakota is the easiest of anywhere in the country. We are the only state that does not have voter registration."
Cramer is right that there's no voter registration, unlike any other state. But that doesn't make North Dakota the easiest state to vote in.
"North Dakota does pretty well and did pretty well from 1996 to 2008," said Michael Pomante, a political science professor at Jacksonville University. "After 2008, that's no longer the case."
Pomante published a paper in September that ranks the 50 states according to the ease of 33 voting laws alongside two other researchers. They looked at registration requirements, wait times, mail-in ballot options and the strictness of voter ID laws, among other indicators.
North Dakota used to be No. 1 because of its lack of voter registration. It ranked fourth in 2016, and Pomante expects it to drop several spots next year because of the new ID law Heitkamp mentioned. He expects other states to jump ahead thanks to automatic registration options when people are in contact with a state agency.
In 2016, the researchers determined that voting was easiest in Oregon, where voters are registered automatically and are mailed ballots weeks in advance of election day. Colorado and California came in at second and third, respectively.
"Registering to vote is the biggest determinant of whether or not someone can vote," Pomante said. "So having no registration means you can just show up, and automatic means same thing. Basically the burden of registering to vote is no longer on the individual citizen."
Essentially, having no registration doesn't make North Dakota all that special anymore.
Cameron Wimpy, a political scientist working at the MIT Election Data and Science Lab, said comparison between states with automatic and no registration is difficult because there is little data. The difference, then, comes down to the strictness of laws determining what forms of ID people can show at the polls.
"There is a reality that registration can cause issues. But in the places that registration is easy, it's hard to believe registration is more difficult than the situation where you have to bring several documents from a limited list," Wimpy said.
(North Dakota also ranked fourth in the MIT Elections Performance Index in 2016. That ranking did not take voter ID laws into account last year.)
Voter ID law have made voting harder in North Dakota
The National Conference of State Legislatures breaks down voter ID laws into categories of strict and non-strict, without a ranking. In 2018, North Dakota fell under the strict side of the dividing line.
Non-strict states allow at least some voters without an acceptable ID to cast a ballot and have it count. Strict states, like North Dakota this year, require those voters to cast a provisional ballot. In order for their vote to count, they must also take additional steps after election day.
Up until 2013, North Dakota citizens could go to the polls and show a single non-photo ID. If they failed to provide such documentation, a poll worker could vouch for the voter's identity. North Dakota's sparsely populated rural precincts easily lent themselves to this method. Otherwise, the voter could sign an affidavit at the polling station.
That changed when the North Dakota legislative assembly passed a law getting rid of these two fail-safes. The law also limited the forms of acceptable identification. A 2015 law further limited those forms of ID. Seven Native American voters challenged the law in 2016.
They argued the statute disproportionately affects Native Americans. The law requires an ID with a valid street address, which many rural tribal members don't have. According to the plaintiffs, 70,000 North Dakota residents lack a qualifying ID and 18,000 lack supplemental documentation.
The lawsuit began a two-year legal battle that is still ongoing. A federal judge issued a temporary order in 2016 that the affidavit remain an option, so North Dakota remained a non-strict state that year. But the strict ID law will be in place this election cycle after the Supreme Court decided not to intervene in October.
Tribal officials and Four Directions, a voting rights advocacy group, are working with the Secretary of State's office to secure acceptable forms of ID for tribal members with only PO boxes.
Our ruling
Cramer said, "The standard of voting in North Dakota is the easiest in the country."
North Dakota ranked near, but never at the top, of any voting ease lists in 2016. The state's ease of voting is already falling by some metrics ahead of Election Day 2018 with a stricter voting ID law in place, despite North Dakota being the only state without voter registration.
We rate this statement Mostly False.
C-SPAN, North Dakota Senate Debate, Oct. 18, 2018
Phone interview with Michael Pomante, political science professor at Jacksonville University, Oct. 22, 2018
Phone interview with Cameron Wimpy, political scientist working at the MIT Election Data and Science Lab, Oct. 22, 2018
Phone interview with Wendy Underhill, National Conference of State Legislatures director of elections and redistricting, Oct. 22, 2018
Phone interview with Mike Burns, national director for Fair Elections Center, Oct. 22, 2018
Email interview with Paul Gronke, political science professor at Reed College, Oct. 19, 2018
Snopes, Brakebill complaint, Jan. 20, 2016
Supreme Court, Richard Brakebill v. Alvin Jaeger on application to vacate stay, Oct. 9, 2018
Snopes, Has North Dakota Law Made It Harder for Native Americans to Vote? Oct. 15, 2018
NPR, Many Native IDs Won't Be Accepted At North Dakota Polling Places, Oct. 13, 2018
National Conference of State Legislatures, Voter ID laws, May 15, 2018
Election Law Journal, Cost of Voting in the American States, Sept. 18, 2018
MIT, Elections Performance Index, 2016
Browse the Truth-O-Meter
More by Manuela Tobias
Support independent fact-checking.
Become a member!
In a world of wild talk and fake news, help us stand up for the facts.