Stand up for the facts!
Our only agenda is to publish the truth so you can be an informed participant in democracy.
We need your help.
I would like to contribute
Says each of the past three years "has been the hottest on record."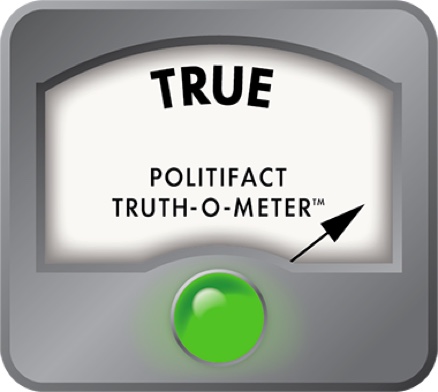 Democrat seeking Lamar Smith's House seat says each of the past three years 'hottest on record'
A Democrat hot after the U.S. House seat held by Republican climate-science skeptic Lamar Smith made a searing claim while strolling for support in South Austin, a news story shows.
After a resident told candidate Derrick Crowe she's worried about climate change, Crowe responded: "That one actually keeps me up at night." Crowe went on: "I have a 3-year-old, Henry, and every year he's lived has been the hottest on record."
Has each of the past three years proved the hottest on record?
Candidate cites federal agency
Crowe, described as a climate justice organizer in the June 3, 2017, Austin American-Statesman news story, responded to our request for factual backup for his claim by pointing out by email a Jan. 18, 2017, web post by the National Oceanic and Atmospheric Administration headlined: "2016 marks three consecutive years of record warmth for the globe."
NOAA's post said "the 2016 globally averaged surface temperature ended as the highest since record keeping began in 1880, according to scientists from NOAA's National Centers for Environmental Information (NCEI)."
The agency further said: "The average temperature across global land and ocean surfaces in 2016 was 58.69 degrees F or 1.69 degrees F above the 20th century average. This surpassed last year's record by 0.07 degrees F. Since the start of the 21st century, the annual global temperature record has been broken five times (2005, 2010, 2014, 2015, and 2016)."
That's three straight years of record average land-ocean-surface temperatures.
That day, NASA announced a similar conclusion. In its post, the space agency said: "Globally-averaged temperatures in 2016 were 1.78 degrees Fahrenheit (0.99 degrees Celsius) warmer than the mid-20th century mean. This makes 2016 the third year in a row to set a new record for global average surface temperatures."
The space agency elaborated: "NASA's analyses incorporate surface temperature measurements from 6,300 weather stations, ship- and buoy-based observations of sea surface temperatures, and temperature measurements from Antarctic research stations. These raw measurements are analyzed using an algorithm that considers the varied spacing of temperature stations around the globe and urban heating effects that could skew the conclusions. The result of these calculations is an estimate of the global average temperature difference from a baseline period of 1951 to 1980.
"NOAA scientists used much of the same raw temperature data," NASA said, "but with a different baseline period, and different methods to analyze Earth's polar regions and global temperatures."
News stories
News stories posted that day by The New York Times and The Wall Street Journal each indicated scientific consensus that each of the years was the hottest in the history of  the temperature measurements.
The Times' account said 2016 marked "the first time in the modern era of global warming data that temperatures have blown past the previous record three years in a row." In 2015 and 2016, the newspaper reported, planetary warming was intensified by the weather pattern known as El Niño, in which the Pacific Ocean released a huge burst of energy and water vapor into the atmosphere. But the bigger factor in setting the records was the long-term trend of rising temperatures, the story said, which scientists say is being driven by increasing levels of carbon dioxide and other greenhouse gases.
A British agency aired a similar conclusion, the story said. "In the British data set," the story said, "2016 set a record by only a small amount; the margin was larger in the NOAA data set and larger still in NASA's. NASA does more work than the other groups to take full account of Arctic temperatures," the story said, "and several scientists said they believed the NASA record to be the most accurate for 2016."
Then again, the story said, the Berkeley Earth surface temperature project, a nonprofit California group set up to provide a temperature analysis independent of governments, did not find that three records had been set in a row; in its analysis, 2010 was slightly warmer than 2014.
The Journal's news story on 2016 proving the hottest year on record noted three other independent assessments of the year's warming trend. The Japan Meteorological Agency, which uses slightly different methods in its calculations, had just ranked 2016 as the warmest in its modern record, the story said, while separately researchers at the University of Alabama in Huntsville, drawing on satellite data to track global atmospheric temperatures, concluded that by a very small statistical margin, 2016 was the warmest year in 38 years of orbital monitoring.
The Journal story said the same week that NOAA and NASA piped up, scientists at the U.K.'s Met Office Hadley Centre and the University of East Anglia's Climatic Research Unit reported that by their analysis, 2016 was fractionally warmer than any other year in its record keeping, barely edging out 2015.
State climate experts
For our part, we asked experts including the respective state climatologists for Florida and Texas--big states on the Gulf of Mexico--to evaluate Crowe's claim.
David Zierden of the Florida Climate Center and John Nielsen-Gammon of Texas A&M University each cited the conclusion that global average surface temperatures in 2016 set a record high--just as record highs were reached in 2014 and 2015. By email, Katharine Hayhoe, director of the Climate Center at Texas Tech University, and Clare Nullis, a spokeswoman for the World Meteorological Organization, a United Nations agency, each concurred.
Zierden filled us in on how the averages cited by NASA and NOAA are reached, saying that each weather station's overnight low and day-time high ultimately contributes toward year-long planet-spanning averages. "It's not necessarily a great measure of our climate system," Zierden said, but it's a simple way of showing long-term trends. Focusing on global averaged temperatures, he added by email, reduces "an infinitely complicated climate system, which includes the atmosphere (all levels), oceans, land surfaces, and ice surfaces, to ONE number per month or year is quite an oversimplification."
Warmth of U.S., Texas
Crowe didn't limit his hottest-ever statement to the U.S. or Texas.
But the Journal story, citing NOAA, said that in the 48 states of the continental U.S., 2016 was the second-hottest year in record keeping, marking 20 years in a row when temperatures were above average.
With help from the state climatologists, we clicked to the NOAA's NCEI website and obtained a ranking, from 1901 through 2016, of the average surface temperature in the 48 states in the continental U.S. Results: The average 2016 surface temperature of 54.91 degrees F was exceeded by the 55.28 degrees F average in 2012 with the continental U.S.'s 2015 average temperature of 54.40 degrees F ranking third since 1901. The continental U.S.'s 2014 surface temperature average, 54.52.54 degrees F, made that year its 37th warmest, according to NOAA.
In Texas, according to the site, 2016 tied 2006 for the third-warmest average surface temperatures on record of 67.1 degrees F. Also not record-setting: The state's averages for 2014 (the state's 56th warmest year since 1901) and 2015 (the state's 16th-warmest year since 1901).
Our ruling
Crowe said each of the past three years was the "hottest on record."
There's scientific consensus that this was so, according to averaged global surface temperature readings, though it's worth pointing out that those temperatures add up to a single indicator of climate conditions.
We rate the claim True.
---
TRUE – The statement is accurate and there's nothing significant missing. Click here for more on the six PolitiFact ratings and how we select facts to check.
Emails, Derrick Crowe, U.S. House candidate, June 6 and 8, 2017
Web posts, National Oceanic and Atmospheric Administration, "El Niño 2015/16: A Historical Perspective," undated (accessed June 8, 2017); "2016 marks three consecutive years of record warmth for the globe," Jan. 18, 2017 (accessed June 7, 2017)
Web post, "NASA, NOAA Data Show 2016 Warmest Year on Record Globally," NASA, Jan. 18, 2017 (accessed June 7, 2017)
News story, "Earth Sets a Temperature Record for the Third Straight Year," The New York Times, Jan. 18, 2017
News story, "Last Year Was Warmest on Record, Climate Experts Say," The Wall Street Journal, Jan. 18, 2017
Phone interview and email, David Zierden, Florida state climatologist, Florida Climate Center, Florida State University, June 8-9, 2017
Emails, John Nielsen-Gammon, Texas state climatologist, Texas A&M University, June 8, 2017
Email, Katharine Hayhoe, director, Climate Center, Texas Tech University, June 8, 2017
Email, Clare Williams, media officer, World Meteorological Organization, June 9, 2017
Interactive web page, NOAA National Centers for Environmental information, "Climate at a Glance: U.S. Time Series, Average Temperature," June 2017 (accessed June 8, 2017)
Browse the Truth-O-Meter
More by W. Gardner Selby
Support independent fact-checking.
Become a member!
In a world of wild talk and fake news, help us stand up for the facts.