Stand up for the facts!
Our only agenda is to publish the truth so you can be an informed participant in democracy.
We need your help.
I would like to contribute
With North Korea, "nobody has ever seen such a positive response on our behalf from China."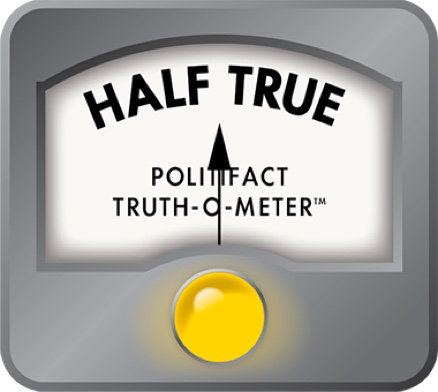 Trump: China taking unprecedented steps to help with North Korea's nukes
North Korea's nuclear weapons program might be a looming security threat for the United States and its allies, but it has also provided a point of common interest for America and China.
In an interview with Fox News, President Donald Trump praised China for working to help with the North Korea problem and he specifically noted that China has begun to reject coal shipments from North Korea, denying it a key source of revenue.
"Nobody has ever seen it like that," Trump said April 17. "Nobody has ever seen such a positive response on our behalf from China."
There's a lot to unpack in that statement, not the least of which is whether China is acting on America's behalf or its own, or both. The fact is, China has taken many steps over the decades to manage North Korea's nuclear ambitions. Some long-time observers think its latest stance represents a new high; others are less convinced.
China and North Korea
The Congressional Research Service, the nonpartisan policy arm of Congress, described China as "North Korea's closest ally, largest provider of food, fuel, and industrial machinery, and arguably the country most able to wield influence in Pyongyang."
China buys over 80 percent of North Korea's exports.
At the same time, North Korea has been a thorn in China's side for quite a while. A 2007 report from the Council on Foreign Relations said that "Chinese leaders are acutely concerned about a crumbling North Korea that precipitates massive instability in northeastern China."
Reflecting a common view, Cheng Li, director of the China Center at the Brookings Institution, a Washington academic organization, told us, that above all, China wants stability.
"It's in China's interest to have a nuclear-free Korean Peninsula," Li said.
A bellicose North Korea might invite a U.S. attack, which would create refugee flows and crisis, or lead South Korea or Japan to reconsider their nuclear options.
None of that would help China.
China's growing role
China has been involved with North Korea talks since the mid 1990s, when bilateral negotiations between the United States and North Korea  produced a pause in the country's march toward building nuclear warheads.
China took a more direct role in 2003. That year, North Korea withdrew from the Nonproliferation Treaty, restarted a previously frozen 5-megawatt nuclear reactor and during talks brokered by China, told the lead American diplomat that it now had nuclear weapons.
"China wanted to play a role," Li said. "It wanted to cooperate with the United States. First, it organized the three-party negotiations (China, North Korea and the United States), which then became the six-party negotiations (with Russia, South Korea and Japan). It hosted the six-party talks and had harsh words for North Korea's leaders."
In 2005, those talks produced an agreement that might have led to a denuclearized Korean Peninsula. That agreement broke down four years later, but Frank Jannuzi, who spent 15 years as Senate Foreign Relations Committee policy director for East Asian and Pacific Affairs, credits China with pushing to keep diplomacy moving forward.
"The United States had long been reluctant to engage in face-to-face official talks with North Korea, without the political cover of a multilateral venue," Jannuzi said. "The Chinese wanted these talks too, but in making them happen, they were doing us a big favor."
China gradually ramps up the pressure
Through its seat on the U.N. Security Council, China has approved five resolutions against North Korea. The first was in 2006, followed by another in 2009, two in 2013, and the most recent in 2016. Economic sanctions have increased through the later resolutions, although Jannuzi said China would only go so far on that front.
"The sanctions would never be effective," he said. "Because the sanctions will always stop short of crippling North Korea's economy, which China would not want."
Jannuzi cautioned against reading too much into China's latest rejection of North Korean coal. The March 2016 resolution imposed a quota on how much coal China could import.
"The trade data suggest that North Korea reached the quota by about the end of February," Jannuzi said. "The coal China turned back went beyond the quota. So it's good that China stuck with the sanctions, but they supported that when they voted for the resolution."
The Brookings Institution's Li said China is going beyond what it's done before. He pointed to Chinese President Xi Jinping's visit with Trump, and the rhetoric in Chinese media
"China's propaganda machine changed dramatically," Li said. "A few months ago, you began to see more criticism of North Korea's missile program. Unofficially, commentators have talked about regime change. Previously, you couldn't write about that."
Januzzi said if China is being more vocal and showing its displeasure with North Korea, that's in line with the past.
"It represents a new high point in terms of their overall frustration level with North Korea but they have been ratcheting it up for 15 years," he said.
Some analysts, such as Mohan Malik, professor of Asian security at the Asia-Pacific Center for Security Studies, see little to cheer in China's recent moves.
"No doubt, China is tightening the noose around Kim Jong-un's neck, but it is nowhere near choking him," Malik said. "China's trade with North Korea is significantly up from last year. And more importantly, the transfer of dual-use components from Chinese companies for use in North Korea's nuclear and missile programs continues unabated."
Our ruling
Trump said with North Korea, no one has ever seen such a such a positive response from China on America's behalf.
In the eyes of the experts we reached, China is doing more. Some were more enthusiastic than others. The record shows that China has gradually moved in this direction over the years. Refusing coal shipments is in line with U.N. economic sanctions that China voted for last year. China has largely maintained its trade ties with North Korea and so far, its actions have been more rhetorical than substantive.
It is difficult to quantify a "positive response." Whether the latest moves represent a sea shift that "no one has ever seen," or the logical conclusion of a longer pattern, probably lies in the eye of the beholder.
We rate his statement Half True.
Fox News, Fox and Friends, April 18, 2017
Congressional Research Service, China-North Korea Relations, Dec. 28, 2010
Council on Foreign Relations, U.S.-China Relations, April 2007
Massachusetts Institute of Technology, Observatory of Economic Complexity - North Korea, 2015
Arms Control Association, Chronology of U.S.-North Korean Nuclear and Missile Diplomacy, March 2017
Arms Control Association, UN Security Council Resolutions on North Korea, March 2016
Brookings Institution, Assessing U.S.-China relations under the Obama administration, Aug. 30, 2017
National Public Radio, Where The U.S. And China Now Stand, April 13, 2017
Interview, Cheng Li, director, John L. Thornton China Center, Brookings Institution, April 18, 2017
Interview, Frank Jannuzi, president Mansfield Foundation, April 18, 2017
Email interview, Mohan Malik, professor, Asia-Pacific Center for Security Studies, April 18, 2017
Email interview, Deborah Brautigam, professor of International Political Economy, Johns Hopkins School of Advanced International Studies, April 19, 2017
Browse the Truth-O-Meter
More by Jon Greenberg
Support independent fact-checking.
Become a member!
In a world of wild talk and fake news, help us stand up for the facts.