Get PolitiFact in your inbox.
"Texas is one of only a handful of states that does not have an equal pay law."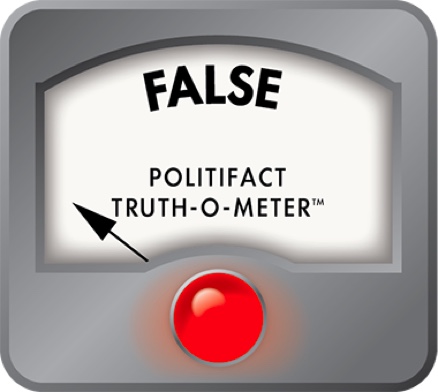 Wendy Davis wrongly says Texas among states with no 'equal pay' law
She lost the Texas governor's race in 2014, where she called for stepped-up attention to women's health care access and equal pay.
But Democrat Wendy Davis still talks up women's issues including, in a March 2016 interview by Texas Monthly, her desire to revisit legislation nixed by the Republican governor when she was a state senator from Fort Worth.
Asked what issues she's thinking about "besides reproductive autonomy," Davis replied:
"Of course, equal pay. You may recall that I, along with the amazing Senfronia Thompson in the Texas House, was successful in passing an equal pay bill here, which was no easy feat—only to have it vetoed by Gov. Perry. So Texas is one of only a handful of states that does not have an equal pay law. Even the law that exists at the federal level needs some punch."
We wondered about the Texas part of her statement. Does the state rank among a few states lacking a law that ensures equal pay for male and female employees holding comparable jobs?
Texas actually has laws that apply, we found, though no law has a time window like the one in federal law for an employee to challenge a pay action. To our inquiry, a Davis spokesman, Hector Nieto, described that gap--closed by laws in 42 states--as substantially weakening a Texas employee's ability to sue.
As a senator, to recap, Davis championed a measure giving a worker affected by an unequal pay action 180 days to file a dispute from when the inequity is discovered. The sought change, in keeping with the federal Lilly Ledbetter Fair Pay Act of 2009, would have widened a state law that gives workers 180 days from the occurrence of an "unlawful employment practice" to file a complaint.
House Bill 950 by Rep. Thompson, D-Houston, won House and Senate approval in 2013, a year after the Texas Supreme Court held that absent legislative action, the Ledbetter provision revising the statute of limitations didn't apply to cases brought under the Texas anti-discrimination laws.
Next, as Davis said, Gov. Rick Perry vetoed the proposal, as he was urged to do by business interests including Macy's. In his veto proclamation, Perry said the measure  duplicated federal law, "which already allows employees who feel they have been discriminated against through compensation to file a claim with the U.S. Equal Employment Opportunity Commission."
Thompson offered a similar proposal during the 2015 legislative session. It was defeated in the House.
Davis spokesman notes NCSL research
We recognized that Texas has statutory restrictions on pay discrimination after asking Davis about the basis of her declaration that Texas ranks among states that don't have an "equal pay" law.
By email, Nieto directed us to a July 2015 chart summarizing state "equal pay" laws posted by the Denver-based National Conference of State Legislatures, which says it strives to improve the "quality and effectiveness" of the nation's state legislatures.
The chart's Texas entry indicates the state has two laws related to equal pay--one protecting state government workers, the other generally "prohibiting discrimination based on protected class status." In Texas that includes race, ethnicity, national origin, religion, sex, age and disability.
The laws are in the state's labor code, the chart indicates, which contains:
--The Texas Equal Work, Equal Pay law, which took effect in 1993, stating: "A woman who performs public service for this state is entitled to be paid the same compensation for her service as is paid to a man who performs the same kind, grade, and quantity of service, and a distinction in compensation may not be made because of sex."
--Chapter 21 of the code, "Employment Discrimination," includes a section stating an employer "commits an unlawful employment practice if because of race, color, disability, religion, sex, national origin or age the employer… fails or refuses to hire an individual, discharges an individual, or discriminates in any other manner against an individual in connection with compensation or the terms, conditions or privileges of employment."
We wondered if the general law fairly adds up to Texas already barring pay discrimination.
To our request for expert analysis, Amy Starnes of the State Bar of Texas directed us to attorneys including C.B. Burns, an El Paso labor and employment lawyer, who by phone agreed the general law in the labor code offers recourse for workers in Texas who wish to pursue equal-pay disputes. By email, Burns elaborated, though, that the law only applies to employers with 15 employees or more and that private and public employers are covered under it; in contrast, the Texas Equal Pay Act applies to state employees only.
Burns summed up: "We don't have a statute called the Equal Pay Act like there is in federal law, but we have a discrimination statute that prohibits sex discrimination and equal-pay claims are a form of sex discrimination."
Separately, Patrick Maher, a Dallas employment discrimination lawyer, told us it's a "misstatement" to say there's no Texas law against pay discrimination, explaining that the Ch. 21 law would offer protections and defenses on top of federal laws.
Other states
And what of other states?
According to NCSL's breakdown, as of July 2015, two states had no "equal pay" law: Alabama and Mississippi--a conclusion also reached, as of April 2016, by the Department of Labor.
Put another way, the NCSL places Texas among 44 states with a degree of an "equal pay" law. Four states only have a general employment discrimination law: North Carolina, South Carolina, Utah and Wisconsin, according to the group.
A web search led us to another analysis of state equal pay laws; the American Association of University Women lists Alabama, Mississippi and South Carolina as lacking equal pay laws as of 2016.
The association, which favors strong state equal pay laws, ranked Texas among 13 states with "poor" laws, meaning in part that the laws don't apply to all workers. Since the group's ratings were last updated online, Nebraska passed a measure upping the number of employees covered under their law, moving them into the "moderate" category, Amy Becker, AAUW's political media manager told us by email. She also explained that Texas automatically qualified for the "poor" rating because its general anti-discrimination law applies only to workplaces with 15 or more employees.
AAUW's breakdown lists 19 measures it would like states to have in their equal pay laws and lists Texas as having one: no discrimination/retaliation for involvement in legal proceedings. States with nine or more equal pay protections are considered to have "strong" equal pay laws. Those states, according to AAUW, are California, Illinois, Minnesota, North Dakota, Tennessee and Vermont.
Our ruling
Davis said: "Texas is one of only a handful of states that does not have an equal pay law."
Texas might not have the strongest laws against pay discrimination. But two anti-discrimination laws exist, one limited to state employees and the other to people working for larger businesses.
We rate this claim False.
---
FALSE – The statement is not accurate. Click here for more on the six PolitiFact ratings and how we select facts to check.
https://www.sharethefacts.co/share/ba47dbc3-286b-4da7-b5c7-56e73085c2ab
Feature news story, "Wendy Davis And 'Trapped' Director Dawn Porter Talk Abortion, Television, And Davis's Political Future," Texas Monthly, posted online March 14, 2016
Phone Interview and emails, Hector Nieto, former Wendy Davis campaign spokesman, April 25-26 and May 13 and 19, 2016
News story, "Women lawmakers angered by veto of Ledbetter Act," Texas Politics blog, San Antonio Express-News, June 14, 2013
Truth-O-Meter article, "Macy's, other retailers asked Rick Perry to veto equal-pay measure," PolitiFact Texas, Nov. 25, 2013
Web page, National Conference of State Legislatures, State Equal Pay Laws- July 2015, July 2015
Law, Lilly Ledbetter Fair Pay Act of 2009, Jan. 29, 2009
Law, Government Code Sec. 659.00, Equal Pay, Equal Work, 1993
"Equal pay" legislation, House Bill 950, 2013 regular legislative session; HB 187, filed by Rep. Senfronia Thompson, Nov. 10, 2014
Bill Digest for HB 950, House Research Organization, April 24, 2013
Veto, Veto Proposal for HB 950, Gov. Rick Perry, June 14, 2013
Law, Texas Government Code Sec. 21.051, Employment Discrimination
Phone interview, C.B. Burns, labor and employment lawyer, May 10, 2016
Phone Interview and emails, Patrick Maher, labor and employment lawyer, May 11 and 13 , 2016
Map, Women's Bureau, U.S. Department of Labor, "Equal Pay and Pay Transparency Protections," April 2016
Chart, American Association of University Women, "Equal Pay Laws by State," Jan. 2016
Email, Amy Becker and Lisa Maatz, AAUW, May 2,3,19 and 23, 2016
News story, "30 in 30': Women candidates to watch in 2014 – Wendy Davis," NBC News, August 14, 2014
Browse the Truth-O-Meter
More by Eleanor Dearman
Support independent fact-checking.
Become a member!
In a world of wild talk and fake news, help us stand up for the facts.