Get PolitiFact in your inbox.
Says Donald Trump has "bankrupt four separate businesses."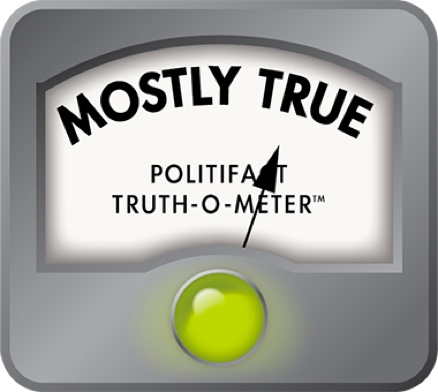 Mark Warner says Donald Trump has 'bankrupt four separate businesses'
U.S. Sen. Mark Warner says presumptive Democratic presidential nominee Hillary Clinton has a "lot of ammunition" to fire at Donald Trump's business record.
"To think that Mr. Trump is trying to lay out this proposition that he's a successful business guy. He's failed miserably, bankrupt four separate businesses," Warner, D-Va., said during a June 21 interview on CNN.
We looked at Warner's contention that Trump bankrupted four businesses. Clinton has made similar charges against the presumptive Republican presidential nominee, including on July 6 when she spoke in front of the shuttered Trump Plaza Casino and Hotel in Atlantic City, N.J..
Earlier this year, many of Trump's GOP primary opponents also accused him of running businesses into the ground.
Kevin Hall, Warner's communications director, sent us a series of media reports about Trump's business problems.
Some Trump companies indeed have sought protection under Chapter 11 of the federal bankruptcy law, which shields businesses from creditors as as they reorganize with hope of remaining open. Under court supervision, the companies devise a plan to pay back some of its liabilities over time. That's different from a Chapter 7 filing, which involves liquidating a company's assets and distributing the proceeds to creditors.
PolitiFact National has explored several claims about Trump's business record and has tallied a list of bankruptcies for his companies. Let's take a look.
1991 bankruptcy
Trump's first bankruptcy came when he sought protection for the Trump Taj Mahal in Atlantic City.
Trump funded most of the casino's $1 billion construction by using junk bonds with high interest rates, according to the Philadelphia Inquirer. When it sought Chapter 11 protection a year after its opening, the casino had about $3 billion in debt.
As part of the restructuring, Trump cut his ownership stake in the Taj Mahal by half and sold his airline as well as his personal 282-foot yacht, The Washington Post said in an August 2015 story.
1992 bankruptcies
Two more of Trump's Atlantic City casinos - the Trump Castle and Trump Plaza and Casino - sought Chapter 11 protection amid heavy debt and cash flow problems, United Press International reported at the time.
A fourth bankruptcy also occurred in 1992 when Trump sought protection for The Plaza hotel in midtown Manhattan.
The hotel, which Trump bought for $390 million in 1988, had accumulated more than $550 million in debt.  Trump gave up a 49 percent ownership stake and remained CEO, although he had little control over the day-to-day operations of the company, according to The New York Times.
Most recent bankruptcies
Trump Hotels and Casinos Resorts filed for bankruptcy in 2004 when his casinos - including the Trump Taj Mahal, Trump Marina and Trump Plaza in Atlantic City, and a riverboat casino in Indiana - amassed an estimated $1.8 billion in debt, according to The Associated Press.
Trump agreed to reduce his share in the company from 47 percent to 27 percent in a restructuring plan, but he still was the company's largest single shareholder and remained in charge of its operations.
Several years later, Trump Entertainment Resorts - formerly Trump Hotels and Casinos Resorts - was slammed by the Great Recession and missed a $53.1 million interest payment in December 2008, according to ABC News.
The company declared Chapter 11 in February 2009. After negotiating with the board of directors, Trump resigned as the company's chairman and had his corporate stake in the company reduced to 10 percent. The company continued to use Trump's name in licensing.
All told, the record shows that three of Trump's Atlantic City casinos as well as The Plaza hotel went bankrupt in the 1990s. His overall casino and resort company went bankrupt twice in the 2000s while operating under different names. So you could argue that five Trump companies have gone into bankruptcy.
Beyond the numbers
The next question: Is Trump personally to blame for driving these ventures into bankruptcy, as Warner's statement says?
Trump defends his use of bankruptcy laws, saying they've allowed him to keep businesses afloat and that he's rarely relied on them during a career of making hundreds of business deals. In a statement released the day Clinton made her Atlantic City trip, Trump pegged the number of bankruptcies at four.  
"It is an effective and commonly used practice in business to use bankruptcy proceedings to restructure a business and ultimately save jobs," Trump said in a July 6 statement.
Experts told PolitiFact National last September that Trump has had a high number of bankruptcies. But they didn't entirely blame him for the Chapter 11 filings and noted that most occurred in the gambling industry, which has struggled.
A 1991 article by United Press International about the financial woes of the Trump Castle and Trump Plaza and Casino said the Atlantic City gaming industry was "depressed" and that nine of the city's 12 casinos saw declining revenues in 1990, with those two Trump casinos seeing the biggest revenue losses.
The New York Times noted in a story earlier this month that Trump's share of the overall Atlantic City casino market started to fall in 1997, and that while revenues for non-Trump gaming ventures in the city rose over the following five years, revenue at Trump casinos declined.
Trump told the newspaper that his casinos ran into trouble because they began competing against each other - a statement that The Times said was "a tacit acknowledgement that he overbuilt."
Roger Gros, publisher of Global Gaming Business magazine, told the Los Angeles Times last year that Trump put his Atlantic City casinos "in so much debt that subsequent managers couldn't manage them properly."
But Michael Viscount, an Atlantic City lawyer who represented unsecured creditors during the 2004 Chapter 11 filing of the Trump Hotels and Casino resorts, doesn't blame Trump for the bankruptcies. He told Forbes magazine in 2011 that he didn't blame Trump for his Atlantic City casino bankruptcies. Viscount said creditors knew what they were getting into when they lent Trump money.
"They've all played this game before, in the insolvency space. The company that possessed his name filed bankruptcy because it was overleveraged," Viscount told Forbes. "What does that tell you? People want to lend him money. He does grandiose things with it."
Adam Levitin, a law professor at Georgetown University, said in an August 2015 post on a blog dedicated to bankruptcy and credit issues that a Chapter 11 filing alone doesn't demonstrate a lack of business acumen. Sometimes businesses go bankrupt because of poor management, but sometimes it's because of factors beyond their control, Levitin wrote.
"And indeed, how much, if at all, was Trump involved in the management of the companies?" Levitin wrote. "I wouldn't be shocked if he was basically licensing his name."
Levitin told PolitiFact National last September that it's not fair to put all the blame on Trump for his company's bankruptcies because he's acted as any investor would. Investors often own many non-integrated companies, which they fund by taking on debt, and some of them inevitably file for bankruptcy, Levitin said.
"The only difference is that Trump puts his name on his companies, which means people associate them with him, but he's not at all the leader in the bankruptcy space," Levitin said. "These bankruptcies were not defining moments for Trump and shouldn't color our view of him."
Our ruling
Warner said Trump has "bankrupt four separate businesses." The number, if anything, is conservative. We count five.
But beyond the number, Warner's statement also asserts that Trump was the cause of the bankruptcies, and that's harder to parse out. There's no doubt he had a role in many of the failings, having larded his casino operations with huge debts.
But analysts note that Trump wasn't acting alone; he had willing investors who put up big sums of money in the risky gaming industry. There's also questions about how involved he was in running all of the casinos that bore his name.
So on the whole, we rate Warner's statement Mostly True.
Sen. Mark Warner's comments on CNN, June 21, 2016. (His statement is at just under 01:00 into video).
Email from Kevin Hall, communications director for Sen. Mark Warner, July 6, 2016.
CNN Transcripts, "The Situation Room," June 21, 2016.
Donald Trump's presidential campaign, "Donald J. Trump statement on Atlantic City record," July 6, 2016.
PolitiFact, "Yep, Donald Trump's companies have declared bankruptcy … more than four times," June 21, 2016.
PolitiFact, "Fact-checking claims about Donald Trump's four bankruptcies," September 21, 2015.
The Washington Post, "What Trump didn't say about his four big business bankruptcies," Aug. 7, 2015.
CNN Money, "Everything you want to know about Donald Trump's bankruptcies," Aug. 31, 2015.
ABC News, "Donald Trump's companies filed for bankruptcy four times," April 21, 2011.
Forbes, "A trip down Donald Trump's bankruptcy memory lane," Aug. 18, 2015.
Wall Street Journal, "Hillary Clinton to criticize Donald Trump's casino record in Atlantic City speech," July 6, 2016.
The Atlantic, "The many scandals of Donald Trump: A cheat sheet," June 30, 2016.
The Washington Post, "The myth and reality of Donald Trump's business empire," Feb. 29, 2016.
NBC News, "Trump Bankruptcy math doesn't add up," June 24, 2016.
Associated Press, "Little guy contractors still angry at Trump Taj bankruptcy," June 28, 2016.
Associated Press, "Trump casinos file for bankruptcy," Nov. 22, 2004.
Sen. Mark Warner's op-ed in the Richmond Times-Dispatch, "Trump's economic plans would mean disaster," June 25, 2016.
Credit Slips, "Donald Trump speaks the truth," Aug. 6, 2015.
RealClearPolitics, "Clinton attacks Trump's 'fraudulent business history' outside Trump casino in Atlantic City," July 6, 2016.
The National Review, "Trump, lies and bankruptcy," Feb. 16, 2016.
The Philadelphia Inquirer "Trump gambled on junk bonds and lost," Aug. 11, 2004.
The New York Times, "The money makers caught in the turbulent times of the 1990s, Donald Trump: Bargaining to stay afloat," Dec. 31, 1991.
United Press International, "Trump's Castle and Plaza filed for bankruptcy," March 9, 1992.
United Press International, "Trump pulls off last-minute deal," June 17, 1991.
US News and World Report, "What value in Trump's name? For his casinos, not enough," July 6, 2016.
USA Today, "Trump casino empire dogged by bad bets in Atlantic City," July 5, 2016.
CNN, "The Atlantic City summer that nearly ruined Trump," July 6, 2016.
Forbes, "Fourth time's a charm: How Donald Trump made bankruptcy work for him," April 29, 2011.
Los Angeles Times, "Trump left his mark on Atlantic City, for better or for worse," Dec. 27, 2015.
The New York Times, "How Donald Trump bankrupted his Atlantic City casinos, but still earned millions," June 11, 2016.
United States Courts, "Bankruptcy basics," accessed July 8, 2016.
United States Courts, "Chapter 7 -- Bankruptcy basics," accessed July 8, 2016.
The New York Times, "Trump Plaza Hotel bankruptcy approved," Dec. 12, 1992.
Wall Street Journal, "Trump and his debts: A narrow escape," Jan. 4, 2016.
The New York Times, "What Donald Trump's plaza deal reveals about his White House bid," Jan. 16, 2016.
Browse the Truth-O-Meter
More by Sean Gorman
Support independent fact-checking.
Become a member!
In a world of wild talk and fake news, help us stand up for the facts.