Stand up for the facts!
Our only agenda is to publish the truth so you can be an informed participant in democracy.
We need your help.
I would like to contribute
In Richmond, Va., there's "more moving vans coming in than going out."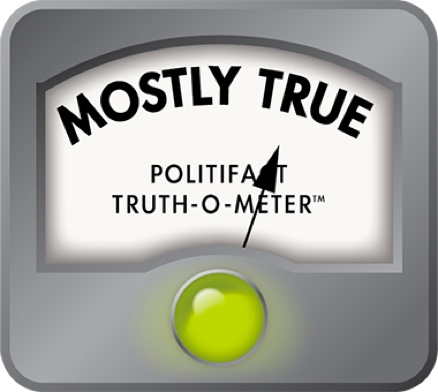 Jack Berry says 'More moving vans coming in than going out" of Richmond
"Richmond is on a roll," said Jack Berry during a Sept. 15 mayoral debate sponsored by the Richmond Times-Dispatch.
"Our population is up. Investment is up, more moving vans coming in than going out," the candidate said.
We were curious about the last of Berry's proclamations - that there are "more moving vans coming in than going out" of the city.
His campaign pointed us to a January report by the Weldon Cooper Center for Public Service at the University of Virginia, which each year produces population tallies for the state and local officials for budgeting and planning.
The center culls its estimates from a variety of sources, including from school enrollment figures, birth and death records, as well as driver's license information and housing stock data.
A chart in the report says that in July 2015, the most recent period for which figures are available, Richmond's population was 217,938. That's an increase of 13,724 from the April 2010 census, when the city had 204,214 people.
The surrounding counties of Chesterfield, Henrico and Hanover all saw their populations rise during the same period but none as quickly as Richmond's 6.8 percent growth.  
Still, these figures include a rising population driven not just by people moving into Richmond but also births in the city. From April 2010 to mid-2015, there were 5,448 more births than deaths in the city; that accounted for about 40 percent of Richmond's population growth during that time.
To drill down on Berry's claim - which specifically points to people moving into and out of the city - we need to look at tallies of Richmond's "net migration," which is the number of people who moved into the city minus those who left it.
Between the April 2010 census and mid-2015, Richmond saw a net migration of 8,276 people into the city, Weldon Cooper Center's figures show.
Actually, starting in the mid-2000s the number of people moving into Richmond began to outpace the number who moved away, said Hamilton Lombard, a research specialist at Weldon Cooper. Before then, Lombard said there was a decades-long trend in which more people moved out of the city than into it.
From July 2013 to July 2014, Richmond had a net gain of 1,255 people who moved in, Lombard wrote in an email. And from mid-2014 to mid-2015, net migration into the city rose to 3,437.
Those are the latest years for which migration tallies are available.
The center still is collecting net migration figures for Richmond for the 12-month period starting in July 2015. Early indications show a continued movement into the city, Lombard said.
"I think a simple explanation of why Richmond is growing is that developers have created many more housing units in the city in recent years, and more people have wanted to live in the city than in recent decades," Lombard told us.
We also found figures from the U.S. Census Bureau that show a rise in the net migration into Richmond.
The bureau, which computes net migration differently than Weldon Cooper, estimates a net migration of 11,073 people into the city from April 2010 to mid-2015. About one-third of those additional residents are immigrants who came from abroad, while the rest came from other parts of the U.S.
The Internal Revenue Service also tracks how many people are going into and coming out of counties and cities across the U.S., based on tax returns filed with the IRS each year.
Unlike the Weldon Cooper and Census Bureau estimates, Lombard said the IRS figures from 2014, the latest year available, still show more people moving out of Richmond than into it. But Lombard cautioned about reading too much into that finding.
"Typically, IRS migration data is very reliable, but it can be less accurate with young adults since they change addresses and jobs more often," Lombard wrote in an email. "Given that Richmond has a large young adult population, and much of its recent growth has come from young adults, the IRS data may not be as reliable for tracking Richmond's migration."
Lombard noted some college students who move into the city to live and study here might not be picked up in the IRS data because those students are still reported on their parents' tax returns as living at an address outside Richmond.
Also, some young adults might not earn enough to file a return, or may skip filling out a return for a couple of years even though they're supposed to file, Lombard said. That would make it tougher for the IRS to track their migration patterns, he said.
Our ruling
Berry said that in Richmond, there's "more moving vans coming in than going out."
Figures from the Census Bureau and the Weldon Cooper Center back Berry's claim that Richmond has been seeing more people moving into the city than leaving. Figures from the IRS come to a different conclusion, but there's a question over whether they are reliable when tracking Richmond's moving patterns.
We rate his claim Mostly True.
Jack Berry's comments at Richmond Times-Dispatch mayoral debate, Sept. 15, 2016. (His comment is at just over 1:43:45 into the video).
Emails from Jack Berry's mayoral campaign, Sept. 19-20, 2016.
Emails from Hamilton Lombard, research specialist at UVA's Weldon Cooper Center for Public Service, Sept. 20-22, 2016.
Interview with Hamilton Lombard, Sept. 23, 2016.
Weldon Cooper Center for Public Service, "Population estimates for Virginia and its cities," Jan. 27, 2016.
Weldon Cooper Center for Public Service, "Population growth in Virginia is reversing decades-old trend, estimates show," Jan. 27, 2016.
Weldon Cooper Center for Public Service, "Virginians are leaving the commonwealth, reversing trends," Sept. 16, 2015.
Greater Richmond Partnership, "Demographics," accessed Sept. 20, 2016.
Richmond Times-Dispatch, "Census: Richmond adds 12,810 from 2012 to 2013," March 28, 2014.
PolitiFact, "'More people today are leaving Virginia than moving in,'" May 16, 2016.
Federal Reserve Bank of Richmond, "Net migration change in the fifth district," July 2016.
Census, American Fact Finder, accessed Sept. 21,2016.
University of Virginia StatChat, "How is New York City growing if it's constantly losing people?" April 18, 2016.
University of Virginia StatChat, "Migration data miscounts millennials, confuses the Media," March 25, 2015.
Browse the Truth-O-Meter
More by Sean Gorman
Support independent fact-checking.
Become a member!
In a world of wild talk and fake news, help us stand up for the facts.