Stand up for the facts!
Our only agenda is to publish the truth so you can be an informed participant in democracy.
We need your help.
I would like to contribute
Georgia's share of money from the Federal Highway Trust Fund declined 12 percent between 2008 and 2013.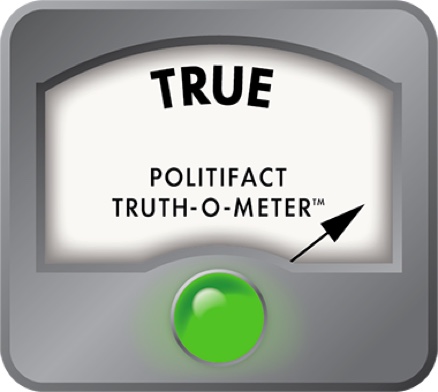 Report accurate on decline in federal transportation dollars
Georgia lawmakers are struggling to come up with $1 billion annually for road and bridge work, and they see nothing to suggest Uncle Sam will be lending much help -- let alone extra money.
For decades, states have been receiving money each year from the Federal Highway Trust Fund. But those dollars have been shrinking of late for all but Alaska and New York.
Last weekend, The Associated Press published a national analysis of Federal Highway Trust Fund spending between 2008 and 2013, the latest year for which figures were available.
It showed overall trust fund money to the states was down 3.5 percent during that period.
Based on population, Georgia saw the third sharpest decline in awards for the period -- down 12 percent. Only Minnesota and Washington took bigger hits, AP reported.
With transportation a top issue to Atlanta commuters and business leaders and one of the hottest topics of debate in this year's General Assembly session, PolitiFact Georgia decided to dig a little deeper.
First, a little background on the trust fund, its history and its role in the angst playing out under Georgia's Gold Dome and in other state capitols.
Congress funded construction of interstates and some other roads through the general fund until 1956 when the Federal Highway Trust Fund was established, using proceeds from the federal fuel tax of 18.3 cents a gallon on gasoline and 24.4 cents a gallon on diesel fuel and related excise taxes.
The trust fund had an $8 billion shortfall in 2008, attributed to higher gas prices and lower gas consumption driven by the recession, that had to be covered with money from the general fund. Similarly, $7 billion had to be transferred to the fund in 2009, and $19.5 billion in 2010. Congress passed a stopgap plan last year to prevent a funding lapse, and the trust fund could again be on the chopping block in May without intervention.
Some states have responded by proposing new taxes, tolls and fees. Leaders in the Georgia House have proposed a bill to raise $1 billion for transportation, an issue they acknowledge is critical to the state's long-term growth.
The plan's backers also say it will decrease Georgia's reliance on federal funding for road upkeep. In 2014, about $1.2 billion, or more than 54 percent of the state DOT budget came from federal funds.
"The more independent we can be from the federal government, the better off we are long term," Seth Millican, director of the Georgia Transportation Alliance, an arm of the Georgia Chamber of Commerce, said last week.
Mick Bullock, spokesman for the National Conference of State Legislatures, said transportation funding is "an issue states are grappling with all around the country.
"Pending what happens in Congress with the Highway Trust Fund, state legislatures need a long-term funding solution for their transportation infrastructure," Bullock said. 'if Congress does not act, states will have to look at other funding solutions."
Now to the numbers.
The Georgia Department of Transportation provided us with data on the sizable dollars that flowed to road projects in the state from the federal trust fund in the period that had been reviewed.
Georgia received $8.14 billion in 2008 to 2013 -- including (with rounding) $1.44 billion in 2008; $1.36 billion in 2009; $1.4 billion in 2010; $1.37 billion in 2011; $1.3 billion in 2012 and $1.27 billion in 2013.
By our calculations, that was a net loss of about 12 percent. We asked for data for the five prior years -- thinking that might provide additional light.
In the five prior years, we saw the state's annual allotment from the trust fund go up almost every year, (with rounding) $1 billion in 2003; $1.22 billion in 2004; $1.27 billion in 2005; $1.23 million in 2006; and $1.34 billion in 2007.
Overall, in that period, Georgia's funding through the trust fund increased at a steady clip -- about 34 percent.
Our ruling.
The money Georgia receives from the Federal Highway Trust Fund fell by more than 12 percent in 2008 through 2013. State and federal data we reviewed backs up that finding by The Associated Press.
We rate the statement True.
"Federal transportation funding for Georgia has been dropping," by Kathleen Foody, Associated press, Feb. 22, 2015
Email with Natalie Dale, Georgia Department of Transportation spokeswoman
Federal HIghway Administration, Highway Statistics Series Publications
Review of Georgia Department of Transportation data
Testimony on the Status of the Highway Trust Fund Kim P, Crawley, chief, Natural and Physical Resources, before the subcommittee on Highways and Transit, Committee on Transportation and Infrastructure, U.S. House of Representatives July 23, 2013
"Three myths about the Highway Trust Fund," The Washington Post," opinion piece by By Robert J. Samuelson, July 9, 2014
Browse the Truth-O-Meter
More by Nancy Badertscher
Support independent fact-checking.
Become a member!
In a world of wild talk and fake news, help us stand up for the facts.