Stand up for the facts!
Our only agenda is to publish the truth so you can be an informed participant in democracy.
We need your help.
I would like to contribute
Says Michelle Nunn has acknowledged allowing a convicted felon to hold a fundraiser for her.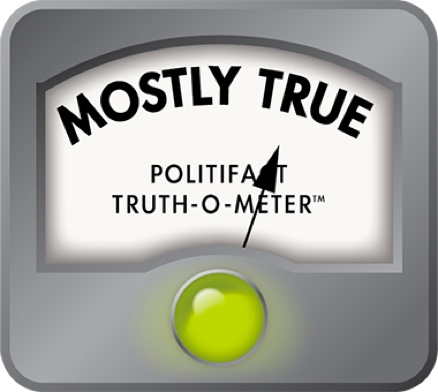 Super PAC attacks Nunn fundraising blunder
The super PAC Ending Spending Fund is broadcasting another attack ad against Michelle Nunn, a politically pedigreed Democrat hoping to succeed Republican Saxby Chambliss as a U.S. Senator from Georgia.
This time, it's a radio ad simulating a man-on-the street interview with a potential female voter.
In the ad, the announcer says: "According to news reports, she's acknowledged allowing a convicted felon who is well known for his radical anti-American statements to actually hold a fundraiser for her."
He then asked the unidentified woman: "Is there any wisdom in that thinking?"
"I'm going to say "None," the woman responds.
It's part of a new campaign by Ending Spending that plays off Nunn's well-known name. Her father, Sam Nunn was a respected moderate Democrat in the U.S. Senate for 24 years, from 1972 to 1997, who some considered White House or vice presidential material.
The ad follows the theme of the super PAC's new website, www.AbsolutelyNunn.com, which answers the question, is there any reason for Georgians to vote for her?
But, PolitiFact Georgia wondered, is Nunn working with felons to win office?
First, let's look at Ending Spending Action Fund, formed by TD Ameritrade founder Joe Ricketts. As of Sept. 11, the group has spent nearly $2.8 million -- more than any other outside group -- on Georgia's Senate race, according to OpenSecrets.org.
The PAC favors Nunn's GOP opponent, businessman David Perdue. Some of its money paid for ads during the contentious Republican primary earlier this year.
The race is being closely watched, and heavily funded, nationally because of the tight battle for control of the U.S. Senate. It's also a priority for state Democrats eager to reclaim a major statewide office.
The Nunn-Perdue battle has drawn the fifth-most money from outside groups in Congressional races across the nation this year, $12.4 million on ads from both sides.
That brings us back to the ad, which is a reference to the July 8 Washington, D.C. fundraiser that featured Sam Nunn as a special guest.
Virtual Murrell is listed as one of the co-hosts of the event, giving $2,600 to Nunn's campaign for the honor. Guests paid at least $250 to the campaign to attend, according to the invitation.
Two days after the fundraiser, the conservative National Review broke the story that Murrell, now a political consultant, had pleaded guilty in 1995 to accepting a bribe while working as an Oakland (Calif.) City councilman's aide. He was sentenced to a year in prison.
Nunn expressed surprise at the news of Murrell's history, which also includes a stint in the 1960s as a leader in the Black Panther movement.
Her campaign declined this week to make her available to discuss the fundraiser and its fallout. Spokesman Nathan Click referred us to a statement released in July, which said Nunn was unaware of Murrell's record and promised to return contributions linked to him.
Click, however, declined to confirm the exact amount of money the campaign said was returned or to disclose how much money was tied to Murrell.
"We didn't deposit any contributions from him or anything he raised for the event," Click said in a statement.
We reached out to Murrell via email, to confirm that Nunn returned his donation and other he raised. He did not respond.
We also contacted Brian Baker, Ending Spending's president, who said Nunn has acknowledged Murrell, a convicted felon, co-hosted a fundraiser for her.
That "is exactly what we say in the ad," Baker said. "The ad is 100 percent factual."
The event wasn't the campaign's only embarrassing moment.  In late August, a series of confidential memos were leaked, revealing Nunn's campaign strategy and vulnerabilities.
Ironically, those documents may support the campaign's contention that Nunn didn't know Murrell's background.
On page 57 of the 144-page document – after listing vulnerabilities such as being linked to President Obama and before several pages laying out campaign issues – is a category called "Vetting.
It takes up less than a quarter of the page, most notably this one-sentence paragraph:
"Currently, there are no plans to vet donors to the campaign," the memo said.
Baker said finding out Murrell's background "didn't require a complicated vetting process" and was accessible with a basic Google search.
PolitiFact Georgia has reviewed previous ad claims from the group, with mixed results.
In August, Ending Spending ad's claim that Michelle Nunn's "foundation directed grants to an Islamic group tied to radical terrorists" earned a Mostly False.
In July, we rated as Mostly True an Ending Spending claim that Nunn earned as much as $300,000 from Points of Light around the time it laid off 90 workers due to its merger with the nonprofit Hands on Network.
Available information on the latest claim suggests Ending Spending's new ad uses guilt by association in a bid to suggest Nunn knowingly wooed an inflammatory ex-convict to raise cash for her Senate bid.
Nunn has repeatedly said she did not know Murrell's history when she attended the fundraiser.
She pledged to give back the money he raised, though the campaign and Murrell have not confirmed how much was determined to be linked to Murrell.
Most of the statement from the Ending Spending attack ad is correct. A convicted felon did host a fundraiser for Michelle Nunn.
Nunn has said she did not know anything about the man's criminal background. And there is evidence from a leaked memo that her campaign was not vetting donors.
The claim is accurate. But it leaves out some relevant details.
We rate it Mostly True.
Ending Spending Action Fund, "Nunn on the street," Aug. 29, 2014
Michelle Nunn event invitation, July 8 fundraiser, Washington, D.C.
National Review, "Felon, Former Black Panther Party Leader Hosts Fundraiser for Democratic Senate Candidate Michelle Nunn," July 10, 2014
Associated Press, "Michelle Nunn to return cash linked to ex-con," July 11, 2014
Atlanta Journal-Constitution Political insider, "Michelle Nunn's felon fundraiser," July 11, 2014
OpenSecrets.org, "2014 Outside Spending, by Super PAC," accessed Sept. 11, 2014
OpenSecrets.org, "2014 Outside Spending, by race," accessed Sept. 11, 2014
OpenSecrets.org, "Georgia Senate race, outside spending," accessed Sept. 11, 2014
Interview with Brian Baker, president of Ending Spending Action Fund, Sept. 10, 2014
Interview with Nathan Click, spokesman for Michelle Nunn, Democratic candidate for U.S. Senate, Sept. 10 and Sept. 11, 2014
Browse the Truth-O-Meter
More by Nancy Badertscher
Support independent fact-checking.
Become a member!
In a world of wild talk and fake news, help us stand up for the facts.