Stand up for the facts!
Our only agenda is to publish the truth so you can be an informed participant in democracy.
We need your help.
I would like to contribute
"Obamacare will mean 2.1 million fewer jobs by 2021."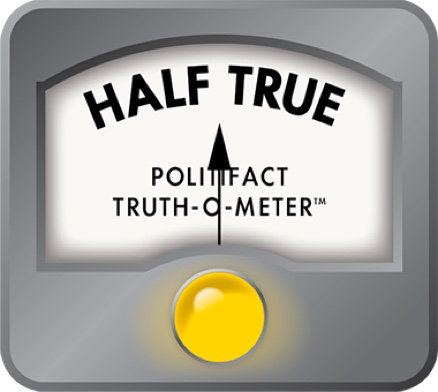 Details reveal distinction in Obamacare jobs claim
Opponents of the federal health care law recently got what they believe supports their argument that Congress should pull the plug on the legislation.
The nonpartisan Congressional Budget Office projected that the law will push many Americans from the workforce.
The Georgia chapter of Americans for Prosperity, a longtime critic of the law, held a rally at the state Capitol calling for the repeal of the controversial law, citing the CBO's projections.
"The Affordable Care Act has been disastrous for Georgians, causing premiums around the state to shoot up dramatically and causing many Georgians to lose their previous insurance. All this, despite the president's promise that 'if you like your plan, you can keep it,'" AFP Communications Director Joel Aaron Foster said. "The nonpartisan Congressional Budget Office says Obamacare will mean 2.1 million fewer jobs by 2021."
PolitiFact Georgia wondered whether the Georgia chapter was correct in its interpretation about the potential number of jobs lost as a result of the law.
Our partners at PolitiFact in Washington had looked at a similar claim and found one major flaw. The National Republican Congressional Committee claimed in a television ad that "Nonpartisan government analysts say Obamacare will cost our economy up to 2.5 million jobs." PolitiFact noted that the CBO report did not use the word "jobs."
"CBO's updated estimate of the decrease in hours worked translates to a reduction in full-time-equivalent employment of about 2.0 million in 2017, rising to about 2.5 million in 2024, compared with what would have occurred in the absence of the ACA," the CBO report said.
The CBO report suggested some people will choose to work fewer hours, others may quit their jobs in order to get health care subsidies they would not receive if they continued to work their regular schedule.
"Because some people will reduce the amount of hours they work rather than stopping work altogether, the number who will choose to leave employment because of the ACA in 2024 is likely to be substantially less than 2.5 million," the CBO report said.
PolitiFact noted: "An important distinction in the report is that labor force will reduce by the equivalent of 2.5 million full-time workers over the next decade. That doesn't mean 2.5 million people will leave their jobs. Some people will only cut back a few hours or leave a second part-time job while others may stop working entirely."
PolitiFact rated the National Republican Congressional Committee's claim Mostly False.
We contacted Americans for Prosperity Georgia to see whether there was any additional context it has that may show it should earn a better rating on the Truth-O-Meter. The group's spokesman, Foster, said the chapter stands by its statement. He pointed to other news coverage that used the same terminology to describe the conclusion the CBO reached in its report.
"The CBO report said the health care law will cause Americans to cut their work hours, equating to 2 million fewer jobs in 2017. That number is predicted to eventually rise to the equivalent of 2.5 million jobs in 2024," Politico reported.
We found other prominent news outlets used similar language in their initial coverage.
"Several million American workers will reduce their hours on the job or leave the workforce entirely because of incentives built into President Barack Obama's health care overhaul, the Congressional Budget Office said Tuesday," The Associated Press reported in an article that was published in The Atlanta Journal-Constitution. "That would mean losses equal to 2.3 million full-time jobs by 2021, in large part because people would opt to keep their income low to stay eligible for federal health care subsidies or Medicaid, the agency said. It had estimated previously that the law would lead to 800,000 fewer jobs by that year."
Some major news outlets described it differently, sticking closer to the CBO's description of its projection. The Washington Post's Fact Checker, though, explained there is a difference.
"[W]e should note that the figures (2 million, etc.) are shorthand for full-time equivalent workers — a combination of two conclusions: fewer people looking for work and some people choosing to work fewer hours. The CBO added those two things and produced a hard number, but it actually does not mean 2 million fewer workers," it reported.
Our conclusion
We debated long and hard about this one. Americans for Prosperity Georgia did capture the general theme of what the CBO tried to say about the impact of the health care law on employment. It will result in fewer people working fewer hours. But its terminology was not entirely accurate.
The CBO report did not say the health care law would result in a reduction of 2.5 million jobs. It specifically said "more than 2.5 million people are likely to reduce the amount of labor they choose to supply to some degree" and added that "many of them will not leave the labor force entirely."
We believe that is an important distinction. This claim does contain some element of truth, but some of the details are incorrect. We rate it Half True.
Peach Pundit, "Anti-ObamaCare Rally Set for Monday," Feb. 17, 2014.
Americans for Prosperity Georgia, "New CBO Report Confirms Obamacare is Bad Medicine for Americans," Feb. 5, 2014.
Associated Press, "Law may shrink labor pool," Feb. 5, 2014.
Congressional Budget Office report, "The Budget and Economic Outlook: 2014-2024," Pg. 127.
Email from Joel Aaron Foster, communications director, Americans for Prosperity Georgia, Feb. 19, 2014.
PolitiFact, "NRCC says Congressional Budget Office predicts Obamacare will cost economy 2.5 million jobs," Feb. 14, 2014.
Politico, "Kathleen Sebelius: No job loss under Obamacare," Feb. 18, 2014.
Washington Post Fact-Checker, "No, CBO did not say Obamacare will kill 2 million jobs," Feb. 4, 2014.
Browse the Truth-O-Meter
More by Eric Stirgus
Support independent fact-checking.
Become a member!
In a world of wild talk and fake news, help us stand up for the facts.