Stand up for the facts!
Our only agenda is to publish the truth so you can be an informed participant in democracy.
We need your help.
I would like to contribute
Brendan Doherty wants "to repeal Obamacare, increasing drug prices for seniors."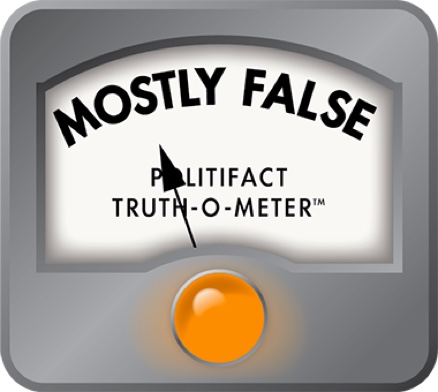 U.S. Rep. David Cicilline says Republican opponent Brendan Doherty wants to repeal Obamacare and increase drug prices for seniors
If you vow to repeal a law but then promise to preserve some of its key provisions, are you really promising to repeal the law?

That's the question surrounding an advertisement in support of Democratic U.S. Rep. David Cicilline's attempt to hold his 1st District seat against a challenge by Republican Brendan Doherty.

The 30-second television ad, produced by Cicilline's campaign, shows video of Doherty praising GOP presidential candidate Mitt Romney and lists some ways in which the two agree on key issues. It is available on YouTube.

One issue is the Affordable Health Care Act, the controversial legislation often referred to as Obamacare.

"Doherty and Romney both want to repeal Obamacare, increasing drug prices for seniors," the ad says.

Romney has already made it clear he wants to repeal the law. In looking at the assertion, we will focus on Doherty's position.

Doherty has said repeatedly that he wants to repeal Obamacare because it places too much of a burden on small businesses.

One element of the law was crafted to save Medicare recipients a lot of money because it closes the so-called "doughnut hole," the gap in prescription drug coverage that has forced elderly people with health problems to shell out thousands of dollars per year.

If Obamacare were simply repealed, the hole would reopen and its effect would be as Cicilline describes it.

But if Doherty were elected and a new federal law were passed that closed the doughnut hole, Doherty could then vote to repeal Obamacare without increasing drug prices for seniors.

Doherty has repeatedly said he wants to keep the doughnut hole closed. He also has said that he wouldn't repeal Obamacare without preserving that popular feature, and others.

In a July 2, 2012, appearance on "The Helen Glover Show," Doherty said "I would vote to repeal it. But I think we need to find better solutions even before we repeal it."

A bit later, he specifically referred to continuing coverage for young adults and people with pre-existing conditions and protecting people in the doughnut hole as "good points" in the law. He said those are areas "to have real health care reform."

Separately, the Doherty campaign sent us a July 12, 2012, news release in which the candidate criticized House Republicans for voting to repeal Obamacare "without offering any alternative proposal."

And we put the question to him directly, asking Doherty if he would, if elected, cast any vote to repeal Obamacare if the government hadn't first passed a law closing the doughnut hole. He said, "No."

But he said the safeguards could be part of a repeal bill.

"I wouldn't vote for any repeal of Obamacare if we didn't have the doughnut hole closed," or protection for children up to 26 years old and coverage "for preexisting conditions in that," he said.

Cicilline spokesman Eric Hyers, asked about the ad and Doherty's support for some elements of Obamacare, said in an e-mail: "Simply because [Doherty] says he wants to find a bipartisan solution or that he has started mentioning parts of the bill he likes, is irrelevant. As soon as the bill is repealed, the benefits are gone and closing the doughnut hole, (or allowing young people to stay on their parents' insurance or whatever else), would have to be re-fought. Saying, 'He thinks there should be a solution before repeal,' is nice, but it doesn't change the real world implications of voting for repeal."

Our ruling

David Cicilline, in a campaign ad, says Brendan Doherty wants "to repeal Obamacare, increasing drug prices for seniors."

Doherty does want to repeal Obamacare, and a repeal would do precisely that.

But Doherty, at least as far back as July 2, has repeatedly said he would not vote for repeal until "better solutions" are found.

Such subtlety is lost in the Cicilline ad. Because the statement contains some element of truth but ignores critical facts that would give a different impression, we rate it Mostly False.

(Get updates from PolitiFact Rhode Island on Twitter: @politifactri. To comment or offer your ruling, visit us on our PolitiFact Rhode Island Facebook page.)
YouTube.com, "Fantastic," davidcicilline channel, Sept. 25, 2012, accessed Sept. 25, 2012

920WHJJ.com, "Brendan Doherty in studio," July 2, 2012, accessed Sept. 26, 2012

DohertyForCongress.com, "On Health Care Reform, Doherty Criticizes Irresponsible, Out-of-Touch Behavior on Capitol Hill," July 12, 2012, accessed Sept. 26, 2012

Interview and e-mail, Eric Hyers, spokesman, Rep. David Cicilline, Sept. 26, 2012

Interview, Brendan Doherty, Sept. 27, 2012
Browse the Truth-O-Meter
More by C. Eugene Emery Jr.
Support independent fact-checking.
Become a member!
In a world of wild talk and fake news, help us stand up for the facts.